The distance from Athens to Corfu is 234 miles (377 km). The easiest way to get from Athens to Corfu is by plane but it only saves you a few hours compared to traveling by car or bus to Igoumenitsa and then by ferry.
In this comprehensive guide you'll find each of the routes, time taken, frequency, cheapest tickets, and schedules so that you can choose the best way for you to get from Athens to Corfu.
Practical Information
Athens is the capital of Greece, located in the south of the mainland in the province of Attica.
Corfu is one of the most visited islands in the world and is part of the Greek Island chain called the Ionian islands.
Map of the Ionian Islands of Greece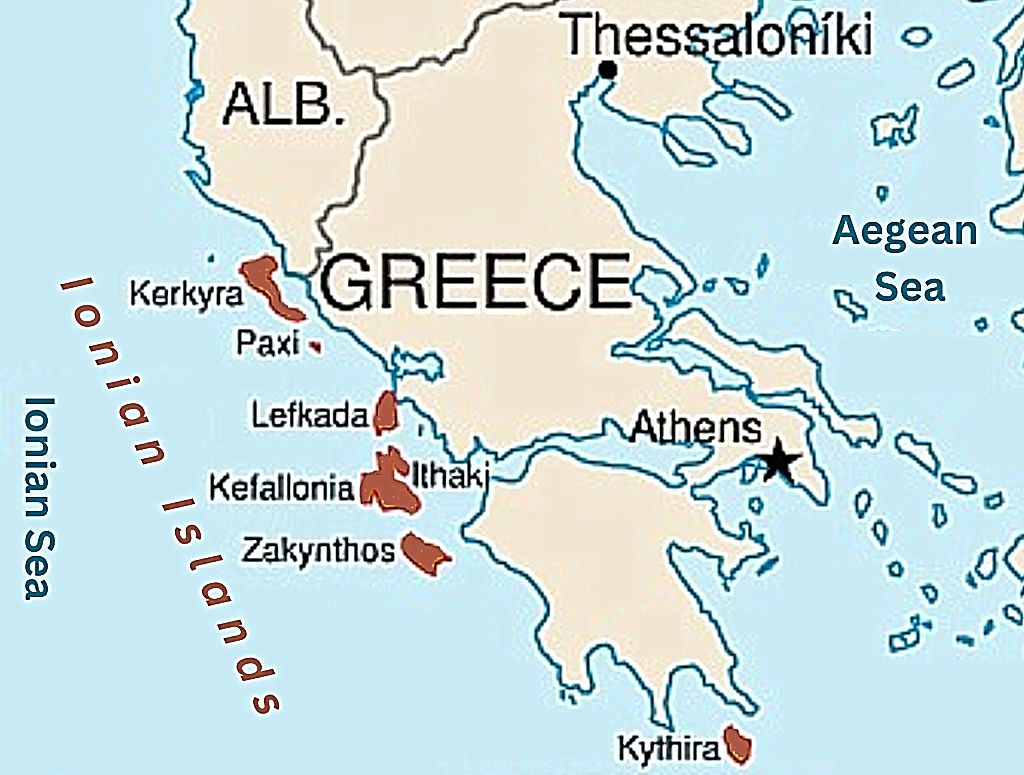 Corfu is the most northern Greek island, off the east coast of Albania, across from the city of Sarandë. In Greek, Corfu Island is called Kerkyra island.
It lies across a narrow strait of water from Albania that is only 2 miles (3 km) at its narrowest point, and 14 miles (21 km) across at its widest point.
Corfu has an international airport (Ioannis Kapodistrias International airport), as well as three ports.
Domestic flights from Athens operate year-round and it is possible to find both direct flights and cheap flights on this route.
Ferries from Igoumenitsa on the Greek mainland take passengers to Corfu port but also to Lefkimmi port, further south.
Map of Athens to Corfu travel routes by plane, driving, and ferry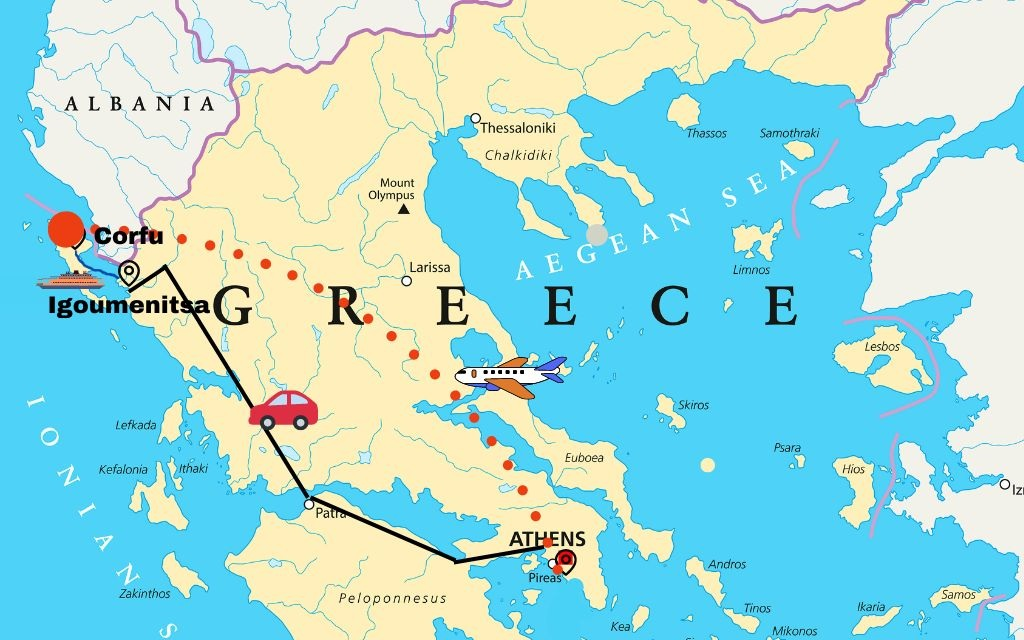 Quick Facts
The cheapest way to get from Athens to Corfu: Bus then a ferry or a cheap direct return flight (this can be as cheap as the bus option). In fact, Ryanair has flights from 19.2 to 44 Euros one way!
The fastest way to get from Athens to Corfu: Air travel with a direct flight
The most luxurious/ convenient option for traveling from Athens to Corfu: flight by private plane or helicopter, or a door-to-door private car transfer
The most adventurous time-wasting way to get from Athens to Corfu: Ferry from Patras to Brindisi then Corfu
The cheapest month to book a flight to Corfu: NOVEMBER.
The cheapest tickets: More than 90 days before travel. tickets cost more money each day from 90 days before the flight until the day of the flight.
The further in advance you book your ticket, the cheaper your flight will be.
The cheapest days to travel to and from Corfu: Tuesday has the cheapest prices for flights from Athens to Corfu.
The cheapest flights for the return trip are on Fridays.
Getting from Athens to Corfu airport by plane
Ioannis Kapodistrias International airport is serviced by multiple airlines and includes international commercial flights, charter flights, and domestic services from Athens.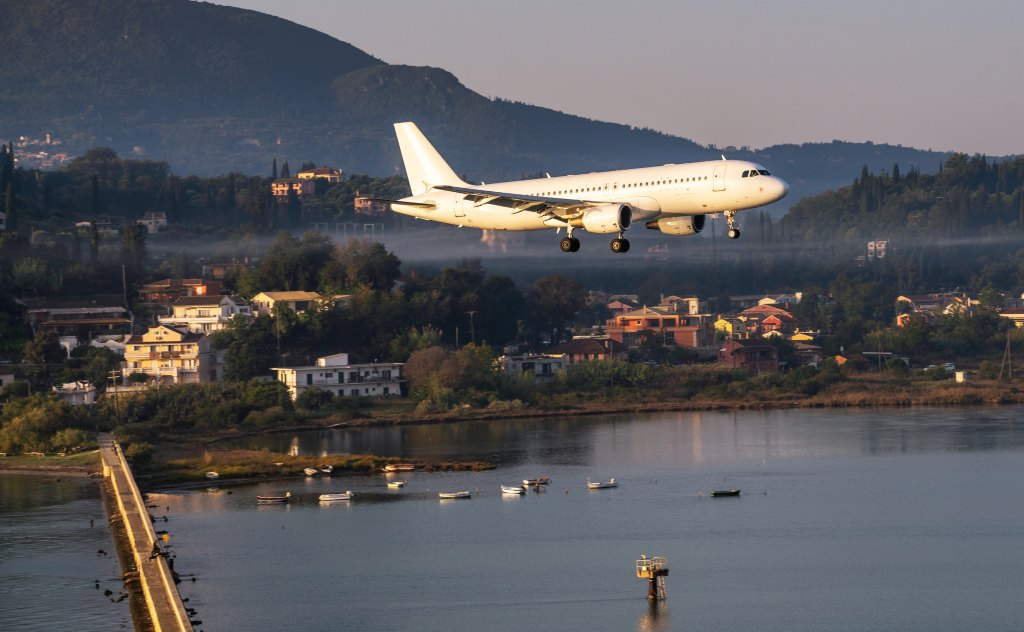 Multiple airlines fly direct from Athens to Corfu. The four airlines currently flying this route are Aegean Airlines, Olympic Air, Ryanair, and Sky Express.
After the descriptions below you can see a summary table of how many flights each airline has departing from Ikoannis Kapodistrai Airport Athens to Corfu each day.
Aegean Airlines
You can book a direct flight on Aegean Airlines from Athens to Corfu starting at 32 Euros one way in winter, and from 84 Euros one-way in summer.
Aegean airlines fly three times daily to Corfu from May to the beginning of October, and two to three flights daily during the rest of the year.
This is one of the few airlines flying to Corfu where you can book either an economy cabin or a business cabin.
Olympic Air
Olympic Air flies daily direct to Corfu airport throughout the year, three times each day for a total of 21 flights per week. Flights can be booked starting from 44 euros one way in the low season.
Ryanair
Ryanair decreased its winter flights to Greece in 2020 but has now closed its Athens hub for the 2022-2023 winter on top of closing its Rhodes base in September 2022.
It says this is because Greece won't charge the airport charges that Ryanair says are necessary and so it has moved its bases to countries such as Croatia, Spain, and Portugal.
Cheap flights from Athens can be booked starting from 19.2 euros one way. They don't fly every month. In May there is one flight each Saturday.
You can fly once per day from Athens on Tuesday, Wednesday, Thursday, and Saturday in June, July, and August. By September 2023, you are back to one flight three times per week (Tuesday, Wednesday, and Thursday).
It's worth continuing to check their website (https://www.ryanair.com/flights/gb/en/flights-to-corfu) because it's possible they may stop domestic flights in Greece altogether at some point.
Sky Express
Sky Express flies from Athens to Corfu up to 24 times per week on Sunday, Monday, Wednesday, Thursday, Friday, and Saturday. In winter there are usually 2-3 flights per day (apart from Tuesday), increasing to 3 flights per day in summer.
Flights from Athens begin at 41 Euros in April. You'll find a round trip is generally cheaper than two one-way tickets. Sky Express gives a 10% discount on return flights.
Schedules and cheapest ticket prices for direct Athens to Corfu flights
| Airline | Flight Schedule | No. of Flights | Cheapest one-way ticket price |
| --- | --- | --- | --- |
| Aegean Airlines | Daily | 2-3 per day | 32 Euros |
| Olympic Air | Daily | 3 per day | 44 Euros |
| Ryanair | May-September | 1-4 weekly | 19 Euros |
| Sky Express | Daily except for Tuesdays | 2-3 per day | |
Airlines schedules and cheapest ticket prices for direct Athens to Corfu flights
Athens Airport
Athens airport has two terminals; the main terminal and the Satellite terminal. They are connected by an underground passage.
Flights to Corfu depart from the main terminal which has two halls: Hall A and Hall B which are close together.
Hall B is the Hall at Athens airport you will depart from because it's the Departure hall for all inter-Schengen flights and domestic destinations.
Getting to Athens International Airport
I always enjoy flying into Athens because of the convenience of the metro station at the airport which makes it simple to get to anywhere in Athens.
The Blue Line is called Athens Airport metro line 3. It runs east to west, terminating at the Airport station. On its way it passes through the city center, including the stations of Syntagma Square and Monastiraki.
The trip takes between 40 and 50 minutes and the frequency is every 30 minutes. the cost of a ticket is 10 Euros one-way, and 18 Euros for a return trip.
The metro station is across the road from the airport. On exiting the airport terminal and crossing the road, you take the escalator to the pedestrian bridge that connects to the metro station.
If you're arriving at Athens airport from the Metro, take the pedestrian bridge directly into the terminal building.
In addition to getting the metro, you can take an Uber, a taxi, a private airport transfer, or a bus. Here are the details of these options:
Metro from Athens city to Athens international airport
Uber and taxi from Athens city to Athens international airport
Private transfer to Athens international airport
Corfu Airport (Ioannis Kapodistrias International Airport)
Corfu airport began life as a base for Italian and German fighter jets in the Second World War. It was owned by Greece until 2017 when it was privatized and is now owned by Fraport.
Fraport plans a new terminal as at the moment, Corfu airport has only one terminal and one cafe. This is despite the airport seeing almost 4 million visitors in 2022.
There are no luggage storage facilities. It does however have a new large parking lot, expanded check-in areas (28), and 12 boarding gates.
How to get from Corfu Airport (Ioannis Kapodistrias) to Corfu town and other places on Corfu Island.
Like many of the small Greek islands, the airport is close to the main city. Corfu airport is 3 kilometers south of Corfu Town. There are public buses, taxis, and private transfer services at the airport.
The bus station is at the front of the terminal. Driving takes 7-10 minutes and walking takes about 30 minutes.
Athens to Corfu by Car
If you want to take your car (or a rental car), from Athens to Corfu, there are two possible driving routes.
The route with the shortest distance of 506 km is via the A2 to the port of Igoumenitsa with the entire journey taking 6hrs and 58 minutes, assuming you drive straight onto a car ferry without any waiting time.
This route takes you through the Peloponnese and to Patras, then north to Ioannina before turning west to arrive in Igoumenitsa. you then take the car ferry to Corfu Port.
The longer journey covers a distance of 522 km which should take you 8 hours and 20 minutes, again assuming there is no waiting time involved before driving onto the car ferry at Igoumenitsa.
If you're hiring a rental car in Greece and want to understand about tipping at gas stations, read Tipping in Greece – the Complete Guide [2023]
Athens to Corfu by Bus
Buses from Athens to Corfu are operated by the KTEL Green Buses Company and have three departures every day of the week.
If you're taking a Green bus, each day you have the choice of an express service, or a service that goes via Patra, and a third service that goes via Arta Agrinio.
Each service takes approximately 6 hours (approximately is right – this is Greece and you just have to chill out about timetables here – everything works on "Greek time"!
The bus company recommends you factor in another 90 minutes of travel time for the ferry from Igoumenitsa to Corfu. The ferry ticket price is not included in your bus ticket.
Bus tickets can be bought online, aboard the bus, or from the Green Buses ticket offices:
In Corfu: GREEN BUSES Station, Eptanisou Avenue, Corfu 49 100, phone: +3026610 28900, info@greenbuses.gr
In Athens: KTEL KIFISOU, KIFISOS Avenue 40, Athens 104 42, phone: +30210 5129443, info@greenbuses.gr
The cost of a one-way ticket is 44.50 Euro and you can see the summary of these details in the table below:
Green Buses Athens to Corfu and Corfu to Athens timetable
Route
Monday-Friday
Saturday
Sunday
Athens to Corfu
7:00*(b) , 11:00*(a) , 21:00*(c)
7:00*(b) , 11:00*(a) , 21:00*(c)
7:00*(b) , 11:00*(a) , 21:00*(c)
Corfu to Athens
8:15*(a) , 13:00*(b) , 20:00*(c)
8:15*(a) , 13:00*(b) , 20:00*(c)
8:15*(a) , 13:00*(b) , 20:00*(c)
Via
(a) Express,
(b) Via Arta-Agrinio,
(c) Via Patras
(a) Express,
(b) Via Arta-Agrinio,
(c) Via Patras
(a) Express,
(b) Via Arta-Agrinio,
(c) Via Patras
Time taken
Approx 6 hrs (not including 90 minutes ferry crossing)
Approx 6 hrs (not including 90 minutes ferry crossing)
Approx 6 hrs (not including 90 minutes ferry crossing)
Price (one-way)
44.50 Euro (under 6 yrs free)
44.50 Euro (under 6 yrs free)
44.50 Euro (under 6 yrs free)
Green Buses Athens to Corfu and Corfu to Athens timetable
Green buses are local Corfu buses and you will also be able to get around Corfu on the green Buses except for within Corfy Town, where you take the local blue buses.
Igoumenitsa ferry to Corfu port
So now that you have your bus ticket, you need the last part of your journey between Athens and Corfu, which involves purchasing a ferry ticket for the short journey across the Strait of Corfu.
Two ferry companies operate between the ports of Igoumenitsa and Corfu. Kerkyra Lines has 66 sailing per week, and Kerkyra Seaways has 82 sailings per week.
Kerkyra Lines services Corfu (Kerkyra) and the nearby Greek island of Paxos, the closest southerly island in the Ionian islands chain.
The cost of a one-way ferry ticket between the ports of Igoumenitsa and Corfu for travelers without a car is 6- 8 Euros.
There are between 6 and 13 sailings per day depending upon the time of year from Igoumenitsa to Corfu on Kerkyra Lines. The price of a ticket depends upon whether you are booking for passengers with or without a vehicle.
Kerykra Seaways has between 6 and 8 sailings per day and can be booked online with a large discount up to an hour before the ferry trip.
Athens to Corfu by ferry
It's possible to take international ferries to Corfu, but not domestic ferries except for those between Corfu and Igoumenitsa.
If you have time on your hands and are desperate to travel as much of the distance by ferry as possible, you could try the following route:
Drive or get a bus to Patras.
Take a ferry from Patras to Brindisi on the east coast of Italy
Take another ferry from Brindisi to Corfu. This is a popular and useful Italy to Greece ferry route.
Another possible journey you want to visit another country is to take the route across the international border between Greece and Albania, driving from Athens to Saranda (Sarandë) in Albania.
From here you take a short, 30-minute ferry to Corfu.
Final Thoughts
Athens is one of the most exciting European cities to visit and if you're wondering how many days you should spend in Athens, check out How many days in Athens for first-time visitors?
If you're able to get cheap return flights from Athens to Corfu, then you've found the simplest option, especially as you can get the metro right to the airport from pretty much anywhere in the city.
Just remember the number one rule of travel these days – book early to stay on a Greek island!
Driving through the Peloponnese is my favorite method of getting to Corfu. This route gives me a chance to stop at the most incredible historical sites including Olympia, Corinth, and Mycenae, and also to pop into nearby Delphi.
It also means I can have my rental car with me as I explore the best snorkeling spots in Corfu!
Other Ways to Get Around the Greek Islands
Now that you are an expert on how to get from Athens to Corfu, read up about how to get from Athens to Santorini: FERRY Athens to Santorini: Times, Prices, Tickets, Itineraries [2023], and from Mykonos to Santorini Ferries and Flights [2023].