The best beaches in the Peloponnese vie with the beaches of the Greek islands as the most beautiful in Greece. In this region-based Peloponnese beach guide, I cover the 16 most amazing beaches and all the practical info you need to visit these gorgeous beaches including where to eat near each beach, and perfect places to stay.
The Peloponnese Region of Greece: things to know before you go
The Peloponnese is one of the most revered regions of Greece – it's where the ancient Greek magic happened and where contemporary Greek history started.
And it's where Athenians go to experience "the real Greece" in July and August when the island crowds become unbearable.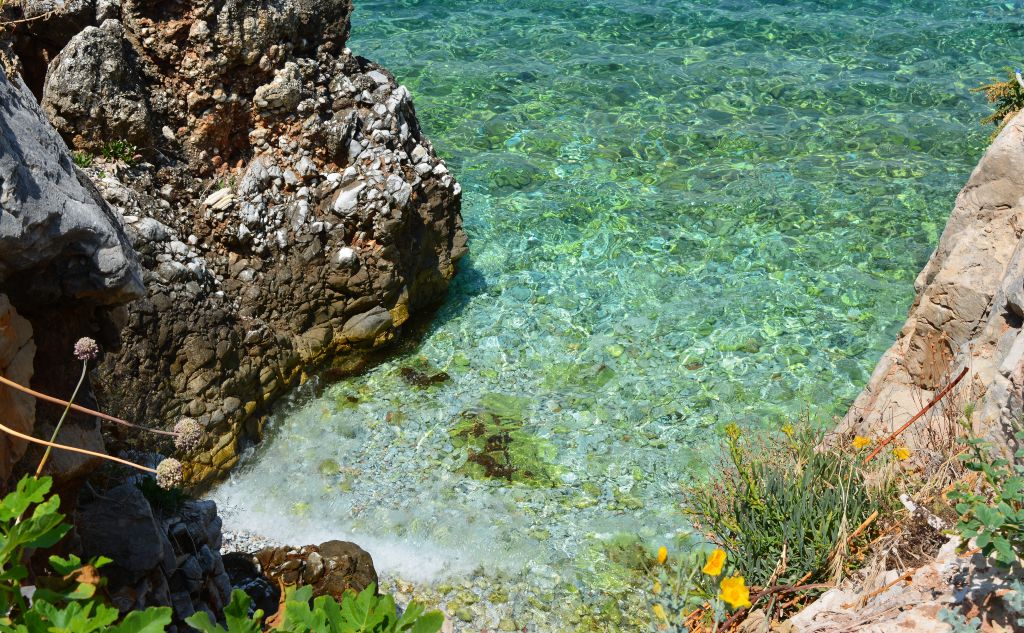 It is undoubtedly one of the most picturesque regions of Europe with unique food, landscapes, architecture, and some spectacularly beautiful beaches.
Things to know before traveling to Peloponnese, Greece
The Peloponnese region is a large peninsula in the south of Greece, several hours' drive from Athens. Besides being historically and culturally the heart of the Greek nation and state, it is also a very big region.
Conveniently shaped like a palm, Peloponnese is easy to grasp. The main regions are Nafplio with Argolis peninsula, Laconia peninsula, Mani region, Messinia, and finally, the landlocked mainland called Arcadia.
Expect mountainous villages and seaside fishing communities, cosmopolitan cities and sleepy towns, dense forests and barren cliffs and rocks, and ski resorts just kilometers away from the summer holiday destinations!
Peloponnese is separated from mainland Greece by the Corinth canal on the eastern side and connected to it by Rio-Antirio Bridge on the northern side.
Getting to Peloponnese is easy and the options are many – Kalamata city has its own airport and this is the best option for those visiting the Mani region.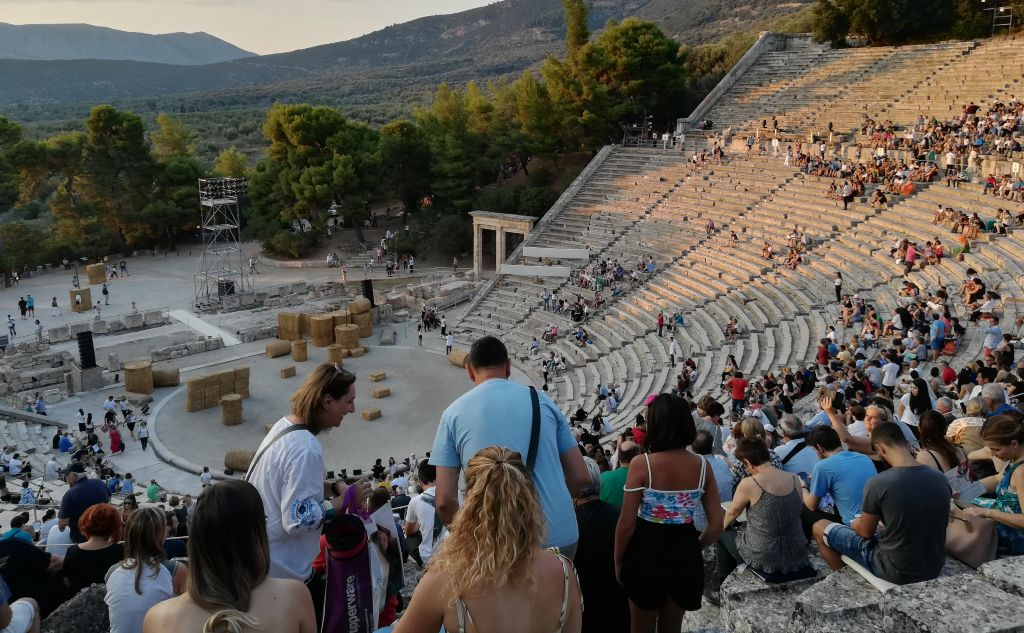 Driving from Athens is spectacularly easy as the highway is new and well maintained, and the best for those visiting Nafplio and Argolida region. Even suburban trains from Athens (proastiakos) go deep into the Peloponnese.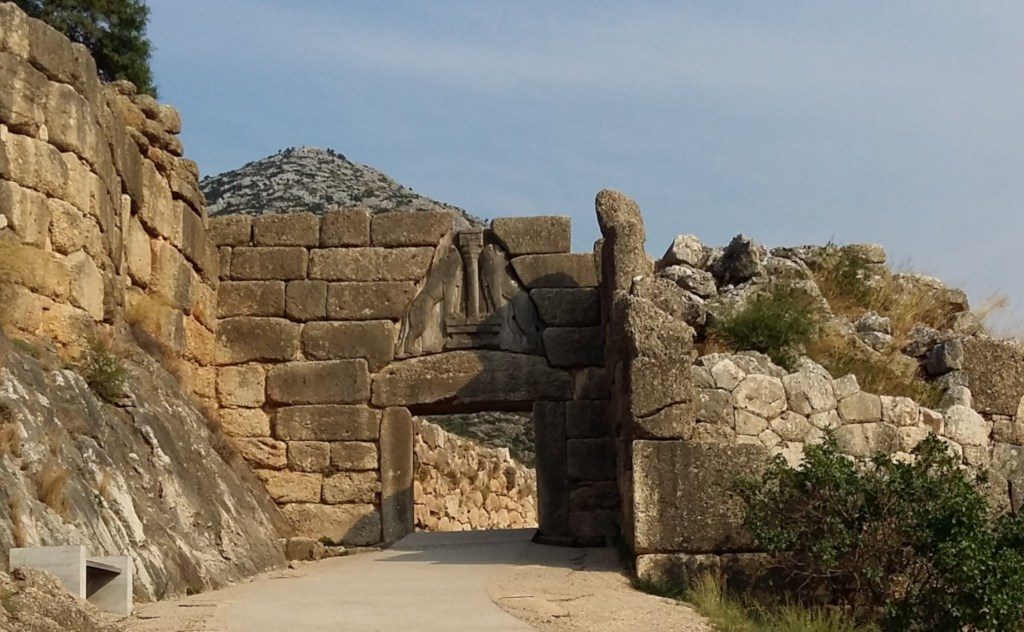 Peloponnese is dotted with UNESCO world heritage sites, Byzantine churches, fortresses, and cities, ancient stadiums and theaters with summer festivals, and magical sea caves.
Make sure to check various points of interest close to your favorite beaches, as Peloponnese is the epicenter of history and civilization.   
The 16 Best Beaches of the Peloponnese
1. Arvanitia Beach – Nafplio
Before Athens, Nafplio served as the first capital of modern Greece. Its downtown is a maze of colorful houses and bougainvillea flowers. There is even a castle above it and an islet-fortress in front of it.
At the back of the city hill, a city beach Arvanitia is located. Small, with pebbles and very clear waters, it is great for a quick morning swim. Since no natural shade is provided, grab a lounger in one of the beach bars.
TIP: A pathway leads from the city to the beach, where you can admire the rocky cliffs (even walk through some stone passageways). Picturesque experience with great sea views.
Where to eat:
Blublanc for beachside snacks and refreshments. Great sea and castle views.
Where to stay:
For where to stay in Nafplio city, read Things to see in Nafplio Greece
2. Karathona beach – Nafplio
South of Nafplio, some 10 minutes drive away lies the wide bay of Karathonas, with a crystal clear sandy beach facing west.
It is a big, child-friendly beach with plenty of space for you to spread out with your inflatables or play "raketes" – the favorite Greek beach pastime of paddleball played with a tennis ball and no net.
TIP: Karathona beach is connected to Arvanitia beach and Nafplio via a wonderful seaside Palamidi path.
Dragon lair-like cliffs, pine trees, prickly pears, small protected cove beaches for a quick dip, and stunning sea views await. Even better when you cycle the path.
Where to eat:
Big Fish for bohemian vibe drinks and snacks, Karathonas for Greek beachside taverna.
Where to stay:
For where to stay in Nafplio city, read Things to see in Nafplio Greece
3. Tolo beach – Nafplio
Among nearby seaside villages, Tolo beach is just 10 miles out of Nafplio and its long sandy beach is one of the most popular tourist destinations of Argolida. It's a stunning beach and hard not to put up in the top few beaches on the Greek mainland.
With a shallow entry, it is also popular with families and tends to get busy during the summer. All sorts of entertainment and sports are available on Tolo beach. One of the largest beaches along this sandy coastline.
TIP: Rent a small boat and visit the surrounding islets of Koronisi (Byzantine castle ruins) and Romvi (cliffside chapel) to get away from the crowds.
Where to eat:
Pitogyro for Greek after-the-beach favorite snacks – souvlaki or gyros.
Where to stay:
For where to stay in Nafplio city, read Things to see in Nafplio Greece
4. Portello beach – Monemvasia
Monemvasia, just off the shores of Laconia, is a monumental castle town overlooking the open waters of this dream-like sea rock.
Its history as a pirate hideout and Byzantine urban center is surpassed only by its formation – it is entirely carved into the cliffs of the rock.
Its walled community provided shelter and safe haven for more than a thousand years and nowadays it is topping the list of the most unique places in Greece.
Portello (from Italian meaning small door) is the city beach of Monemvasia. It is small, reachable only via a narrow gate in the walls, but it is formed out of a mesmerizing black rock.
Access to the waters is a bit challenging and done only by cliff jumping or via a small ladder. However, once in, swim backstroke or float and you will be rewarded with the most amazing sight of a medieval town appearing before your eyes.  
Where to eat:
Malvasia Café for the best views and refreshing drinks, Marianthi for hearty Greek cuisine.
Where to stay
Well, you have to stay in the castle! Try the wildly popular Malvasia Traditional Hotel, or charming and historic Ardamis, and walk to the Portello for a swim off the rocks!
5. Simos beach – Elafonisos
One of the most photographed beaches in Greece, and for a good reason, is Simos beach on a small island called Elafonisos, just off the southern tip of Laconia.
Divided into two beaches, a small and large Simos beach, this place is the closest one can get to Caribbean-style shores in Greece.
Fine white sand with pink shades, rolling soft sand dunes, and crazy clear turquoise waters make Simos beach a must-visit after a stop in Monemvasia.
TIP: Ferry crossings are regular from a mainland place called Punta, but can get crowded during the summer.
Where to eat:
Beach tavernas and bars that rent loungers on the powder-soft sand of Simos beach are the perfect option for lunch!
Where to stay:
The small Elafonisis Resort is only a few minutes' walk from cafes and restaurants but is quiet with a lovely warm pool and a great breakfast.
6. Mavrovouni beach – Gytheio
Gytheio is a regional town surrounded by nice beaches. The longest one is Mavrovouni beach, a blue flag beach with soft sand and pebbles in the sea that stretches for 4 miles.
Although it is a favorite beach of the locals (only a mile from the Gytheio city center), due to its size and length, it never gets busy.
Great for beach sports (especially surfing in the afternoon, as that is the time the winds hit) and for bringing your pets along.
Where to eat:
Taki's Tavern, right on the Mavrovouni beach with delicious Greek food.
Where to stay:
Las Hotel and Spa for a 4-star resort experience, or Dimani Suites for a 3-star suites hotel with pool, 300 m from the beach, and an average guest rating of 9.7.
7. Valtaki beach – Gytheio
Just north of the town lies sandy Valtaki beach famous for its shipwreck "Dimitrios", standing there stranded since 1981. Since half of it sits on the shore's sandbed, you can walk to it and have a chance to take spectacular photographs.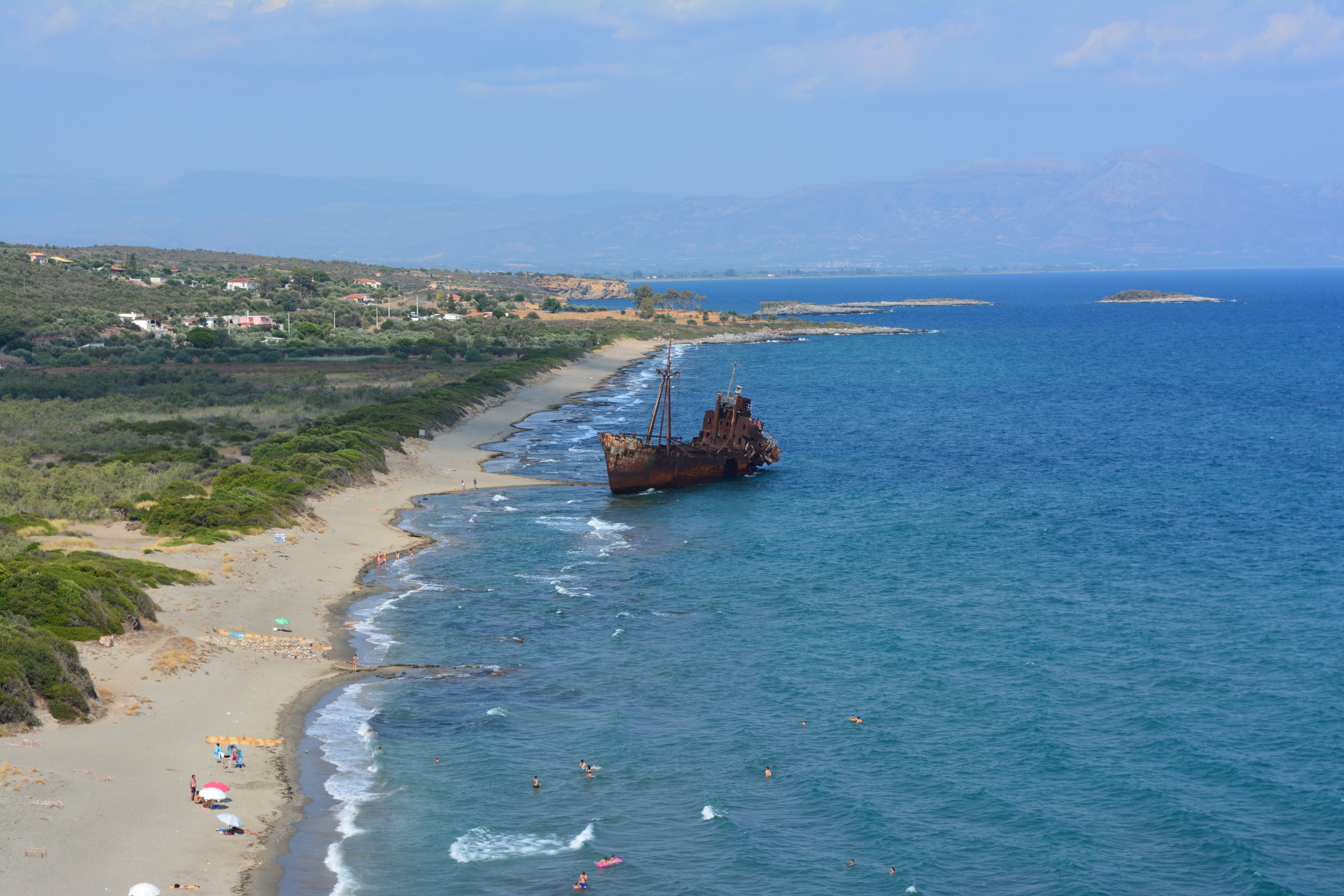 As the ship is fully decayed, be careful not to swim next to it. Also, be mindful of the Caretta Caretta sea turtles that regularly use this beautiful beach for laying eggs.
TIP: Best photos of the whole shipwreck scenery are from the road above this stunning beach (where this pic was taken).
Where to eat:
Tavern O Nikos on the high road, for local fresh Greek cuisine.
Where to stay:
100 Rizes Seaside Resort- Small Luxury Hotels of the World – only 5 years old with a private beach area and sparkling pool.
8. Alypa Beach – Mani
This gorgeous large-pebbled beach is hidden in a tiny east coast cove. It's the best introduction possible to the fabulous Mani peninsula.
It is surrounded by typical Maniatic stone houses, rugged terrain, and insanely clear waters.
A great choice for a more secluded beach time, as it offers limited amenities.
Alypa gives you a sense of bygone Greek beach life – a tavern on the shore to sit and enjoys drinks, and occasionally having a swim before doing it all again. One of my personal favorites on the Peloponnese.
TIP: White pebbles look amazing, but can prove challenging when entering the sea. Bring your reef shoes along.
Parts of the 1982 movie "The Tempest" (based on the Shakespeare play) were shot on Alypa beach.
Where to eat:
There is only one tavern on the beach (conveniently called "Alypa") and it is great!
Where to stay:
No luxurious hotels around Alypa. Stay in private bungalows or in the rooms above the tavern.
9. Skoutari beach – Mani
Skoutari is a lovely little gem, excellent for those days you want to get away from it all. With no beach bars and organized watersports, it tends to be quite peaceful, even in the high season.
Sandy beach with pebbles around the entrance to the clear blue waters. A picturesque beach too, made so much better by the excellent taverna (Kalamakia tavern) – an old whitewashed building full of charm.
Where to stay:
There aren't any good hotels around Alypa. Stay in private bungalows or in the rooms above the tavern.
10. Cape Tainaron beach (Kokkinogia) – Mani
This is the second southernmost tip of continental Europe, an area of fantastic atmosphere and ancient ruins (it is believed that the entrance to the mythical ancient Greek underworld – the Gates of Hades – is located here).
It also has a working lighthouse (named Matapas), sea caves, a second-to-none walking trail along the south shore, and excellent beaches.
The very approach is thrilling by itself, following the paved road you realize that the end of it is the end of continental Greece and the European continent.
Such a place deserves a dip in refreshing clear waters in a series of cove-like beaches.
TIP: This is a place where the Mediterranean Sea starts, so be mindful of the currents. Also, there's no shade, it is southern Greece – so, plan your visit in the late afternoon hours.
Where to eat:
Akron Tenaro offers snacks and refreshments on the spot.
Where to stay:
Stay elsewhere on Mani and visit this area during a road trip along the peninsula.
11. Marmari beach – Mani
Driving northbound from Cape Tainaron, make a stop on your left to enjoy a rare sandy beach on the west side of Mani. With shallow fine sand waters, a beach bar, sun loungers, and other amenities it is an easy choice when you are with kids.
Being on the sunset side of the peninsula, you can enjoy longer beach days here.
TIP: Admire the bare hills all around and the contrast they make to the deep blue of the sea.
Where to eat:
Marmari Paradise Resort offers all you need on the beach.
Where to stay:
Marmari Paradise Resort. – somehow only rated as a 3-star resort – modern stone-walled rooms with sea-view balconies, private beach, bar among the rocks – absolutely superb gem!
12. Mezapos (Chalikia) beach – Mani
Ex-pirate cove and settlement, this place is a real gem.
Drive through olive groves to reach a sleepy fishermen's village, only to be amazed by the scenery of two beaches on site. One is accessible from the land, while for the second (a more dramatic one), you need to jump from a pier and swim a bit.
Where to eat:
Local taverna marked on GMaps as "Sea Food" offers superb fried fish, fresh seafood, and cold refreshments.
Where to stay:
Ippola Boutique Hotel – Mani has fantastic value hotels! This is a 4-star limestone mansion with all modern comforts and an average guest rating of 9.6!
13. Limeni Beach – Mani
The crown jewel of Mani beaches, Limeni is both a historical village port from where the supplies for the Greek War of Independence were traded and the most spectacular turquoise waters coming all the way to the rocky courtyards of houses, now turned into restaurants, bars, and cafés.
This is where sea turtles come to play with swimmers. Rocky platforms for leaving your towels, but the sands of the sea bottom here are things made of dreams. A must when visiting Peloponnese.
Where to eat:
Thodora's Place – Greek food and cold beers next to the sea at its best.
Where to stay:
I'm yet to find a bad hotel in Limeni. I love the dramatic stone tower and winding pool area of 4-star Pirgos Mavromichali, but I also love the rooms, bar, views, terrace, and room service (!) of the Trapela Limeni Luxury Suites.
14. Foneas beach – Mani
Foneas is the most interesting beach in the Kardamili area due to the presence of a monolith – a huge rock just a few meters from the shoreline. It also has pebbles, azure waters, and a landscape of sheer natural beauty.
A canteen on the beach makes longer stays possible, as there are no beach bars, beach umbrellas, or sun loungers to rent. Tends to get very busy during August.
TIP: Visit a nearby mansion of Patrick and Joan Leigh Fermor that now belongs to Benaki Museum of Athens. Superb beachside villa turned cultural center.
Where to eat:
Foneas Canteen.
Where to stay:
Stay in Kardamili, my choice is either Diapori Suites Hotel which is only 150 meters from the beach and has an average guest rating of 9.6 for this 4-star property with sea-view rooms and a lovely pool area, or for a romantic stay, the discreet luxury Katikies Manis which is beautifully decorated and within a large landscaped estate, at a very reasonable price.
15. Kalogria Beach – Mani
Kalogria is the best-known large and organized beach in Mani of a postcard natural beauty.
Full of taverns, bars, cafes, and watersports spread out around a long stretch of fine soft sand, this place is great for an active beach day and for watching the sunset. One of the most visited beaches in the area.
Where to stay:
Wonderful Petras Gi – 4-star stone houses 90 meters from the beach, and the Kolokotronis Hotel & Spa with individual stone houses, on-site bar and restaurant, and only 350 meters away from Kalogria beach.
16. Voidokilia Beach and Gialova Lagoon – Pylos region
A star of Peloponnese unusual seashores, this place is topping the list of the world's best beaches. It is shaped like the Greek letter Omega (Ω) and in its narrowest part, its white sand-covered dunes almost touch the sweet waters of Gialova lagoon.
Sandy beach ends in hills on both sides, forming a natural gate-like landscape that is one of the most instagrammable places in Greece. The ruined castle, thyme, sage, oregano and bay leaf bushes that rise above the beach together make this scene mesmerizing.
TIP: Free parking. Drive carefully to Voidokilia as the road is good, but not paved.
Where to eat:
Bring your own supplies, as no amenities on the beach
Where to stay:
Spectacular Costa Navarino Resort. Pricey, but one of the most luxurious resorts in Greece, and the first Mandarin Oriental property in Greece.
A final few Stunning Beaches in the Peloponnese
I hope I've helped you narrow down where you might like to base yourself in the Peloponnese for your next holiday. Peloponnese is so huge, you could spend a decade-worth of summers and still not explore all of its charms and beautiful beaches. If on a longer trip, visit these best Peloponnese beaches too:
Itilo beach – (Neon Oitylo), Stoupa
Selinitsa beach – Selinitsa beach is in Gytheio
Foinikounta beach – near Kalamata