Headed to Crete and wondering how to find the best beach? The 20 best Chania beaches you'll find here are some of the most stunning beaches not only on the island of Crete but in all of the Greek islands. Whether it's hidden coves, long goldens andy stretches of coastline, or pink sand and turquoise waters, you'll find it all here in this comprehensive guide and map to these perfect beaches.
Chania Beaches Map
1. Nea Chora Beach
This sandy beach is just a few minutes away from Chania old town. It's a long beach with clear blue water. Its calm waters make it a very popular choice for young families.
There are lots of restaurants and cafes all along the waterfront and it is also a great sunset spot.
2. Stavros Beach
This beautiful beach is only 17 km east of Chania town on the Akrotiri peninsula. It's half an hour's drive from the city center.
Stavros beach rose to fame when it was used in several of the scenes of the Zorba the Greek movie. Anthony Queen dances the Sirtaki in front of the beach. As you can see from the sign, Stavros Beach is most commonly known now as Zorba's Beach.
Confusingly, in the area, there are two beaches with the same name. The first is east of the village near the small harbor and it has white soft sand and turquoise waters. It is well organized and provides everything you need for a great day by the sea.
The second one is 200m away from the first. It is often a more quiet beach that has thick sand and crystal clear waters.
3. Seitan Limania beach
Just 20 km from Chania city, Seitan Limania is a small beach in a narrow sea inlet on the East side of the Akrotiri peninsula. I love this inlet-kind of Greek beach!
From the car park, you need to walk down a narrow hiking trail. It takes about 15 minutes but the breathtaking view and the natural beauty of this wild landscape will give you the energy to reach the beach!
4. Marathi Beach
Marathi is another magnificent beach close to Chania town, only 17km away. It is actually two sandy beaches with fantastic still blue water.
The beaches look to the southeast, across Souda Bay, and the mountains of Akrotiri protect them from the north winds.
In Marathi, there are authentic taverns with good quality food, so if you visit, time it so that you can eat lunch here!
5. Loutraki beach
Loutraki is a beautiful beach in a small bay, with natural shade. It's suitable for parents with young children but also for hot and windy days when you're looking for a sheltered swimming spot.
It is very close to Marathi Beach and 16km away from Chania City. Unfortunately, it's not accessible by local bus. This makes it very popular with locals! The other thing that makes Loutraki one of the best beaches in Chania for locals is its beach bar.
If you're taking a Crete road trip or are planning to get a car rental, this is a great place to put on your itinerary.
6. Georgioupoli Beach
Georgioupoli is 43 km east of Chania city on the way to Rethymno.
It has a huge sandy beach that has been awarded a blue flag and is shallow with patches of green and blue water. It has good facilities including a lifeguard, several cafés and restaurants.
If you visit Georgioupoli you must go to the chapel of Agios Nikolaos, which is built on a small rocky islet, in the middle of the sea. It is attached to the beach by a narrow and rocky causeway.
It's obvious why it is one of the most photographed spots in Crete!
7. Frangkokastello Beach
Frangkokastello is 13km east of Hora Sfakion, 80km southeast of Chania, and in a small valley south of the White Mountains, but still in the Chania region.
It is an astonishingly picturesque scene, with the remains of a Venetian castle beside the sea that is haunted by the legendary ghosts of Drosoulites. The exotic waters and the sand dunes in front of the Castle can have you traveling back in time if you can see it on a quiet day, especially in winter.
The beach has sunbeds and umbrellas and there are a number of fish taverns and some small apartments across from the beach.
8. Ilingas Beach
Ilingas is 2 km west of Chora Sfakion and almost 72 km south of Chania town.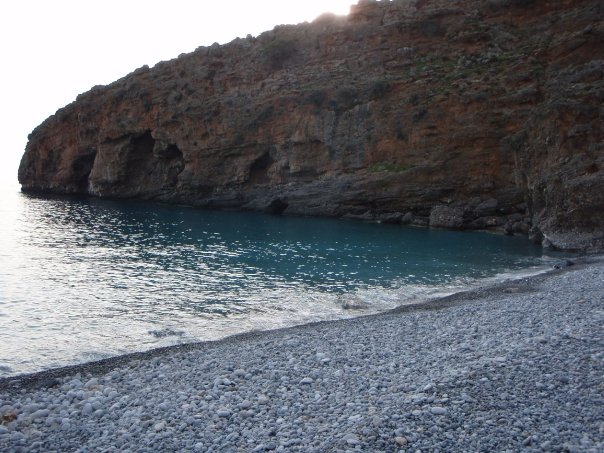 It is one of the most beautiful and easily accessible beaches in southern Crete – a quiet pebble beach with deep blue water. It is partly organized with some umbrellas and sunbeds but you can find a lot of free space if you have your own equipment.
9. Sweet Water Beach (Glyka Nera Beach)
One of the most amazing beaches in Crete! This pebbled beach is called Sweetwater (Glykanera) because sweet water can be found just below the surface of the pebbles.
It is located on the dramatic southwestern coast of Crete, between the villages of Chora Sfakion and Loutro, and is about 75 km away from Chania.
Unfortunately, this secluded beach is not accessible by car as it is surrounded by huge rocks. The easiest way to reach Sweet Waters is by boat from Sfakia.
10. Loutro Beach
Loutro is a small fishing village 71 km south of Chania city. It can only be reached by boat from Chora Sfakion or by hiking into the village.
The village has two unique pebbly beaches with crystal-clear, deep green and blue water.
This is a great choice if you love hiking because of the many hiking trails you can take out of Chora Sfakion and that lead to some other magnificent beaches along the stretch of coastline.
11. Agia Roumeli Beach
Agia Roumeli is 56km south of Chania town and is another hidden location only reached by ferry from Chora Sfakion.

It lies at the exit of the majestic Samaria Gorge hiking trail and is a welcome sight for weary hikers! It is a memorable place because of the combination of steep cliffs and the deep blue sea.
12. Pachia Ammos Beach
Pachia Ammos beach is the main beach of Palaioxora town, 78 km away from Chania city. It has soft golden sand and clear shallow water.
It is the main beach of Paleochora, well organized, and in close proximity to amenities.
In addition to Pachia Ammos beach, you can find some other top beaches around the coastline of Palaiochora, like Grammeno and peddle beach of Gialiskari.
13. Kedrodasos Beach
Kedrodasos Beach is located only 2 km away from Elafonissi but the problem is that you have to follow a dirt track road so you must be very careful.
However, the combination of plenty of cedar trees which are along the beach the white sand, and turquoise waters creates a lovely atmosphere.
14. Elafonissi
Elafonisi Beach is in southwestern Crete, 76 km away from Chania. This amazing beach is a key reason for travelers from around the world to come to Chania prefecture.
It is remarkable because of its white and pink sand (colored by crushed shells), shallow turquoise waters, and gorgeous little coves.
When you arrive you will pretty much always see an overcrowded but very well-organized beach with snack bars, umbrellas, and sunbeds.
Away from the hoards at Elafonissi, and within walking distance along the peninsula, you will find lovely quiet coves where you can swim in peace.
A little east of Elafonisi beach you can see Kedrodasos beach which is a rare cedar forest. The beach is filled with juniper trees, like cedars and dunes, reminiscent of the tropical beaches of Greece.
On the way back to Chania, driving along the road you will reach Elos and Voulgaro two beautiful villages in which you can find traditional taverns. Try Nerantzoula in Voulgaro.
15. Falassarna beach
Falassarna is one of the most beautiful beaches of Crete located beside a fertile plane near the village of Platanos, 58 km west of Chania town.
A huge sandy beach with emerald waters and white sand gives a unique look to the landscape. Falassarna beach is partly organized with umbrellas and sun loungers but here are several free spots for those who don't want it.
16. Balos Beach
Balos beach is the most photographed beach in Crete and is probably the most spectacular seaside landscape around Chania. It is approximately 56 km northwest of Chania and 17 km northwest of Kissamos.
Balos is a shallow lagoon formed between Cape Gramvousa and the small Cape Tigani. The water here is beautiful jade color and is always crystal clear.
The natural beauty of Balos comprises a great variety of rare plants and animals which are unique in this part of the world.
There are two ways to get to Balos. The easiest way is to take the Boat from Kissamos port. The other way is to visit Balos by car but that is not so easy because there is only a dirt road starting from Kaliviani and running along Cape Gramvousa.
After 10km the road stops at a wide parking area and then you have to walk a 2km rocky path. The great advantage of coming to Balos beach by car, however, is the unforgettable view you get when you first arrive in the parking area.
17. Kissamos Beach (Mavros Molos)
Mavros Molos Beach lies on the north coast of Chania prefecture and is 36km away from Chania town. It is the best beach around Kissamos town.
Mavros Molos is a sandy beach, that is very well organized with umbrellas and sunbeds. It's a good choice if you like snorkeling because of the many fish you can spot here.
There are also beach bars and traditional taverns.
18. Platanias Beach
Platanias is a continuation of Agia Marina. It's only 12km away from Chania town and as a result, is usually the most popular and overcrowded beach in the Chania Region.
Like Agia Marina beach, Platanias is mostly sandy and shallow.
19. Agia Marina Beach
Agia Marina beach is located almost 10km away from the Chania city center.
It is a huge beach with shallow water and golden sand and is well known for its many beach bars. This makes it often crowded with young tourists. It is also popular for water sports such as Jet Skiing and parasailing.
20. Chrissi Akti Beach
This lovely beach is only 4km away from Chania town. Chrissi Akti has golden sand and shallow water.
Chrissi Akti is an organized beach with many facilities, such as umbrellas, sunbeds, dressing rooms, and even a playground. For all these reasons it is the perfect beach for kids.
Keep Planning Your Trip to Crete