It's ok if you don't have a multi-million dollar mansion overlooking the wild rugged surf of the Mornington Peninsula. You can still holiday in Portsea Victoria and experience the beauty and the cool vibe of this wealthy summertime town. Whether it's a luxury home, a resort, or a hotel packed with great facilities or your own stretch of a campground on the beautiful Foreshore, you'll find the very best Portsea has to offer here.
Accommodation
in Portsea
Only 90 minutes (67 miles) from downtown Melbourne will land you in this little township at the far southeastern tip of the Mornington Peninsula. There are only 510 residents here but they are amongst the wealthiest in the country.
But don't just come to see the Portsea mansions on the cliffs – come and experience some of the best beaches, national parks, diving, snorkeling, surfing, and wineries in Australia. And my favorite thing about Portsea and its relaxed seaside lifestyle? Weedy seadragons live here and you can look for them from Portsea pier!
Read on the find your perfect Portsea accommodation!

The beating heart of Portsea is the wonderful Portsea Hotel, locally known just as the Portsea pub! Spread out over several tiered levels, facing the Bay and adjacent to the Portsea Pier, there isn't a more central location for a Portsea holiday.
There are only 26 rooms at the Portsea Hotel so you need to book in advance. The rooms accommodate up to four people. They have been recently renovated in a 'Euro-nautical' style. Some suites have bay views and lounge areas.

There's a restaurant, bar, beer garden overlooking the Bay, and the Portsea Pier, and live music. It's a great spot for younger groups and couples rate it most highly.
It's certainly the liveliest place in Portsea and had great indoor and outdoor spaces.
Check prices, reviews, and availability here
This is a great value accommodation in the heart of Portsea. The large heated outdoor pool and spa are surrounded by individual apartments styled to look like the bathing houses of the Mornington Peninsula.
There's also a lovely garden as part of this large complex.
The apartments have kitchens, dining rooms, bathrooms, and bedrooms as well as private balconies.
Free parking and wi-fi add to the value of the complex but so too does the room service, gym, and tennis courts.
Check prices, reviews, and availability here
Balconies that face the golf course are relaxing, as is the large outdoor terrace for drinks and meals.
The hotel has all of the facilities that are standard at Mercure hotels such as dry cleaning, laundry, a business center, and an express check-in and check-out service.
In fact, the hotel describes itself as a "fully integrated development incorporating a golf club, accommodation and function complex."
There are different standards of rooms with some having sea views and private balconies.
Despite these lovely views and wonderful facilities, the staff of the Mercure is continually singled out by guests for their friendliness and professionalism.
I like that this four-star hotel opens for check-in is at 2 pm, whereas 3 pm seems to be standard in Australia and for Airbnb stays.
The Mercure is very close to Point Nepean National Park and equidistant from the Portsea Foreshore reserve and London Bridge Lookout.
Check prices, reviews, and availability here
Salt
Great for a family or large group, The Portsea Hideaway is a luxury home for up to 11 people. The pool is heated from November to April and the house itself is decorated with clean modern furniture and decor.
The Portsea Hideaway beach house is a 20-minute walk to Ocean beach and a 15-minute walk 1200 meters, to the Portsea Village, Pier, and Hotel.
Check prices, reviews, and availability here
Santorini Portsea is a quiet, private, completely renovated, and refurbished couples or family retreat.
The selling point is its large outdoor area – perfect in summer with a large sparkling solar-heated pool and outdoor decks. The outdoor areas flow seamlessly through french doors to the kitchen and living areas.
Outside is where you want to be, however, with an outdoor shower, heater, BBQ, and dining setting for 10.
The property is 500 meters from Shelley Beach and the Portsea Village. Get in quickly!
Check prices, reviews, and availability here
6. Sol Us Portsea
There is something homely and unique about Sol Us Portsea, located at the end of a quiet court. The outdoor heated pool, large terrace, and grounds give the feeling of complete privacy even though you are in the heart of Portsea!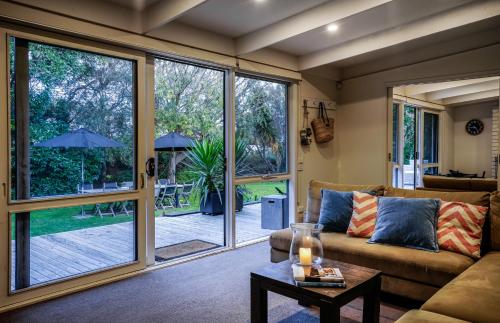 This four-bedroom home is air-conditioned with free wifi. Another great benefit is that pets are allowed. There is children's play equipment in the garden as well as a large outdoor dining setting.
With one acre of garden and your own tennis court, it's hard to leave this fantastic Portsea village holiday home. If you do choose to leave this little urban oasis, the Portsea Hotel is only 1200 meters away.
Check prices, reviews, and availability here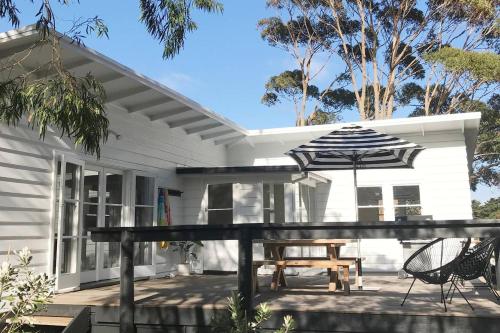 This lovely little holiday home boasts that it is only a five-minute walk to the Portsea Hotel and the Portsea Pier. That is true and makes it a great find. But it is also a very reasonably priced accommodation that is bright, clean, minimalist but very welcoming.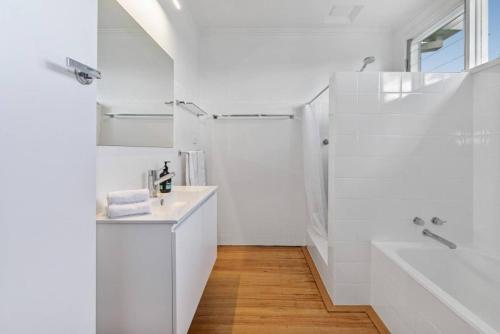 The top photo doesn't do the deck justice – it sits among the trees and wraps around the house. The only downside to the property is it lacks a pool.
The upside, however, is that the price is considerably lower than properties with large pools in Portsea. If you prefer to swim in the ocean, or you are traveling outside of the summer period, this could be a great option.
Check prices, reviews, and availability here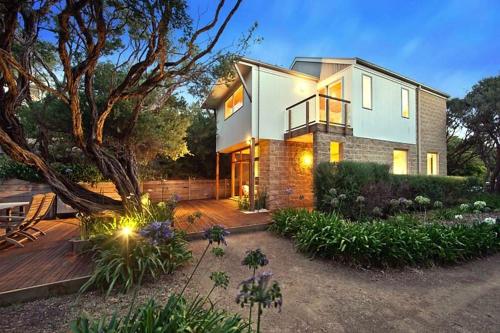 The boundary of Sorrento and Portsea can be confusing. Coastal Calm Sorrento is located on Lincoln Avenue in Portsea and caters to nine guests. The property has impressive facilities for a single and private home including a tennis court, garden, terrace, BBQ facilities, a children's play area, and free parking.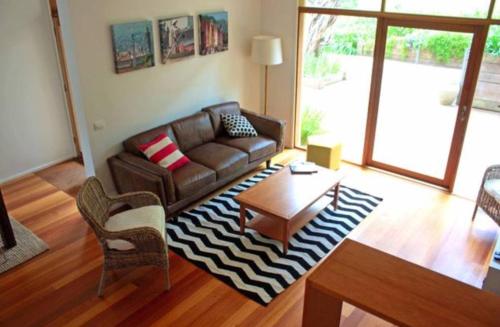 The property is 1600 meters from Sorrento beach and is appreciated by families for its many kid-friendly activities. In fact, families give it a 9.6/10 rating!
Adults may find the lack of free wifi irritating – unless you're looking to truly relax and have a digital detox holiday break!
Check prices, reviews, and availability here
And search for ALL accommodation at Portsea here
9. Portsea Camping
Unfortunately, there are no Portsea caravan parks, but there are two wonderful Sorrento Foreshore camping grounds.
These campsites can be booked directly online and there are detailed maps and instructions about booking your own stretch of luxury coastline.
See all the details and book online here.
10. Live like a local: Airbnb Portsea
It feels like every home in Portsea must be an Airbnb! You're spoiled for choice. Check out a few of these options below
Links and Further Information
If you've enjoyed this post, share it with your friends now and pin it for later! I'd love to hear about your trip to Portsea and if you saw any weedy sea dragons so leave me a comment!
PIN IT FOR LATER