Crete has it all: beautiful beaches, Minoan ruins, myths of Minotaurs and labyrinths at the Palace of Knossos, Zeus' birthplace, Venetian harbors, palm tree forests, pink sand, winding, and charming old cities, and unique Cretan cuisine. Here's a simple and leisurely road trip in Crete for history and beach lovers.
6 reasons to take a Crete road trip
Because Crete is the largest of the Greek islands with Chania and Rethymno on the western side, and Heraklion and Lassithi on the eastern side.
Crete is a travel paradise – a combination of amazing beaches and ancient monuments and old cities, each with an interesting history.
To try regional Cretan cuisines. The Cretan Mediterranean diet uses the largest amount of olive oil from the olive groves all over the island. It's called 'liquid gold' here and is slathered (with lemon juice) on pretty much everything, especially boiled wild greens. Free-range chickens produce eggs that are full of good fats and meat is eaten about once a week, and wine is taken regularly in moderation.
Crete is the heartland of the mighty Minoan culture from 3500 BCE until it waned with the Greek Dark Ages in 1100 BC. Crete is where you'll find most of the great Minoan archaeological sites.
Road trips are fun and the best way to explore Crete is to hire a car and set out on the ultimate road trip. Two weeks will give you enough time to explore the whole island at a leisurely pace.
Getting to and from Crete
You can visit Crete by flying to Heraklion Airport or by taking a ferry from Athens or other Greek islands. There are a variety of international flights to Heraklion airport via Athens.
A more leisurely way to get to Crete is to get the overnight ferry from Piraeus port, which is about 1 hour from Athens International Airport.
Car hire in Crete
It's wise to book a car rental online a few months before you arrive. Discover cars are a trusted global brand with great prices. You might want to consider a small car to make it easier to navigate narrow roads.
What kind of itinerary is this?
I believe in thoughtful travel and not being a hit-and-run tourist. I've done so much travel that I no longer want to take a 14-day road trip in Crete and stay in 13 different places.
It's possible to do this on this itinerary and I include accommodation options. Still, I've clustered the attractions around major cities and towns so that you can have several nights in one place if you prefer.
Day 1: Highlights of Heraklion – Knossos Palace – CRETAquarium-Hersonissos
Just a short drive from the city center, you will find the most famous of the archaeological sites in Crete. It's a perfect first stop on your road trip.
Knossos Palace
Knossos Palace is the second-most visited attraction in Greece after the Acropolis of Athens and one of the most famous sites in the world for lovers of myth and ancient culture.
You can't come to Crete and miss Knossos! Underneath the Palace is the famed labyrinth of Daedalus where the Minotaur was trapped until Theseus slew the beast – you don't see that every day!
You can peer down to the depths of the excavated site and see this wonderful and large site full of amazing frescoes and Minoan symbols. It was the high point of Minoan culture and has influenced Greek culture ever since its rise on this island.
The archaeological site is only 4 kilometers from Heraklion. Give yourself a few hours to get around the site and try and do it first thing in the morning or at least not in the hottest parts of the day.
For a comprehensive guide to visiting the Palace and to learn more about the Minotaur and his labyrinth, read Visit Knossos Palace and the Minotaur Labyrinth.
CRETAquarium
If you're not into ancient culture then you head instead to Greece's largest aquarium. CRETaquarium has about 2,500 fish from 250 indigenous species, from sand tiger sharks to microscopic sea horses.
Where: 15 kilometers east of Heraklion
Hersonissos
The next and final stop of your road trip on Day 1 is a further 12 kilometers east of the CRETaquairum, which is Hersonissos.
The Coves of Hersonissos (Limanakia) are 27km east of Heraklion, beginning at Cape Sarandaris and continuing east to Heraklion harbor.
These are the best beaches on the northern coast of the Heraklion Region. Cape Sarandaris protects the beaches from the frequent northwest winds resulting in lovely calm waters.
After a day wandering around a huge archaeological site, take time to explore these glorious beaches before enjoying the evening in Heraklion.
Overnight: Heraklion
Where to stay in Heraklion
GDM Megaron, Historical Monument Hotel – the best-rated 5-star hotel in Heraklion. A wonderful bar and within walking distance of all the major attractions and the Port.
Ibis Styles Heraklion Central– this property is the best-reviewed 4-star hotel in Heraklion, 250 meters from the center and with a convenient airport shuttle. A great first base in Crete.
Infinity City Boutique Hotel – a perfect 3-star travel-sustainable property. Incredible sea views and contemporary decor.
Day 2: Heraklion – Faistos Palace – Matala – Moni Odigitrias
Just over an hour from Heraklion towards the South Coast, you'll find the Minoan archaeological site of Phaistos Palace where you can explore the ruins of the second-largest palace in Crete.
Matala
Afterward, continue your Crete trip 10 kilometers southwest to the coast and Matala beach. You'll instantly see why it's one of Crete's most famous beaches with golden sand and artificial caves.
Moni Odigitrias
On the way back, stop at the monastery of Odigitria. There are 2 tholos tombs in an old Minoan cemetery near the monastery. These tombs were used for 1000 years and when they were excavated in 1979 they found seals, amulets, golden diadems, and a load of other beautiful grave goods.
Tip: If you're planning to stick around on the beach until sunset, stop at the monastery before you reach the coast.
Overnight: Heraklion or Matala
Where to stay in Matala
Matala Bay Hotel & Apartments – a highly reviewed 3-star property, 300 meters from the beach and has a convenient airport shuttle.
Beach Front Condo South Crete – Set in Kali Limenes, within 2.4 km of Agiofarago Gorge, this condo is indeed beachfront with free WiFi, air conditioning, and a restaurant.
Day 3: Agios Nikolaos- Elounda -Spinalonga Island
On day 3 we drive 70km from Heraklion to Agios Nikolaos along the north coast, getting an amazing view of the Selinari Gorge on the way.
Agios Nikolaos
The cosmopolitan city of Agios Nikolaos on the Gulf of Mirabello boasts an interesting Folklore museum, Byzantine churches, a well-organized marina, bustling pedestrian streets, and traditional squares with buzzing coffee shops and restaurants.
Elounda
Next, take the road 11km further north to Elounda. It is one of the loveliest drives in Crete with views of the coastline and Mirabello Bay. There are beautiful beaches along this route.
Elounda was once a picturesque fishing village in picturesque Mirabello Bay. The villagers lived from farming, fishing, salt extraction from the Venetian saltpans, and emery mining.
Elounda developed into a resort area famed for its beautiful scenery and the luxury hotels which are still being built here with a number of new luxury hotels opened in 2022.
Spinalonga Island
A boat trip to Spinalonga is not a trip, it's an experience. What you see from the coast are the remains of a 16th-century Venetian fortress.
But what makes Spinalonga unique are the ruined houses and buildings of the settlement that was a leper colony from 1903-57. It also has small pebbly beaches and boats leave from Elounda to Spinalonga every 30 minutes.
Spinalonga Island is being considered by UNESCO for listing as a World Heritage site.
It's a one-hour or 70 km drive back to Heraklion for the evening. If you would rather cut down on the driving, you can stay this night and even the next night if you would prefer to be in Agios Nikolaos.
Overnight: Heraklion or Agios Nikolaos
Where to Stay in Agios Nikolaos
Wyndham Grand Crete Mirabello Bay – This 5-star hotel has a beachside location and features private pools, a full-service spa, 9 restaurants, and free WiFi.
Naiades Marina Hotel – this is a terrifically located 3-star property across from the beach and 300 meters from the Port. Seaside views from your private balcony make this great value.
Day 4: Sitia -Vai Beach -Toplou Monastery
Today we're headed south along the coast to Sitia. If you made your way back to Heraklion last night, the drive will take 2 hours to cover 128 km. If you stayed in Agios Nikolaos, it's a shorter 66 Km and 1 hr 15 minutes.sit
Sitia
Siteia is on a hill that runs down to the sea. The seafront is lined with taverna and cafes and is popular in summer as a beach holiday destination.
Have a wander around the seafront and also stop by the Sitia Archaeological Museum if you need a history fix. There's also an interesting Folk Museum. If you'd like a hike to get a great view, you can walk to the top of Siti where you'll find the renovated Kazarma Fortress.
Vai Beach
Europe's largest palm tree forest – a paradise of palm trees on the beach – is now a protected region. The beach itself is also fantastic and the most famous of all the attractions in east Crete.
Toplou Monastery
On the way to the palm forest, you'll come across Toplou Monastery, 10 km east of Sitia, The monastery is also known as Our Lady of the Cape (Panagia Akrotiriani).
This is a wild and arid part of Crete and is largely uninhabited.
It's unusual to see a monastery on a Greek island so heavily fortified, but it was raided by Turkish pirates in the 15th century and so 10 m high walls were erected to protect it. There's a well in the middle of the grounds which would have helped the monks hunker down when they were being raided.
The monks of Toplou Monastery were not only politically active in resisting the Ottomans, but they also resisted the Nazi occupation of Crete.
It's worth coming here to see the 14th-century frescoes.
The monastery is closed between 1 and 2 pm
You can stay at the monastery as it is still operational and surrounded by olive groves and vineyards. It's run by blue-robed monks who export the olive oil and wine they make on-site;
Toplou Tips: There are plenty of car spaces for your rental car here but make sure you are not wearing very short clothing or you'll be given a towel to wrap around your legs! You can take home a lovely bottle of wine made by the monks.
Overnight: Heraklion, Sitia, or Agios Nikolaos
Where to stay in Sitia
Sitia Beach – This 5-star hotel is 2 minutes walk from the beach, 300 m from Sitia center, and has 3 pools, a spa, and is on a private beach area of Sitia Bay.
Sitia Bay – A 4-star Apart-hotel on the beach in a lovely garden with sea views from private balconies and a great rooftop terrace bar.
Itanos – a 3-star beachfront hotel with sea views from your balcony. Great value.
Day 5: Arkadi Monastery – Margarites Village – Bali Beach
Today it's time to head north, and you'll be staying in Rethymno for a few days. Rethymno is 3 hrs (204 km) from Setia which is why it's worthwhile staying the previous night in Heraklion or Agios Nikolaos.
From Agios Nikolaos, it is 141 km and takes just under 2 hours to get to Rethymno. It's 80 km and takes 1 hr and 15 minutes to reach Rethymno from Heraklion.
Arkadi Monastery
The first stop is Arkadi Monastery which for Cretans is a historic monastery in Crete because it played a major role in the Cretan Uprising against the Ottoman Empire.
In Crete, it is considered a symbol not only of the island but of Greece.
It's a 30-minute, 20 km drive southeast of Rethymno.
Margarites
Continue your road trip by driving through the charming village of Margarites. Margarites is 15km (26 minutes) southwest of Arkadi Monastery or 30 km southeast of Rethymnon town in the center of the island. The village is well known for its pottery and attracts a large number of tour buses in the busy season.
After the rushed tourists have left, it is then possible to stroll around this very charming village and enjoy the many pottery studios.
Bali Beach
If the weather is hot and you'd like to visit another beach outside of Rethymno, it's 31 minutes to drive the 25 km northeast to Bali Beach.
Make your way back to Rethymno and try out the local tavernas.

Overnight: Rethymno city
Where to stay in Rethymno
There is a long row of seafront hotels along Rethymno's long beach and you are spoiled for choice when it comes to modern and high-quality accommodation options here.
Rimondi Boutique Hotel – Small Luxury Hotels of the World – The luxurious Rimondi Boutique Hotel in Rethymno has a large patio with a pool and palm trees. It consists of 2 separate buildings. Breakfast is served by the pool and the family rooms are always in great demand.
Nautilux Rethymno by Mage Hotels – Located in Rethymno Town, a few steps from Rethymno Beach, this stylish and spacious 5-star property has 3 swimming pools, a bar, garden, and airport transfers.
BIO BEACH Boutique Hotel – Adults Only is another sparkling new Rethymno hotel, this one is 4-stars and highly reviewed. There are 20 suites with private balconies overlooking the sea and a restaurant and bar by the beach promenade.
Day 6: Rethymno City – Armeni – Kourtaliotiko Gorge – Big Waterfall – Asomatos- Moni Prevali – Preveli Beach – Plakias
Today is a smorgasbord of small stops to beautiful gorges, waterfalls, and beaches, with some villages, a monastery, and a Minoan cemetery thrown in as well. It's not a long distance and you can skip as many or as few of these stops as you choose before returning to Rethymno for the evening.
Armeni
Only 8 km south of Rethymno is a Minoan-era cemetery where 500 bodies have been found. Apparently, the Minoans of the area didn't eat much meat, but they ate a lot of carbs. The tombs are open to visitors and there's electric lighting.
Moni Preveli
Armeni is a quick stop on the way towards Plakias. The next stop is Kourtaliotiki Gorge, then Big Waterfall, and the village of Asomatos. You can swim through Kourtaliotiki Gorge which doesn't take long and is a memorable experience.
From there the road leads to Lefkogeia where to turn off to Moni Preveli which is a fantastic spot to stop to take pics. The monastery looks down upon the Libyan Sea and a palm forest.
Preveli Beach
This gorgeous beach (also known as Preveli Lake) lies at the mouth of the imposing Kourtaliotis Gorge, about 35km south of Rethymnon or 2.2 km from Moni Preveli.
There's a little taverna on the beach here for a souvlaki lunch. Many travelers think this is the very best beach in Crete, and that's a big call!
Tip: Don't take the dirt road, it's long and windy. Stay on the paved road and get there quickly.
There's something magical about the mountains in the background, the palm-fringed beach, and the river in the middle of it with the little fish in the water.
Plakias
Plakias is the last stop before heading back to Rethymno. It's only 21 km from Rethymno. it's a quiet area where the beach, snorkeling, diving, and hiking are the main activities. Mirthios Village is a quaint older village to walk around.
Tip: There's enough to do today without seeing Plakias, so if you're having fun swimming and exploring, Plakias is good for lunch but not as lovely as Preveli.
Day 7: Ancient Lappa, Kournas Lake, Chania
Day 7 of the Crete itinerary travels from Rethymno to Chania. It's similar to Day 6 in that you'll be in the middle of Crete's mountains, gorges, and lakes.
Argyeoupoli
The first stop is Argyroupoli with its beautiful waterfalls. Argyroupoli is 17 km from Rethymno above the Mouselas river valley. It's built on the ancient settlement of Lappa, founded, according to Mycenean legend, by Agamemnon.
Like many mountain villages, it has an upper and lower section, the lower section opening to a gorge and springs. You'll find a Roman thermae and necropolis, Byzantine churches, and Venetian mansions.
Tip: Get a map of the village from the herb shop.
I love the way that Cretan architecture exists alongside, between, and combined with structures and elements from ancient Greek, Roman, Saracen, and Venetian times.
The food is sensational here.
Kournas
The next stop of your road trip is Kournas, the only freshwater lake in Crete. It's a 3.5 km walk around the lake.
The White Mountains are reflected in the waters and you can gaze over the lake while drinking a cup of traditional Greek coffee. Smoked pork (apaki) is a local delicacy.
It's possible to rent a pedal boat and look for the turtles that live in the lake.
Overnight: Chania
Where to Stay in Chania
Lagon Life Spirit Boutique Hotel – Adults Only – beautiful rooms with private pools, a sumptuous breakfast served in the room, and fantastic views from the rooms of this 5-star property make this a special and romantic stay.
Belmondo Hotel – a highly reviewed 4-star property is a Venetia-style hotel with a seafront location and a 10-minute walk from the beach.
Hyperion City Hotel & Spa – another highly reviewed 4-star property, a 1-minute walk from the beach with a restaurant, outdoor swimming pool, fitness center, and bar in Chania Town. 
Day 8: Chania, Moni Chrisoskalitisas, Elafonissi Beach
Tonight's accommodation is in Chania and today's touring is around the Platanias area. The Chania Region has the most stunning places on the island.
Today's Crete road trip is to Elafonissi Beach on the west coast, 76km away. Take the National Road leading to the Kasteli of Kissamos. The road is windy, and the mountain scenery is spectacular.
About 1 km. before you reach Kasteli, you turn left towards Topolia Gorge. Keep driving and you'll see the traditional villages Voulgaro and Potamida before arriving in Topolia, 8 km from the junction.
Elafonissi Beach
The amazing turquoise color of the water and the pink sand is simply mesmerizing. This place has an extraordinary beauty like few places in the world.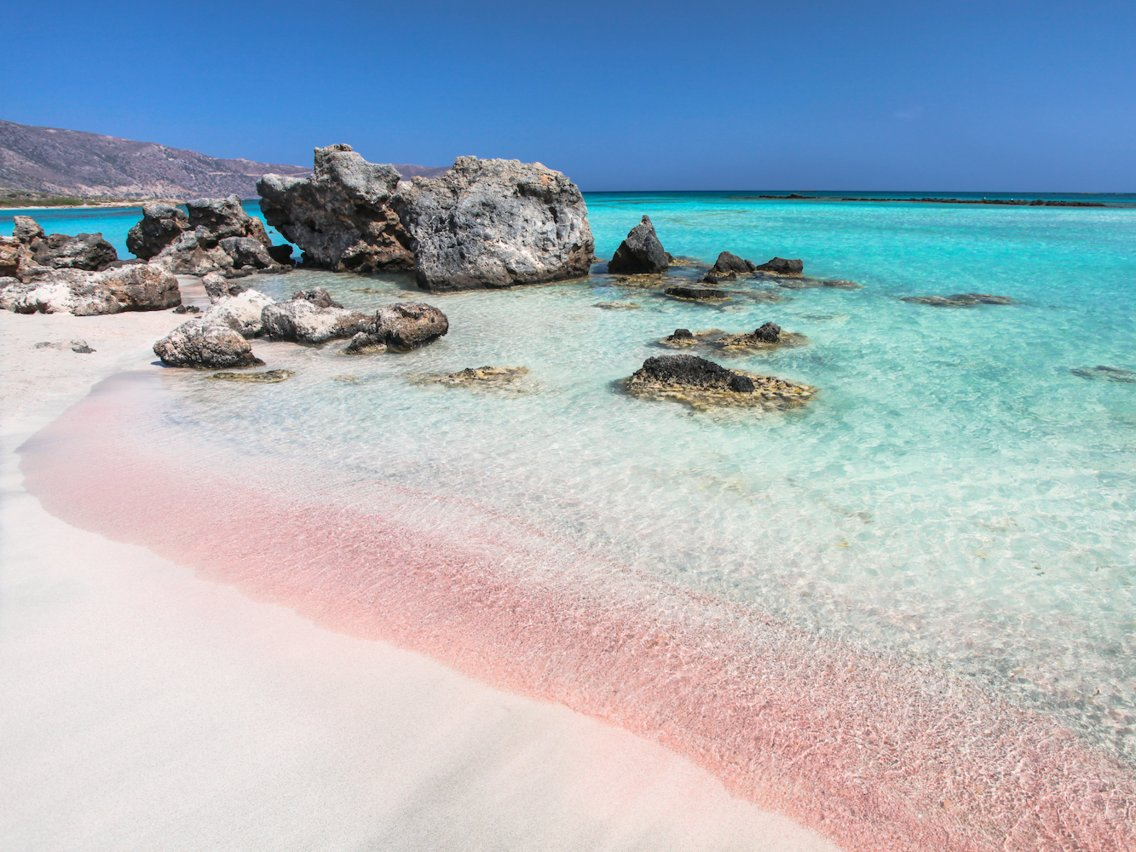 A little to the east of Elafonissi, one of the few cedar forests is to be found at Kedrodasos beach. Beach gear and your flip-flops are all you need to enjoy a swimming day on this beautiful beach.
Tip: For lunch, try Neratzoula tavern in Vourgaro Village.
Moni Chrisoskalitisas.
On the way to or from Elafonissi Beach, you can make a quick detour to Moni Chrisoskalitisas. Although people do stop to see the monastery, it's the views from the top of the hill that are stunning. The viewpoint is a good idea if you have mobility problems ad can't climb to the Elafonissi viewpoint, the rocky outcrop at the end of the dunes at Elafonissi Beach.
Day 9: Chania -Kissamos -Balos
Head out on a day trip to Kissamos, driving towards the west side of Crete to reach the port of Kissamos Kasteli only 36 km or a half hour away.
Kissamos
This little town has an esplanade with tavernas and umbrellas and a scenic position on Kissamos Bay. You can see the remains of the Venetian fortress that once stood over the town.
Eco-tourism is burgeoning here and it's a popular area for hiking.
In the town is the Archaeology Museum and it's worth stopping by here to see their collection of mosaics.
A rocky road is the only way to access Balos by car, so it's easier to take a boat from Kissamos Port. The Port is just outside the town. This is where you can board boats going to and from Gramvousa and the Balos lagoon.
Balos
Another deservedly famous beach is Balos, a shallow lagoon formed between Cape Gramvousa and the small Cape Tigani. In summer Balos attracts thousands of visitors. The water impresses with its shades from light blue to deep azure, turning in places to turquoise.
The sand is white and the scenery is wild and exotic. It's an extraordinarily photogenic spot.
Day 10: Chania, Samariá Gorge, Chora Sfakia
Today's Crete road trip itinerary takes in the well-known Samariá Gorge as well as Sjakai. You'll travel through the mountains, passing the plateau of Omalos and arriving at Xyloskalo.
The Gorge of Samaria lies on the southern side of Chania prefecture and is a wonderful place for hikers. Visitors from all over the world attempt trekking at this gorge.
Many travelers visit Crete in order to experience the Samaria gorge hike in this UNESCO-listed Biosphere Reserve.
You'll arrive at some wooden stairs at the start of Samariá Gorge (the Xyloskalo trailhead). The 10-mile walk takes you eventually down to the Libyan Sea to the village of Agia Roumeli.
Tip: Don't miss "The Gates." It's the narrowest part of the Gorge – only 13 feet high but it soars almost 1000 feet above you.
The Gorge is only open for trekking from May to the end of October. There is no road from Agia Roumeli so you either retrace your steps up the Gorge or get a ferry to Loutro or Chora Sfakia.
It's a bit of a logistical nightmare, and a guided tour that leaves from Chania is generally a more pleasant option! Here are a few of the best:
Day 11: Chania, Palaioxora, Sougia
On Day 11 of your Crete road trip, we turn south and enjoy the beautiful beaches of the southern coast of the Chania region where the energetic can walk the beautiful trail between Palaioxora and Sougia.
Palaioxora
70 km south of Chania you'll come to the town of Palaioxora which lies on a narrow peninsula jutting out into the Libyan Sea. There's not much to do here except chill out – you can trek in the White Mountains, drink coffee in the village, go beach-hopping, or take a boat to Elafonissi Beach.
Tip: Check the dates you are going – Palaioxora is known as the windiest town in Crete!
Sougia
5 km further along you'll find the village of Sougia. There are a lot of hiking trails between Palaioxora and Sougia and both are used as bases for a quieter beach vacation than Chania and for walking.
They are also a good base for hiking Samaria Gorge, and Palaioxora is a good choice if you'd prefer to base yourself here for a few days of traveling around Southern Crete.
Sougia is quieter and has a more pebbly beach than Palaioxora. There are more tavernas and hotels in Palaioxora.
The trail is well marked between Paleochoroa and Lissos: (12.5 km) and on to Sougia (2.5 km). The terrain goes up 600 meters from sea level.
Day 12: Chania Old City and Ancient Aptera
Chania is the second largest city in Crete, with a rich and tumultuous history. Is a city that has preserved its traditional architecture and most of its monuments from Venetian and Turkish times.
Chania Old City
The harbor with its lighthouse and the Old Town in the center have bestowed on Chania the reputation of the most picturesque city in Crete.
Lose yourself in the lovely windy streets that lead down to the Venetian harbour.
Continuing your road trip, 14km away from Chania City is Marathi beach. When you get hungry, tuck into Cretan delicacies at Patrelantonis. tavern on the beach.
Ancient Aptera
A little know archeological treasure, Ancient Aptera is 143 km from Chania and perfectly suited for a road trip since there is no public transport here! Take the road to Rethymno and turn off at the Aptera crossroad.
It's located above the Bay of Souda and has been inhabited since Minoan times. It was destroyed in an earthquake in 365 AD but the amphitheater, Roman baths, and other structures make this visit well worth it.
Overnight: Rethymno
Day 13: Rethymno City, Anogeia Village, and Zeus's birthplace
Today's trip cannot be taken in winter.
Rethymno
Begin heading south, tack to Rethymno. Start your tour from the Venetian harbor with the fishing boats, the famous lighthouse, and the numerous taverns.
A walk around the Old Town of Rethymnon allows visitors the chance to view the magnificent Venetian Architecture, which was mostly built in the 16th century.
The sandy beach of Rethymno extends over an area of 12 km, starting from the city to the Scarleta region.
Anoegeia Village
Continue south to explore Anogeia Village. Is about 54km away from Rethymno city and is Crete's most famous mountain village.
This is a lovely village with its plane tree in the middle of the main square. It's a wonderful place to soak up the "I really am in Greece" feeling!
Ideon Andron Cave (Dikteon Cave)
Fortified with greek mountain coffee, it's time for an adventure. We're going to walk in the footsteps of the ancient Minoan in the highlands of the Psiloritis Unesco Global Geopark. The subalpine zone to the north of Psiloritis central ridge is the highest archaeological park of Crete, comprising some of the most notable excavated ancient sites on the island.
Drive for 24 km from Anoegia up the steep and windy road into the highlands until the road runs out at Nida Plateau. This will take an hour. Here you'll see the church of Analipsi. 200 meters behind the Church you'll be able to explore inside the main chamber of Ideon Andron Cave, the legendary birthplace of Zeus, the King of the ancient Greek gods.
The cave has seen continuous human habitation since the 4th Millenium BC at the end of the Neolithic period.
Overnight: Rethymno
Day 14: Heraklion City
We end our Crete itinerary as we began in Heraklion. The drive from Rethymno to Heraklion is 1hr and 13 minutes and 78 km.
Although the Heraklion city center can be crowded, Heraklion Town has managed to maintain a traditional vibe.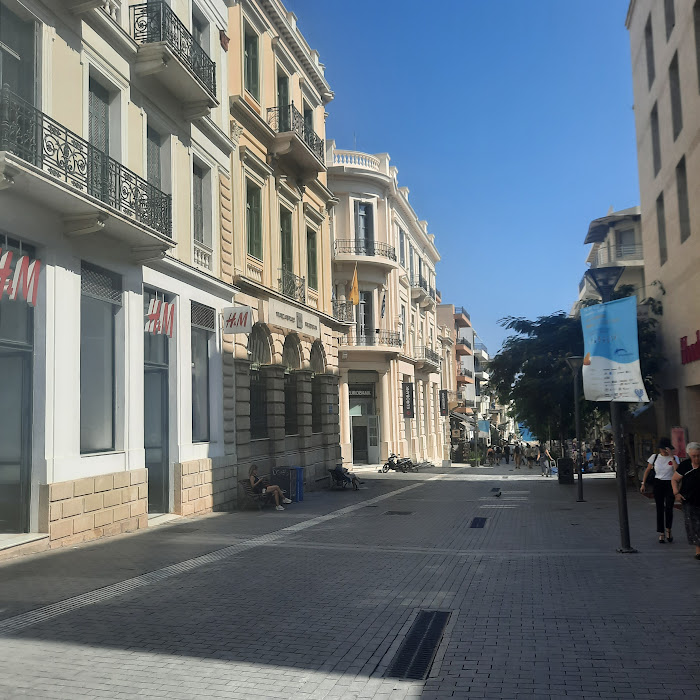 The 25th of August Street is the most historical and beautiful street in Heraklion and it's surrounded by neoclassical buildings. Along it is the Basilica of St Mark, the Loggia, and the church of Saint Titus.
Tip: Try the Greek Bougasta in the Kirkor coffee shop in front of The Lions Square and Apiri Restaurant for lunch.


Perhaps the two most exciting things to do in Heraklion are to visit the Harbor and the archaeological museum.
The Venetian Harbour with Koules Castle is one of the most impressive landmarks in Crete.
The archaeological museum of Heraklion is one of the largest and most important museums in Greece, and among the most significant archaeology museums in Europe.