It's hard to find Folegandros hotels with private pools but in this guide, we've done all the hard work for you and found all the great quality ones. We've snuck in a couple of hotels with large outdoor hot tubs and we're sure you'll love these private rooms, suites, and villas which are all highly rated, reviewed, and super popular (so book as early as you can!)
This article may contain compensated links. Please read the disclaimer for more info
In a hurry? Here's the best hotel with private pools in Folegandros!
#1 TOP PICK
Our top pick is the 5-star Anemi Folegandros which has a rating of 9/10. The modern suites have private pools, there's a huge outdoor saltwater pool, & all the facilities & services you expect of a true 5-star hotel. A stone's throw from the Port & Vardia Beach.
Map of Folegandros Hotels with Private Pools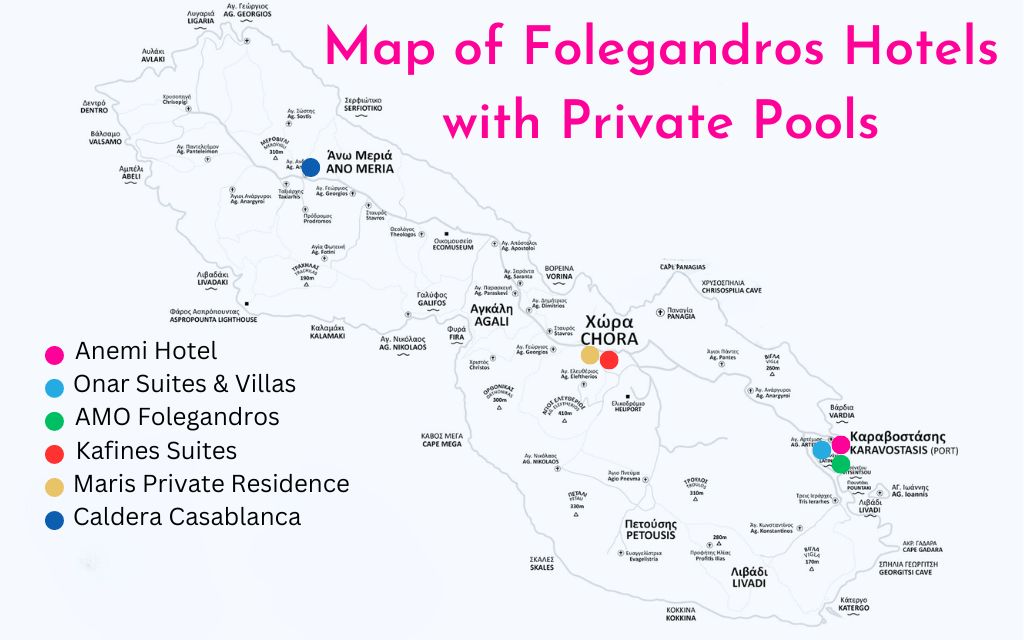 The port of Karavostasi is where you'll find the island's densest cluster of 5, 4.5, and 4-star hotels. Karavostasi Beach (Chochlidia Beach) and Vardia Beach are only a few hundred meters away.
Unlike the superstar islands of Santorini, Mykonos, and Paros, there are very few luxury hotels in Folegandros and the Anemi Hotel is the island's only 5-star hotel.
Our top pick has a rating of 9/10. Two of the modern suites have private pools (the Mediterranean Sea View Suite with Private Pool and the Grand Sea View Suite with Private Pool).
The suites are decorated with contemporary and interesting furnishings in white with yellow and black accents (and a Nespresso coffee machine!)
The hotel has an enormous outdoor saltwater pool, & all the facilities & services you expect of a true 5-star hotel.
This includes a spa and wellness center, fitness center, massage chair, yoga classes, restaurant, bar, room service, valet parking, and helicopter transfers.
A stone's throw from Karavostasi Port & Vardia Beach.
By any measure, Onar Suites and Villas in Karavostasi is a superbly designed hotel and a very memorable holiday experience.
It is one of the best hotels in Folegandros combining great views out to sea and a beach right below.
There are four suite types, all with private pools, although the Presidential Suite has an outdoor private jacuzzi instead of a private pool.
All the suites and villas have extraordinary views of the Aegean Sea.
The complex is built on a rocky cliff in a Cycladic style of stone, glass, and wood and has a fitness center, room service, and a free shuttle service from the Port.
It's only 50 meters from the beach and has a lovely relaxing vibe.
4.5-star AMO Folegandros is a newly built member of the luxury hotels in Karavostasi that has an average guest rating of 9.6/10.
It has four suites and instead of a private pool, each suite has an "outdoor hydro-massage" on the furnished private terrace.
The facilities of this little boutique hotel on the beach include an on-site bar, room service, and daily breakfast. And if you can bring yourself to get out of the tub, there are five restaurants beside the hotel.
AMO Folegandros is within walking distance of several excellent Folegandros beaches or you can hop on a bus from just out front. Vardia and Chochlidia Beaches are both 100 meters from the boutique hotel.
Chora is the word for the main town in a Greek island and this Chora is one of the most lovely in all the Greek islands, comprising three interlinked squares and the old Kastro.
It is the liveliest place on the island for what is admittedly a very quiet nightlife scene, and it's a bus, drive, or hike to the beaches.
But there isn't a better place to soak up the Folegandros vibe.
Kifines Suites is a boutique hotel that really nails the essence of Folegandros Island. It has private pools and there are panoramic sea views from the spacious deck of each suite.
But it also looks over the white cube houses of Chora to the winding path and Church of Panagia above the town.
There are four suites in the boutique hotel and each suite can accommodation 2 guests. The Suites each have a private pool and some have a hot tub and a balcony as well as a terrace.
The suites are open-plan and/or split-level. The 'rock' suite is stunning, and I really appreciate the soundproofing of these ultra-quiet suites.
Kifines Suites is 250 meters from Chora and there is a bus stop a very short walk away. There are restaurants and cafes 150-300 meters away.
Maris Private Residence is a self-contained holiday home that has a perfect guest rating of 10/10.
The residence is 500 meters from Chora and only 50 meters away from the Maris Inn, its sibling property. Being just a little way from the Maris Inn gives you the best of both worlds.
At the Maris Private Residence, you have an enormous private terrace and jacuzzi that flows out from the renovated 19th-century stone farmhouse.
The farmhouse has a walk-in shower, satellite flat-screen TV, and a well-equipped kitchenette that includes a coffee machine.
But you can also use all the facilities of the Maris Inn which include a swimming pool, fitness center, pool bar, breakfast, room service, and transfers to and from the Port or Heliport.
Ano Meria is one of the three largest settlements on the island and is a fantastic location to watch the Folegandros sunsets.
That said, there are only 350 residents in Ano Meria and you are surrounded by green fields, wildflowers, and old walking paths.
The picturesque village is only 5 kilometers (3 miles) from Chora and you can check out my comprehensive Folegandros Travel Guide to learn about the efficient and regular bus system on Folegandros if you don't want to hire a car.
Caldera Casablanca has just had a major renovation and each one-bedroom house has a sun terrace with a private pool and a garden.
If you are wondering which hotels will give you a private pool as well as peace, privacy, and a prime view of the Folegandros sunset, these two Cycladic-style stylish little houses certainly fit the bill.
One of the Caldera Casablanca houses can accommodate two guests, and the other, four.
The exterior and interior of the houses stick to the Cycladic white and curved principles of traditional homes on the Greek Islands but it is a very modern and clean interpretation.
Free WiFi and free parking are provided. Caldera Casablanca is in the village of Ano Meria, which is 1.8 km (just over a mile) from Agali Beach.
Keep Planning Your Trip to Folegandros
🧳Folegandros Travel Guide 2023
🧳19 Best Hotels in Folegandros [2023]
🧳Best Folegandros Hotels with Private Pools [2023]
🧳13 Spectacular Folegandos Beaches: best features + practical tips
🧳Complete Guide to Chora Folegandros [2023]
🧳Folegandros Sunset: The 8 Best Spots
🧳Folegandros or Milos: how to choose where to go?
🧳15 Best Greek Islands for Couples