Located in the southwestern Cyclades, Folegandros is a must-visit if you're looking for a cosmopolitan Greek island alternative to busy Santorini, Mykonos, and Paros. Discover all about Folegandros, including its wild nature, pristine beaches, beautiful Chora, famous sunset, and inspiring hiking trails in my personal Folegandros guide.
This article may contain compensated links. Please read the disclaimer for more info
Folegandros Island in a nutshell
Where: Cyclades archipelago, North-west of Santorini island.
⛴️ Getting there: Regular or high-speed ferries from Athens, Santorini, or surrounding islands.
🌅 Things to do: Swim and snorkel, explore the cobblestoned Chora, visit the Venetian castle, hike, and watch the sunset.
🏖️ Best beaches: Agali, Agios Nikolaos, Vardia, Ampeli.
🍸 Where to eat and drink: Papalagi seafood, Pounta, Chic, BaRaki, Dal Capo.
Getting around
Getting around the island is very easy, as there is only one road. Public buses take you to all of the villages, as well as Agali Beach.
So, even if you don't drive, you will be able to visit all the interesting spots on the island. if you do drive, check to see if you need an international driver's license to be able to pick up the vehicle.
🚌 Bus: Public buses connect Karavostasis and Chora every 30 minutes (tickets at €2), as well as Chora and Agali (tickets at €3).
Regular (albeit not as frequent) service connects Ano Meria with Chora.
🚗 Car: Driving on Folegandros is easy as the road is free of winding sections and steep turns. Renting a car is a sensible option while on the Island and expect prices of €40+ for the entry car class.
🛵 Scooter: The best way around is on the scooter. I've rented one and visited all the corners of the island with it. Donkey Scooters have comfortable big-wheeled scooters and the daily prices are around €25.
Where to Stay
🛎️ Best New Hotel: Avaton
🛎️ Best Luxury Hotel: Anemi
🛎️ Best Boutique Hotel: Onar Suites and Villas
🛎️ Best Family Hotel: Chora Resort Hotel & Spa
🛎️ Best Honeymoon Hotel: Onar Suites & Villas
🛎️ Best Beach Hotel: Blue Sand Boutique Hotel & Suites
🛎️ Best Budget Hotel: Perigiali Rooms and Apartments
Things to know before traveling to Folegandros island
Folegandros is one of those islands located last along the long ferry routes that still retains a pristine nature and insular vibe largely untouched by the global popularity of the Greek islands.
Its distant location from Athens is palatable, its beaches are not developed and the landscapes are so memorable you will ask yourself how come places like this are not on the front page of every travel magazine out there.
Miles of high cliffs dropping abruptly into the deep blue Aegean Sea, zigged-zagged by the stone walls creating tiny terraced gardens and a ubiquitous feeling of wild nature make this island a true untouched gem of Greece.
Luckily, Folegandros is not making the headlines (yet!), but that does not mean the crowd visiting Folegandros is anything less chic than that of Santorini or Capri.
Daytime is relaxing and on a human scale, while the evenings are lively and vibrant, due to its cosmopolitan Chora. Its permanent population of barely 500 people rises to 3000 when the summer comes.
Folegandros has traditional architecture, ruined windmills, contrasting colors in the landscape, and the second-best sunset in Greece (rivaled only by that of Santorini).
Together this makes Folegandros not only one of the most Instagrammable Greek islands but a perfect place for relaxing holidays for those who still want a stylish and aesthetically beautiful retreat.
There are only 3 villages in Folegandros connected by a single road that runs along the ridge of the island.
Karavostasis (doubling as the only port of the island), Chora (the main village where the vibe is), and Ano Meria (the northernmost village). The total length of the island road is less than 10 miles.
There is no FoMo out there, as after a couple of days, you have visited all there is to see and you succumb to the sheer relaxation on the beach you figured out works best for you.
Feelings of regret upon departure is guaranteed, despite having checked all the boxes on your list!
Best time to visit
Folegandros is a summer destination and the peak months of the season are the summer months of June-September.
August can feel a bit busy as it is the main holiday month for Greeks (and most Europeans too). The island is never crowded as there are no big holiday resorts available.
How to reach Folegandros Island
The beauty of Folegandros is that there is no airport on the island, so the only way to get to it is by ferry. Several options are available:
⛴️ Regular Ferry from Athens (Piraeus port): An enormous vessel called Dionisios Solomos run by Zante ferries sails to Folegandros several times a week.
The journey from Athens takes 10 hours and one-way ferry tickets are around €48.
Don't worry, the boat is equipped with cabins too, as well as open decks, a café bar, and the best of all – you get to see this huge ferry visiting all the other islands before reaching Folegandros (including Kythnos, Sifnos, Serifos, Milos, and Kimolos).
⛴️ Regular (slower) Ferry from Athens (Lavrio port): A huge ferry Artemis run by Hellenic Seaways departs once a week from Lavrio to Folegandros with the most budget-friendly ticket price: €28.
The journey is long, around 12-14 hours, but no less comfortable than in Dionisios Solomos.
⛴️ Highspeed Ferry from Athens (Piraeus port): A sleek super-fast Speedrunner Jet operated by Seajet ferries reaches Folegandros in just under 4 hours for a hefty price of €98.
The trouble with the high-speed ferries is that they can be a bit uncomfortable for those suffering from seasickness if the seas are choppy, but this is how I get around the Greek Islands.
⛴️ Various ferries from the surrounding islands: You can fly into Santorini or Milos and take some of the daily ferries to Folegandros. Prices vary significantly – from €7-70.
I always use Ferryhopper.com for all of my ferry bookings and to plan my itineraries.
Reading suggestions
Want to get prepped? Here is the list of some books about Folegandros I liked. You could also tuck a couple into your suitcase for those lazy beach days or cocktail-by-the-pool afternoons.
📖 "Folegandros: Three times magical" by Paul Wright.
📖 "Folegandros – Sikinos" (Historical Travelers' Books).
📖 "Folegandros Amore" by Simone Ciarmoli and Miguel Queda.
📖 "Folegandros is cooking" cookbook of island recipes.
📖 "The island of Folegandros" by Charilaos Alkiviades. Available in the Folegandros T-shirt shop.
Things to do around Folegandros
Folegandros is one big natural canvas just waiting to be photographed!
The whole island, its natural and cultural parts are postcard perfect, and photographing every street, cliff, church, whitewashed house, deep well or patch of rare beachside shade will take up most of your time during the first day.
Here are the other best things to do on Folegandros Island:
Explore Folegandros Chora
Chora is a vehicle-free village that grew organically around a series of adjoining squares, interconnected by small irregularly shaped streets.
It is also one of the most picturesque main towns of the Cyclades, so just walking around and soaking up the island vibe is the way to start discovering it.
Get lost and make photos
Walk between the Squares of Chora, discovering the traditional Cycladic architecture of whitewashed sugar-cubed houses, domed churches, and tiny shops.
A perfect opportunity for making your own photo postcards.
Visit the Folegandros Kastro (castle)
Kastro (castle) is one of the oldest villages in the Cyclades, built around 1215 by Venetian masters of the island in order to protect the inhabitants from pirate attacks.
Its position on the edge of the cliff allowed for an early pirate-alarm, so the entrances to the walled settlement could be shut.
All the houses are the same, tiny hamlets of around 30 sq meters that are continuously inhabited since the 13th century. The end of Kastro's only street is the small plateau with amazing sunset views.
Visit the Church of Virgin Mary of Folegandros
The single most important church on the island built many centuries ago high above the Old Town (and perhaps on the ruins of an ancient temple) stands for the continuity of the Christian population of the island.
Its whitewashed multi-domed exterior is a spectacular site during the golden hour and its interior safeguards the Miraculous Icon of the Virgin Mary of Folegandros, a protector of the island.
Climbing the winding path to the Church from Chora is short (no more than 15 minutes), but intense, so make sure to dress lightly and bring water with you.
TIP: The best sunsets are from the cliff in front of the Church!
Check out the Cultural Association of Folegandros exhibitions
Located on the Pounta square, right at the entrance to Chora, the Cultural Association of Folegandros hosts sculpture, painting, textile, and other exhibitions of Folegandros' material culture.
Being an anthropologist, I love this stuff, but I reckon you will too!
Beaches of Folegandros Island
Folegandros is known for its amazing beaches, each set against a different backdrop to beaches in lush tropical environments.
Some are accessible by car/bus, some by boat and some only on foot, the variety of beaches and their location on the island is bound to make you choose your favorite one.
All beaches are pristine, which means no beach clubs with exclusive reservations, four-poster double beds, or champagne on the shore.
Agali Beach (sandy)
Agali is accessible by car/bus and this makes it one of the most popular beaches with azure waters on the island.
Set 5km west of Chora, this sandy beach with clear bottom offers sea sports, sunbeds, tavernas, and bars around it, and a small pier where the beach-visiting boats depart from.
Abeli is surely among the most beautiful beaches of Folegandros.
Many other beaches with relaxing atmospheres are close by (Galifos, Agios Nikolaos, Fira), so plan a full day around Agali if you have the time.
Agios Nikolaos beach (sandy)
My absolute favorite beautiful beach with crystal clear waters, Agios Nikolaos is reached after a 15-minute medium-difficult hike or a €3/5min boat ride from Agali beach.
Set in a bay under a whitewashed church of Agios Nikolaos, with low-rise trees providing natural shade, two beach tavernas, and a beach bar, this place is the epitome of Greek summer for me.
After a couple of hours, I climb to Papagali seafood taverna for the Greek staple beach lunch – fried calamari, Greek salad, and a glass of white wine (feel free to substitute with an ice-cold beer!)
Ampeli Beach / Ambeli Beach (rocky)
One of the most distant beaches from Chora (10km/30 minutes) is west-oriented and quite small, comfortably welcoming no more than 15 people.
After the end of the asphalt road, turn left and after a demanding gravel ride, you will reach a small path leading to the beach. Worth visiting only if the winds are calm.
No facilities whatsoever and the entry is quite rocky.
TIP: On the way to Ampeli, you will pass via Ano Meria, a beautiful traditional village with many nice stops for lunch. I liked "To Iliovasilema tou Mitsaki", a taverna run by an elderly couple and her sister, with some of the most striking balcony views on the island.
Karavostasis Beach (pebbles)
It is common all around the Cyclades for a port beach to be one of the cleanest and most beautiful ones. No wonder why the beach of Karavostasis is one of the locals' favorites.
Evanggelos' beach bar and Pardalo small-plate restaurant are both perfect for daytime refreshments. Just a few meters is Kalymnios supermarket, a bakery, and a good small restaurant called 'Dal Capo'.
Vardia Beach (sandy)
Another beautiful beach in Karavostasis, Vardia is a nice alternative if the Meltemi wind is not blowing strongly. It has no facilities, but Kalymnios and Dal Capo are just behind it.
Katergos Beach (pebbles and sandy)
No facilities, and no natural shade, but the waters are blissfully azure and the view from the cliff is picture-perfect.
Strangely, this is the most popular beach on the island. If not reached by boat, it takes around 40 minutes medium-difficult hike to reach Katergo Beach.
TIP: Best visited on a boat tour.
Vitsentzou Beach (sandy)
East-oriented beach, right next to Karavostasis, Vitsentzou is rarely visited by more than a half-dozen people, making it one of the most quiet beaches on Folegandros.
Livadi Beach (sandy)
After Vitsentzou Beach and just below Folegandros camping, you'll find the sandy beach.
The camping site cafe is a relaxing place with nice small plates and cold coffee options.
Folegandros has several other beaches along its coast, including Fira Beach, Galifos Beach, Livadaki Beach, Agios Georgios Beach, and Ligaria Beach.
Check with locals which is the best for the day, as winds can be strong.
Explore rural Ano Meria village
Ano Meria is a beautiful village without streets or squares but with typical Cycladic whitewashed houses set along the hill and next to many farmed fields. An untouched piece of true Greece!
The way to discover this small village in the northern part is to walk one of its many walking paths, some of which are part of the larger network of hiking routes.
A visit to the Folk art museum is a must (see below). Beautiful views of other islands just next to the main road.
TIP: No visit to Ano Meria is complete without savoring the island specialty, Matsata.
Homemade round pasta, Matsata is topped with various sauces (ranging from simple vegan options to elaborate rabbit or veal goulash-like toppings) and served hot.
The best Matsata around the island is in Sinadisi restaurant.
Take a Folegandros Boat Tour
The best way to see the island and its difficult-to-reach beaches is to embark on a 6-hour boat tour that makes swimming stops along the way.
On the main road in Chora you'll find several travel agencies offering boat cruises.
Watch the Folegandros Sunset
Folegandros is famous for its cliff-hanging Chora offering unparalleled sunset views. The best places to watch it are:
🌇 On the cliffs of the Church of Panagia of Folegandros
🌇 On the Pounta square of Folegandros main town
🌇 At the end of the Kastro street
🌇 Around Ano Meria
Visit a village celebration (Panagyri)
The highlight of the Cyclades Island summer experiences is the festivals devoted to the most significant patron saints of each island, always next to a church dedicated to the saint.
There are several celebrations each summer and I was lucky to be around Folegandros when it was the day of Agios Panteleimonas (Saint Pantaleon).
Free-flowing raki (island spirit) and free finger food prepared by the women of the island is shared among the visitors, while the band plays traditional island melodies to people dancing long into the night!
TIP: Check the celebrations calendar before you go and if there is one while you are on the island, do not miss it for the world!
Hike the Hills of Folegandros
Folegandros is ideal for hiking or tracking, on some spots even for climbing. Its paths are clearly marked and not very difficult, so the only concern should be the heat and the scorching summer Cycladic sun.
Pristine nature, well-cultivated fields, traditional donkey paths lined with herbs, olive and lemon groves, stunning views, and odd tavernas along the way make hiking on Folegandros quite popular.
This means you will always meet someone on the trail. It's the best way to soak up all this amazing scenery.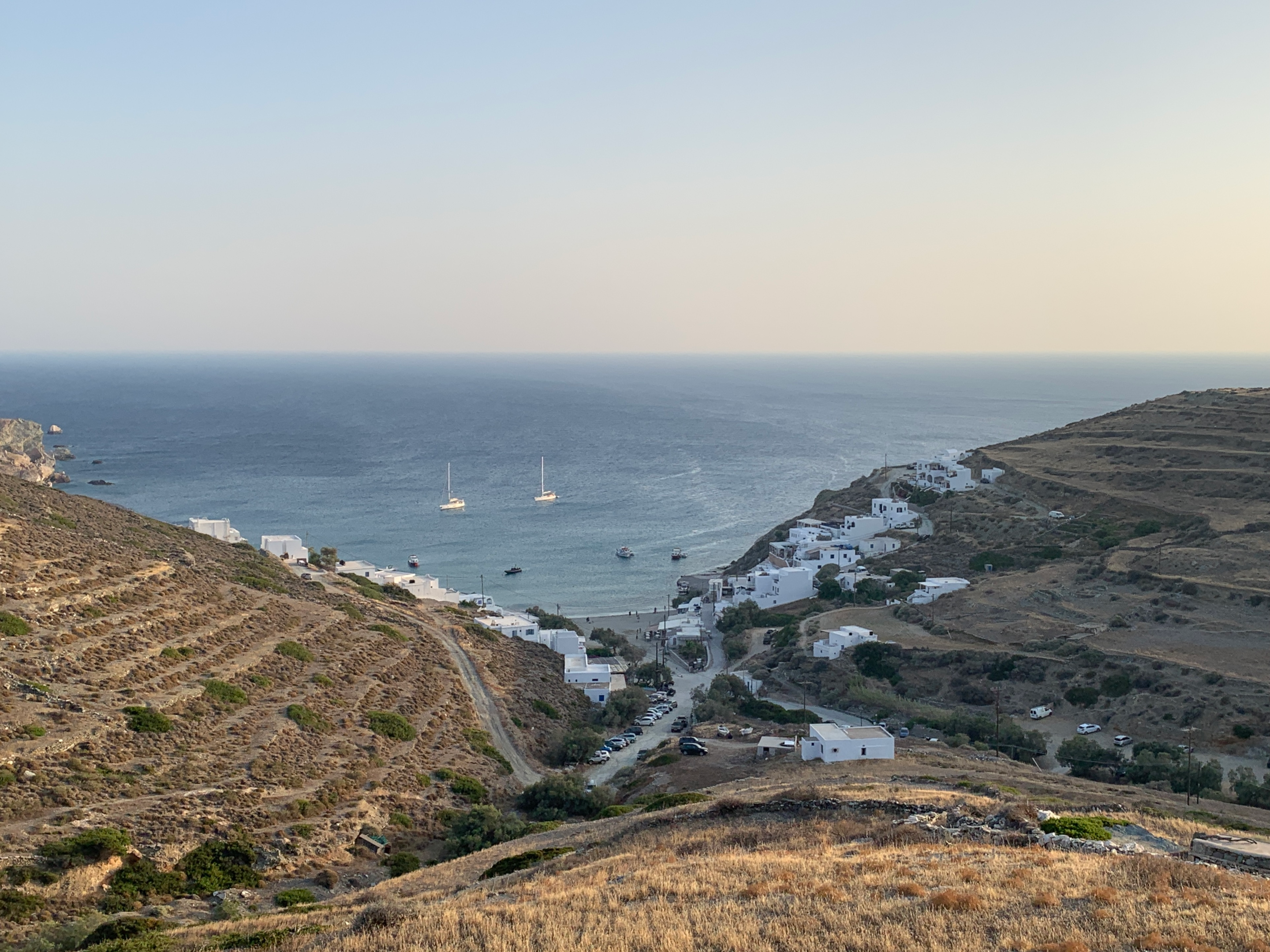 Five of the best paths are:
🥾 1) Ano Meria – Agios Sostis – Agios Georgios and return (around 1.5 hours)
🥾 2) Ano Meria – Livadaki – Angali – Chora (around 7 hours)
🥾 3) Chora – Angali (and further, or continuing elsewhere) – from 50 minutes
🥾 4) Chora – Petousis – Livadi – Loustria – Karavostasis (around 2 hours)
🥾 5) Chora – Stavros – Agia Paraskevi – Ano Meria (around 3 hours)
Learn SCUBA diving
Folegandros usually has calm seas and beautiful diving spots, making it a perfect island for taking up this beautiful and exciting sport. Sea U Dive Center from Chora is the place to start your underwater journey and discover the wonders of the Aegean Sea.
Make a day trip to Sikinos island
Next to Folegandros lies the island of Sikinos, just 40 minutes by ferry. The passing boats' itinerary allows the day trip – you leave Folegandros to Sikinos in the morning and get an afternoon ferry back.
Sikinos is a sleepy small island with beautiful beaches, pristine nature, and tiny white houses of the Chora on top of the island, offering a totally peaceful vacation.
Visit the Folklore Museum of Folegandros
No venture to Ano Meria is complete without a visit to the tiny beautiful Folklore museum set in Ano Meria.
Showcasing the rural, pre-modern life of Folegandros, the museum is recounting the difficult past of the island when the inhabitants were self-sufficient and relied almost entirely on their island's natural environment.
Have the best island gelato in the southern Cyclades
Stefano is an Italian who fell in love with Folegandros and opened a proper gelato shop inside Chora 16 years ago called "Lo Zio".
His tastes are full and refreshing and formed another of my rituals on the island. After the evening church exploration, I headed to his place for a cup.
Where to have breakfast?
🍳 Pounta, for pricey but delicious eggs with local cheese.
🥐 Bakeries for locally made pitas (white cheese or spinach).
What are the best dining options?
🍴 Chic, for hearty island flavors.
🍴 To Goupi, for Greek meze small plates (fantastic stuffed zucchini flowers)
🍴 Souvlaki Club, for gyros, souvlaki, and grilled meat.
Where to go for souvenir shopping?
🛍️ Alcyona: Small but amazingly curated clothes shop on the Pounta square
🛍️ Folegandros T-shirts: Run by an American lady for decades, this place makes is famous for its "Ф" logo (Ф stands for F in Greek) promoting Folegandros on t-shirts and hoodies.