Where on Milos island can you find an authentic old fishing village, hidden from pirates, with traditional syrmata houses? A real contender for 'most colourful village' that ticks all the boxes of an authentic and traditional settlement is Klima, Milos.
Little Klima village has less than 20 permanent residents and it is one of the island's smallest settlements, but a visit to it is a must while in Milos, Greece. It ticks all the boxes of an authentic and traditional settlement that is also incredibly cute.
From its rich past, unique architecture, and layout, to stunning sunsets and beach dining, Klima packs a punch. here's how to make the most of Klima, Milos, on a day trip or a whole vacation.
This article may contain compensated links. Please read the disclaimer for more info
Things to know before traveling to the island of Milos
Low key compared to the stars of the Cyclades island – Mykonos and Santorini – Milos island is inhabited from antiquity and was actually never dull, no matter what Lawrence Durrell said in his travelogue!
Milos, Greece is a volcanic island shaped like a horseshoe, with protected national parks, moon surface-like beaches, pirate's coves, and extremely interesting sights.
Best discovered from the sea, I would recommend booking your stay early and filling your days with sailing boat excursions from the island's main ferry port Adamantas.
Do not miss Sarakiniko, Tsagrado and Firopotamos beaches!
The most famous work of sculptural art in the world, the Venus de Milo, comes from the island.
Sculpted by Alexandre of Antioch and discovered in 1820 in Trypiti village, it is a prized possession of the Louvre Museum in Paris.
In Greek, it is called the Aphroditi of Milos and represents Aphrodite, the Goddess of love, beauty, and sexuality.
Klima, Milos, is one of the most photogenic sites of the whole Cyclades archipelago, due to the proximity of the special fishermen's houses to the sea and their colorful doors and windows. From a boat, it is even more spectacular!
Where is Klima Village, Milos?
Klima is located on the northern coast, on the eastern entrance to the main Milos bay of the island.
Set below the small picturesque village of Trypiti, it is 2km away from Plaka town and 6 km away from Adamas – the main port of the island.
Very Brief History of Klima Village, Milos
Inhabited since 7000 BC, Milos was an important center for obsidian excavation (volcanic glass, a crucial material for the advancement of Cycladic civilization).
It's why Dorians settlers arrived (from Sparta) during the 7th century BC. They mixed with the locals and create the prosperous Klima town and its merchant community.
As a safe haven and strategically located among other Cycladic islands, Klima became an important focal point of the whole island and the region. It was the central headquarters in the Aegean of the pirate world.
The downfall of Klima happened during the famous Peloponnesian War when in 416 BC the town fell to the Athenians.
Ever since Klima never regained its cosmopolitan charm and present-day Klima remains just a fishermen's colorful village.
How to get to Klima, Milos
Unfortunately, there is no public transportation to Klima Village. However, you can take a bus from Adamas or Plaka to Trypiti and then walk (30 minutes, downhill, 60 minutes uphill) or take a taxi from Trypiti.
The best way to get to Klima is car rental, as you can enjoy the autonomy and there is a free parking lot at the entrance of Klima. Pre-booking a car online with a reputable company with all-inclusive pricing stops all kinds of things from potentially going wrong!
Since parking is also observed along the narrow road leading to Klima, the best idea is to rent a small car. Klima itself is exclusively pedestrian.
ATV and scooter rental is the most sensible option for those who like visiting all the sites and beaches of the island. Roads (even dirt ones) are in good shape, so chose among many options among Adamantas or Plaka moto rentals.
This article is a complete guide to hiring an atv or scooter on Milos Island.
Taxi is the simplest option for visiting Klima. Being close to Plaka, you can get to it by bus and hail a taxi to bring you to Klima. Don't forget to book it for the return journey, as there are no taxi stations in Plaka.
Sailing to Klima is a unique experience and the best way of arriving at this village.
Milos, Greece is best discovered by boat, so getting out onto the water is always a highlight of any trip to the Greek islands, and Milos is no exception.
Most of these trips start from Adamas port town or from a fishing village, Pollonia. Couple this trip with the visits to the secluded beaches of Kleftiko and Tsigrado for the best of it!
When to visit Klima
The best time to visit Klima is in September and mid-October when the island is not stretched to its maximum.
You can enjoy your visit without the crowds (which get to be everywhere on the island in July and August), find plenty of choices for accommodation and places to eat without any reservation, and most importantly have the beaches to yourself.
Where to eat in Klima, Milos
The choice is simple as there is only one place in Klima – Astakas restaurant! However, if you do not want to hang around for lunch or dinner, there are plenty of options in Trypiti or Plaka.
Check out Barriello restaurant for creative Greek and Mediterranean cuisine and fresh seafood or Ergina's – a Greek restaurant serving local cuisine and the view is stunning.
Where to stay in Klima, Milos
While tourist accommodations and boutique hotels are dotted all around, Booking.com has 8 Syrmata (boat houses in Klima) available for booking in Klima, Milos.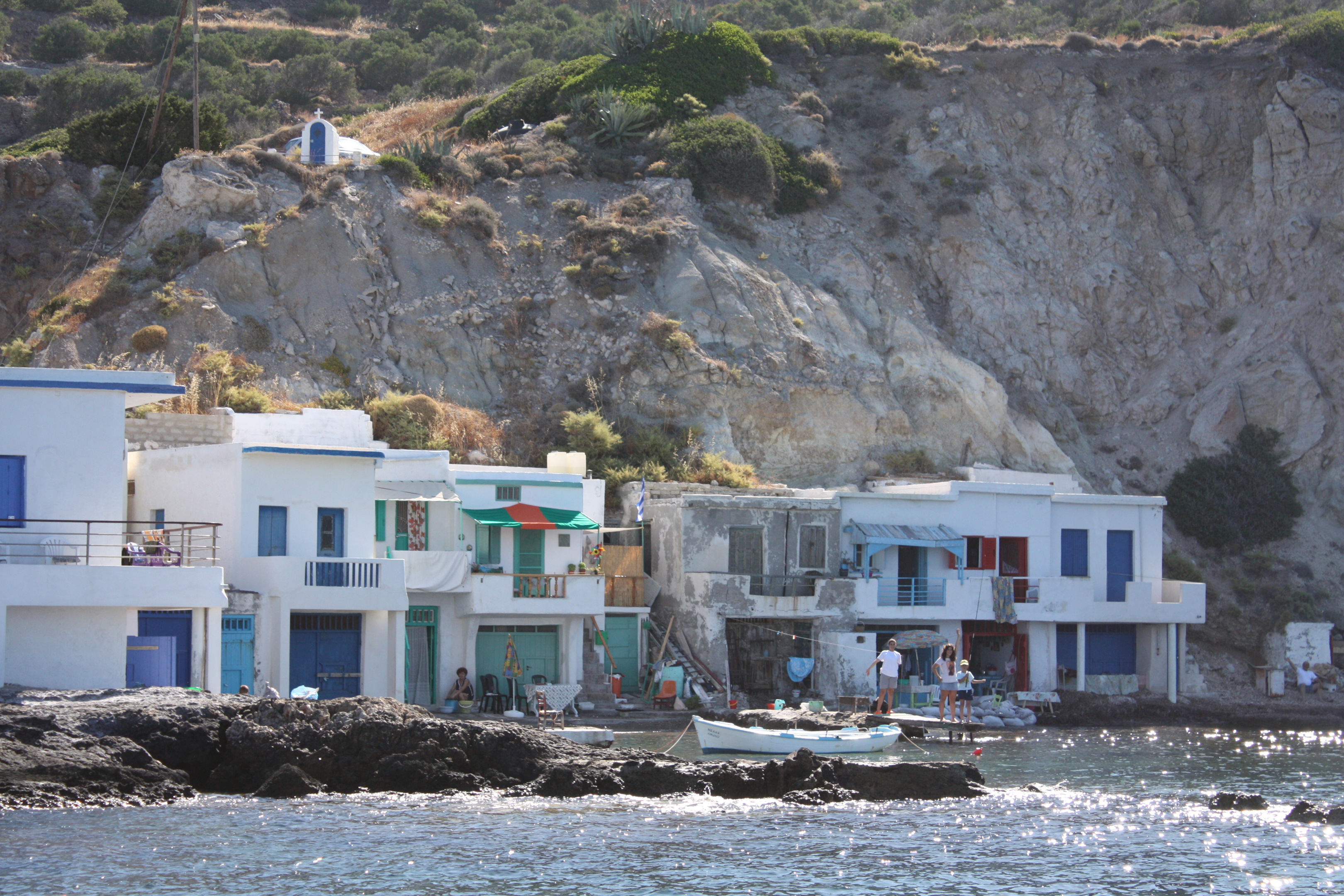 They're not cheap, but they do create unforgettable memories of what will be a very special holiday in this former fishing village. There is also the Panorama Hotel which is 50m above the beach.
Panorama Hotel – Panorama ticks all the boxes: from all-white Cycladic interiors, fantastic sunsets, and sumptuous breakfasts on the spacious veranda overlooking the bay, this place is a great value at just a stone's throw away from boat houses in Klima and the waterfront.
Sunset Klima Boathouse – The most Greek-looking house of all available syrmata in Klima, Sunset Klima Boathouse is just several meters from the sea. Recently renovated and with a convenient kitchenette and a double bed it is a synonym for a waterfront stay.
Salty Splash Sirma Klima – Spacious waterfront property with a patio that gets regular salty splashes from the waves. Great for sipping coffee in the morning and wine in the afternoon while dipping into the Aegean.
Vasealis & Seafis Sirma Klima – With almost 90 reviews praising the location of this syrma, it surely is one of the best places to stay in Klima. With soothing white and gray interiors, it is one of the nicest too.
Kalimera & Apoplous boathouse – True to its name, this place's interior bears resemblance to great wooden boats that used to roam these waters. It even has a hammock on a large waterfront patio.
On the Waves of Klima – This is the most traditionally equipped syrma of it all. Do not expect the amenities of a luxury villa, but the fishermen's authenticity in this seafront property.
Traditional and Sailor's Sirma Klima – With traditional Cycladic interiors, cozy atmosphere, and the best sea views directly from the bed, this place also has free private parking available.
Capetan Nikolas boat house – This spacious waterfront property with interiors that evoke the captains' houses of the island has one of the best balconies in Klima, just meters above the waves.
Last Sirma Klima – The sunset views from this quaint syrma are great, just like their breakfast delivery service.
What to do in Klima, Milos
Boathouses and Klima village waterfront
Klima is famous for its unique multicolored traditional local fishermen's houses known as "syrmata" dotted along its short waterfront.
Strategically positioned on the very seashore, syrmata are two-level storage houses with boat storage below – the ground floor stores the boat that is dragged directly from the sea, while the upper floor makes for a cozy home.
Made by the local seafarers to protect their wooden boats, these houses in Klima, Milos quickly became its landmark.
Nowadays, they are one of the most sought-after places to stay on the island, since many of them have been converted into accommodation units. Just imagine the morning coffee with these views!
Since syrmata are usually carved out the volcanic cavities, are set on the very Klima beach, and boost colorful shutters, they are the centerpiece of every successful Instagram shot from Milos Island.
Don't miss the opportunity for your perfect shot!
Shop local – Handicrafts and Jewelry store Pliatsiko
Luckily, the tiny fishing village of Klima has not been turned into a tourist trap.
Besides a church, a seaside restaurant, and a shop, there is only one more outlet – Pliatsiko jewelry and handicrafts shop. Make your souvenir purchase with them (at very affordable prices) and help Klima stay as it is.
Dine with your feet on the sand – Astakas restaurant
One of the most famous restaurants all around Milos Island is Astakas in Klima. Right on the seaside, with tables just on the seashore and turned towards the sunset, Astakas is the place to savor a Greek fresh seaside meal.
One of the most spectacular spots to watch the sunset from on the entire island.
Tip: Don't forget to book a table in advance.
Klima beach – better for sunset watching that swimming
Klima has a small pebble beach that is not the main reason to visit this village.
Since there are much better beaches around the island, I recommend visiting Klima for sightseeing, photographing, and enjoying the sunset, rather than for a beach experience.
Visit the church of Agios Dimitrios
The only church in Klima belongs to Agios Dimitrios.
I enjoyed the simple but heartwarming altarpiece and the opportunity to light a candle in a church just next to the seaside.
Enjoy the golden hour
Sunsets are one of the highlights of Klima experience, so make sure not to miss them.
Attractions near Klima, Milos
Milos, Greece is an incredible island, and interesting sites and beaches pop up everywhere you go. Couple a visit to Klima with these island attractions for a full experience of the island's heritage.
Milos Catacombs
Steps away from Klima, you will find The Catacombs of Milos – an early Christian site that served as a refugee from Roman religious prosecution and as an underground cemetery that dates back to the 1st – 5th century AD.
Milos catacombs are among the three most famous catacombs worldwide, along with the catacombs of Rome and the ones in the Holy Land.
Older than the ones of Rome, Milos catacombs are one of the most important places of early Christianity in Greece, and for a fee of €4 (8.30-18.30) you can visit this stunning underground maze (and get away from the harsh sun for a while).
The ancient theater of Milos
The Ancient Theatre of Milos is situated on a hill, close to the village of Trypiti and just above the village of Klima.
The Roman theater dates back to the Hellenistic period in the 3rd century BC. Built out of marble and facing the south side of the island, the theater was the pride and joy of the ancient city of Milos.
Since then, it has been scavenged and ruined, only to be discovered during the French archeological expeditions centuries later.
Nowadays, many cultural events are held there and it is a nice place to hike to and take photos.
Venus de Milo site of discovery
Near the ancient theater, the statue of Aphrodite of Milos was found by a Greek farmer in 1820. The site is marked by a plaque with information about the discovery and significance of the sculpture.
Trypiti village
Trypiti can easily steal your heart, just as it did mine.
It has it all – a sleepy village hanging on a cliff above azure Aegean waters with its tired windmills, whitewashed buildings, imposing white cathedral-like church of Agios Nikolaos, ancient heritage (it was built on the ancient ruins of the original Klima settlement), and the proximity to Plaka town.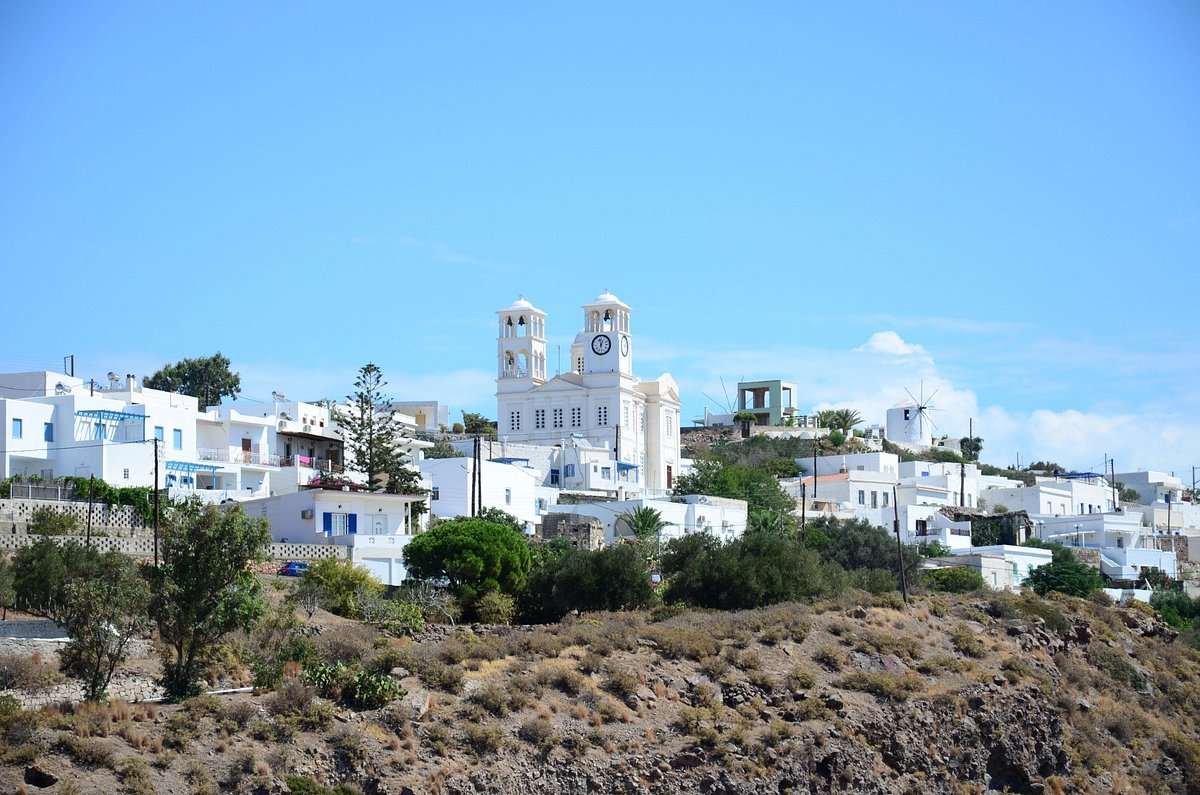 Plan your short break here and refresh in one of the village square café shops.
Plaka Castle
One of the most important archaeological landmarks of Milos is the Venetian castle of Milos which was built in the 13th century.
It is located on the top of the steep hill, above Plaka. As in many other ex-Venetian Cycladic castles, there is a church on the very top. This one is called 'Mesa Panagia' and is a picturesque spot for stunning sunsets.
Don't miss the Archeological museum below the castle and right after, a refreshment in Bacalico bar.
Final Thoughts
I hope this guide to Klima, Milos, has provided you with all the inspiration you need to book a Greek island holiday today.
It is an idyllic village with few but very high-quality holiday rentals where the Aegean Sea literally laps upon your doorstep.
The entire island of Milos is fun to explore, but you can probably tell that I have a particular love for the little village of Klima!