Is Oltrepò Pavese the new Tuscany? This hidden wine region in Lombardy, wedged between Pavia, Alessandria, Piacenza, and Genoa provinces is proving a wine sensation with its rolling green hills covered in vines and medieval villages dotted amongst it all. Here's a travel and wine guide to the beautiful Oltrepo Pavese region.
This article may contain compensated links. Please read the disclaimer for more info
In a hurry? Here's the best day tour from Milan to the Oltrepò Pavese wine region.
#1 TOP PICK

Oltrepò Pavese In Your Glass – Wine Tasting
Guided tour of the vineyards, the winery, and tasting of 4 wines: • 145 Rosé Brut (Metodo Classico rosé sparkling wine from Pinot Noir grapes) • Bonarda Ăchillius (semi-sparkling red wine from Croatina grapes) • Riesling Filare 52 (still white wine from Riesling grapes) • Sangue di Giuda Il Traditore
There are two additional tours from this company – one focusing on "bubbles only' and the other on Rose.
1.5 hrs, Santa Maria Della Versa
The Oltrepò Pavese Wine Region of Lombardy
Shaped like a cluster of grapes, the Oltrepò Pavese wine region's position provides an excellent microclimate for wine growing. It is influenced by the nearby Ligurian Sea and the breezes from the surrounding Apennines.
Winemakers have been putting real passion into honing their craft for years here and so it's not surprising that Oltrepò Pavese is increasingly establishing itself as a prestige wine-growing location in the Lombardy region and beyond.
Wine lovers and travelers looking to discover more of Italy beyond its superstar (crowded) destinations are also discovering it as a tourist destination because of the beauty of its rolling hills (and probably the wine-tasting tours).
Its name means on the 'other side' of the Po River and it's close to Pavia (Pavese). It is close to Milan and the Italian Riviera and is easily reached as a day trip.
Oltrepò Pavese owes its first mention to Frederick I, the emperor who made this territory official in 1164. As for wine, the first fossilized vine trunk was found dating back to 1876 near Casteggio.
Map of the Oltrepò Pavese wine region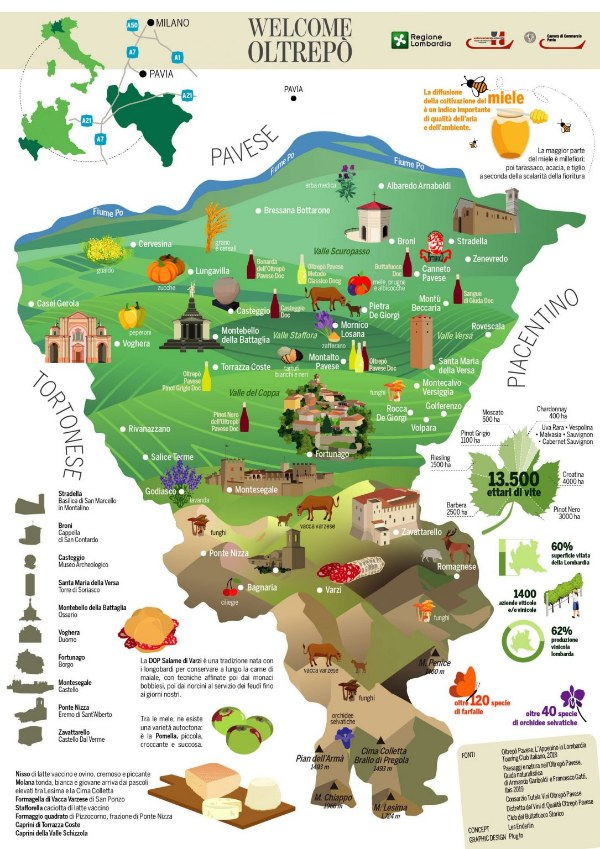 How to Get to Oltrepo Pavese
🚗 By Car: Following the A7 from Milan will allow you to exit towards Pavia. In Pavia, you continue heading south along the SS617 to Broni.
🚆 By Train: You can also travel between Milan (Milano Centrale) and Pavia in less than 30 minutes by train. Pavia is only 35 km (22 miles) south of Milan. From Pavia is a 30-minute trip on a Regionale train to Broni.
🚌 By Bus: If you want to skip changing in Pavia and head straight to Broni, buses from Milan (Famagosta) to Broni (Garibaldi) take 52 minutes.
🏞️From the Northern Lakes: It's 1hr 50 from Lake Maggiore and its astonishing Borromean Islands, 1 hr 40 m from the beaches of Lake Como, 1 hr 35 minutes from the castles and beaches of Lake Garda, and a 3hr drive from Bolzano and the Dolomite Lakes.
Where to Stay in Oltrepò Pavese
You are spoilt for a choice of medieval villages, hilltop villages with ancient castles and towers, and rolling countryside covered in vines throughout this region.
The former Roman garrison town of Pavi is an obvious base to explore the region and trekking Oltra Pavese is increasingly popular along the Wine and Flavor Trail.
Any of the towns and villages along the route make a great stay in the region. These include Broni, Sasteggio. Stradella, Zavattarello, Fortuna, Varzi, and Voghera.
Here are our top picks:
🛎️ PAVIA: Hotel Moderno – 4-star highly reviewed elegant boutique hotel in a historic building. It's just off Piazza della Minerva in the center of town with bus and train stations close by. With a hot tub, Turkish bath, American bar, and room service, this is also a very comfortable hotel.
🛎️ CASTEGGIO: Prime Alture Wine Resort– 9.3/10 average review, modern rooms, with a spa, lots of "wow" factor – restaurant, room service, airport shuttle, fitness and spa & wellness center, outdoor pool and terrace, and a cellar on the vineyard's property you can visit.
🛎️ VOGHERA: Altrentatre is probably the most booked 3-star hotel in Voghera. it has contemporary rooms and bathrooms, terraces and balconies, free parking, wifi, a fitness center, and an airport shuttle.
🛎️ SALICE TERME: Hotel Milano Pool & Garden – a lovely conversion of an 18th-century monastery in a large private park with an enormous swimming pool and only 50 m from Terme di Salice thermal spa.
🛎️SANTA MARIA DELLA VERSA: Il Casale Denari has a lot to like about it. An enormous swimming pool, a former Augustinian monastery in expansive gardens, and contemporary elegant rooms – no wonder it's one of the most booked hotels in Oltrepo Pavese.
Oltrepò Pavese Wines
Oltrepò Pavese has more than half of the DOCs (Denominazione di Origine Controllata) of the entire Lombardy region.
Several types of wine have achieved this recognition including sweet wines, sparkling wines, and white and red wines.
The most grown grape varieties in the region are Pinot Noir, Pinot Grigio, Croatina, Barbera, and Riesling.
Sometimes, it is the grape variety that gives the wines their names, other times it depends on the blending of grapes within the finished product.
Pinot Noir and Pinot Gris: the differences
These are two grape varieties that are very common in the traditional wine zone in the Oltrepò Pavese region.
Pinot Nero is a very old variety that found the climate and soil favorable in this area, which is why it was one of the first vines commercially grown here.
Pinot Nero (also and more commonly, called Pinot Noir) is a fresh and complex grape, ideal for making two of the wines that most characterize Oltrepò Pavese: Pinot Nero dell'Oltrepò Pavese Doc and Oltrepò Pavese DOCG Metodo Classico.
Pinot Grigio, on the other hand, is native to Burgundy in France. In northern Italy, it finds ideal locations for growing in Lombardy, Veneto, Friuli-Venezia Giulia, and Alto Adige.
It is used in Italy to provide a good balance in its DOC wines.
Sparkling Wine: The Classic Method in Oltrepò Pavese
Oltrepò Metodo Classico is one of the most prestigious products of the region. It holds the DOCG classification and can be vinified in white or rosé versions.
Made from Pinot Nero grapes, it is characterized by skin ripeness and by the process of refermentation in the bottle for at least 15 months.
Oltrepò Metodo Classico DOCG is called the "champagne" of Oltrepo Pavese and attracts increasingly large numbers of tourists every year to this emerging wine region to visit the wineries and watch the production and harvesting of the grapes.
Best Wines tastings in the Oltrepò Pavese
#1 TOP PICK

Oltrepò Pavese In Your Glass – Wine Tasting
There are two additional tours from this company – one focusing on "bubbles only' and the other on Rose.
Guided tour of the vineyards, the winery, and tasting of 4 wines: • 145 Rosé Brut (Metodo Classico rosé sparkling wine from Pinot Noir grapes) • Bonarda Ăchillius (semi-sparkling red wine from Croatina grapes) • Riesling Filare 52 (still white wine from Riesling grapes) • Sangue di Giuda Il Traditore
#2 TOP PICK
From Milan: Full-Day Pavia & Oltrepo Pavese Tour
Guided walking tour of Pavia and monastery
Winery visit and wine tasting of high-quality wines
Lunch in a local trattoria then visit Certosa di Pavia
"We received a very in-depth tour of the monastery in Pavia and a short tour of the city center. The private wine tasting at Finigeti Vineyards was truly fantastic with some of the best wines!" ⭐⭐⭐⭐⭐
#3 TOP PICK
Wine Tasting Experience in Oltrepò
New tour at a family-owned winery in Santa Maria Della Versa (1.2 km from the center of the village)
Free snacks + 3 sparkling wine tastings
Tour of cellar & vineyard, 2 hr tour
"The owner who welcomed us was very kind, he showed us the grape processing and let us taste some wines accompanied by local products. It was a great experience. Thank you!"⭐⭐⭐⭐⭐
Odd Names of Oltrepò Pavese Wines
🍷 Judas's Blood
There is a product of the Oltrepò Pavese wine region with a curious name: Sangue di Giuda (meaning Judas's Blood). You'll find it in Broni, a small historical city in the province of Pavia.
Legend has it that Judas, after his death, in order to atone for betraying Jesus, was brought back to life by Jesus and visited Broni (as one does!)
In Broni, Judas offered to sacrifice himself in exchange for saving the main grapes of the region from an epidemic that was threatening to destroy them.
At the moment of the act, however, a divine intervention prevented the sacrifice, but saved the year's harvest and of what proved to be very good wine.
I prefer a second myth that suggests that nuns who enjoyed a tipple repeatedly broke into the cellars to drink the wine, and so the friars who were making and storing the wine marked it with the chilling term, "Blood of Judas" to scare them off.
Today Sangue di Giuda is a popular wine because of its sweet taste and deep red color, but I don't know if nuns still drink it!
🍷 Historical Buttafuoco
Another historic wine with a curious name is Historical Buttafuoco.
The old meaning of Buttafuoco translated into English is "linstock." A linstock is a staff that you use to light a cannon. It is a red wine with a very strong flavor, which is why it 'buttafuoco'.
It is produced in the territories of Canneto Pavese, Broni, Castana, Cigognola, Montescano, Pietra de Giorgi, and Stradella.
To protect it, the Buttafuoco Club, a consortium that preserves its production methods and promotes the product, was created in 1996. This Club restores abandoned vineyards.
The Best Producers in the Area
Visiting the Oltrepo Pavese also means immersing yourself in Italy's best-kept secrets at local wineries. Making wine is an art and as such it can be taught and passed on.
This is why experiential tourism related to the late summer grape harvest is growing.
It is possible to take part in the harvest stages, visit wineries to admire the production phases, and taste the results. Here are the best ones not to miss.
🍇 Cantina Giorgi
Founded in 1850 at the behest of Augusto Giorgi di Vistarino, this winery is emblematic of the traditional method of winemaking in the Oltrepo Pavese.
You can visit the historic winery, admire the large wooden barrels where the finest wine is stored to age, and take part in e-biking tours, aperitifs, and tastings dedicated to Pinot Nero.
🍇 Tenuta Travaglino
Tenuto Travaglino has a 1000-year history that has maintained the tradition of aging wine in very large wooden barrels. Its history begins in 1111, and today you can take part in Pinot tastings in the oldest cantina in the Oltrepò region.
It is a real hamlet with vines and processing rooms attached. In the showroom you can purchase the winery's products, among which Pinot Nero stands out.
Food pairings: There's More than Just Wine in Oltrepò Pavese
Oltrepò belongs to an area rich in history. In addition to vineyards and wine treasures, this area south of the river Po offers authentic food experiences.
The medieval villages of Varzi and Zavattarello, for example, manage to combine all the most important aspects of a visit to the Oltrepo zone.
Visiting these villages allows you to immerse yourself in local history, visiting castles, ancient fortifications, and museums, interspersed with tasty snack breaks.
A good glass of Pinot Nero wine is heavenly when paired with a plate of cured meats that include the famous Varzi salami and pecorino cheese.
The Oltrepo Pavese is also located in a strategic area from the point of view of mushroom foraging. A classic risotto made with porcini mushrooms pairs perfectly with a fresh Chardonnay.
To conclude, a sweet wine, perhaps declined in one of its sparkling versions, is excellent to accompany local pastries, such as, for example, almond cake or soup from Voghera.
Keep Planning Your Trip to Northern Italy
🧳Ultimate Guide to Italy's Lake Como Beaches
🧳Top 10 reasons why Lake Como winter holidays are magical
🧳10 Best Dolomites Lakes for every kind of vacation + where to stay
🧳Is there an airport in Lake Garda? 8 nearest airports to Italy's Lake Garda
🧳Most Beautiful Castle on Lake Garda? Here's the best 13 to choose from
🧳The 17 best beaches Lake Garda has to offer
🧳The New Tuscany? Oltrepo Pavese Travel + Wine Guide 
🧳Italy or Greece? A love letter to both and an honest appraisal