Paphos harbour is undoubtedly one of the most scenic and famous landmarks of the coastal town of Paphos and the coastal area of Cyprus in general – but what should you see and do there? Paphos harbour is a bustling place and in this complete guide, I cover the top 16 things to see and explore here – from iconic cultural monuments, the best beaches, and of course all the best food, great restaurants, cafes, and bars. 
If you're planning a trip to Cyprus, Paphos is the choice for people wanting a less raucous time than in partying Ayia Napa, and less of a city than Larnaka or Limassol.
And if you're flying to Cyprus, Paphos has its own international airport.
Despite its fairly small size which stretches around 1.7 kilometers, and starting from Posidonos Avenue and ending at the Medieval castle of Kato Paphos, Paphos harbour offers a great view of the Mediterranean sea, reminiscent of a small Greek island harbour.
How To Access Paphos Harbour
If you are on a budget or haven't hired a car, you can reach Paphos harbour/port by bus lines 610, 615 (Tombs of the Kings and Coral Bay), and 631 which stop at Posidonos or Apostolou Pavlou Avenue.
However, as the bus stops at multiple spots throughout the town, it will take more than half an hour to reach the harbour.
Alternatively, you can hire a car or motorcycle at a price that ranges from 25-50 euros/day if you intend on staying and traveling around the area for longer. The distance from the old town of Paphos is 10 minutes, 3 minutes from Kings Avenue Mall, and approx. 3 minutes from Tombs of the Kings area by car. There are two main free parking spots where you can leave your vehicle.

If you are staying at any of the nearby hotels e.g. Amavi Made for 2 hotel, Leonardo Plaza Cypria Maris Beach Hotel & Spa, Almyra, or other hotel rooms/apartments in Paphos City, the harbour is accessible easily by foot around 8-12 minutes distance from most of the above hotel establishments.
From Coral Bay, Paphos Harbour is a 16-minute drive, or the 615 bus leaves every 10-15 minutes from 6 am in the morning.
Where to Stay at Kato Paphos (Paphos Harbour)
Having stayed in other parts of Paphos, I can confidently say that Kato Paphos is my favorite part because you're surrounded by bars and restaurants, monuments, and beaches.
The bus network is good and I've found that I'm always hanging out around the harbor, so it makes an obvious place to stay unless you're looking for a large house with free parking.
Here are my favorite and the most popular with return travelers:
Anemi Hotel and Suites – 200 meters from the water and the Harbour Promenade, the large rooms, wellness treatments, bars, restaurants, and swimming pools make for good value for a summer holiday (wifi free only in public areas)
The King Jason Paphos – Designed for Adults by Louis Hotels – With a 9.3/10 rating, this upscale hotel has 5 swimming pools, bars, restaurants, and terraces. Meal packages including all-inclusive and half-board are available and there are dedicated adults-only areas.
Annabelle – The 5-star Annabelle is a firm favorite for Paphos return travelers. It has a tropical garden setting on the harbor and beach. It has a large swimming pool with swim-in caves. There's an indoor rooftop pool and an adults-only spa and some suites have private plunge pools.
Phaedrus Living – is a luxury apartment-style complex beside Paphos Harbor that has modern apartments with sea views from the rooms and balconies. They are listed individually on booking.com but you'll find a number to choose from.
Paphos Harbour: from an ancient port to a modern tourist hub
Paphos Harbour (and port) is one of the most ancient ports of Cyprus and once the capital port of the island, located on the Northwestern coast of Cyprus.
It was originally built by King Nikoklis (Nicocles) the last of the kings of the Paphos Kingdom circa 321 BC. (He ruled just after the death of Alexander the Great.) Nicocles' rule was ended by Ptolemy I and Nicocles, and all of his family, committed suicide. This began the Egyptian rule of Cyprus.
The center has served for many centuries as a foreign trade center and anchorage for small ships and boats.
According to the Roman philosopher Seneca the Younger, Paphos went through a strong earthquake that nearly ruined it, but it is hard to decipher if he meant New Paphos with the port or Palepaphos.
Despite falling into the hands of several conquerors, the port maintains an evident influence from the Ancient Greek and Mediaeval Venetian era, an influence that has remained largely unadulterated to this day.
Today the harbour promenade serves as the main tourist area, a minor boat trip location, and a fishing spot to a lesser degree.
The whole of Paphos along the shoreline, up to the Kings Avenue Mall, and spanning for kilometers on either side of the Archaeological Park is in fact one enormous underground city.
You'll find catacombs, and Egyptian, Greek, Roman, Byzantine, and medieval objects and sites if you just poke around a little.
Its prime location unites Kato Paphos (downtown Paphos), which is more tourist-oriented with the Old Town of Paphos, where the majority of locals reside.
What to See and Things to Do at Paphos Harbour
The major historic and cultural monuments to see, and the best things to do at and near the harbour/port include:
1. The Kato Paphos Archaeological Park (Paphos Archaeological site)
The Paphos Archaeological park falls under UNESCO's cultural heritage protection and is a monument with great archaeological importance.
The archaeological park of Paphos features monuments from the Neolithic period to the Mediaeval times, although most ruins remain from the Hellenistic and Roman periods. Entrance fee (for tourists: 4.5 euros).
2. The Paphos Mediaeval Castle/Fort
The Paphos castle is perhaps the most distinctive monument of the harbour, overlooking the entire western tip of the area.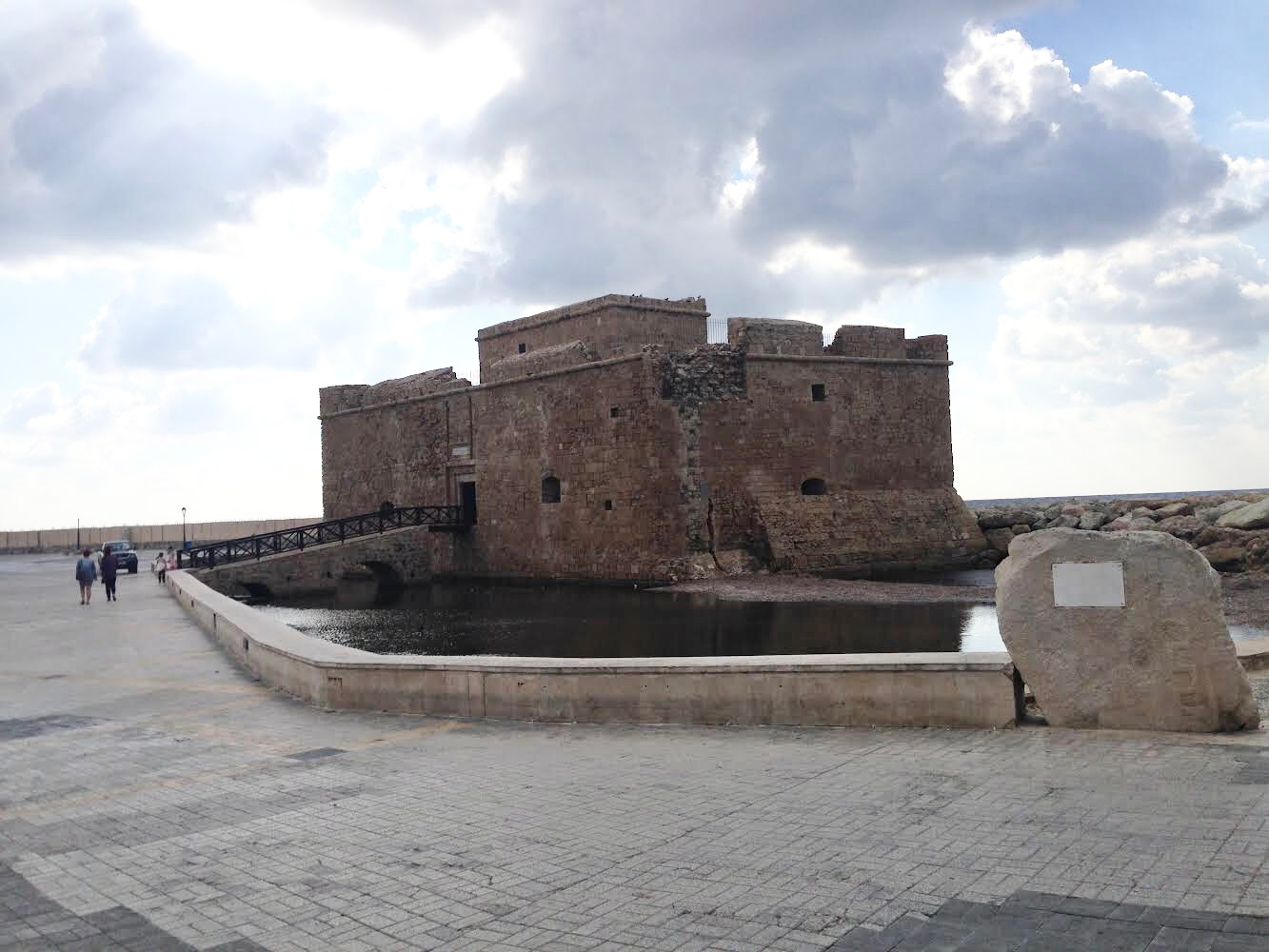 The castle initially served as a Byzantine fortress but it has also been a prison and a warehouse during the medieval times until the 17th century.
The castle is open to guests all year long at a single entrance fee of 2.5 euros per person. The payment of the fee is not something that everyone does and there doesn't seem to be a strict enforcement vibe.
Many families walk into the fort, realize that the only part they haven't now seen is the top level, work out how much it will cost a whole family, and turn around again.
The view from the top of the fort is worth the money, but it is a small fort that has been stripped bare, so don't expect much other than a historic building that has seen centuries of different conquering regimes.
It's such a pity that more isn't made of this wonderful old monument – but that's how I feel about every monument in Paphos!
3. The House of Dionysus
The house of Dionysus is an astonishingly well-preserved Roman villa that dates back to the 2nd century B.C. and has remains and mosaics depicting Dionysus (The Greek-Roman God of wine and festivities).
If you've been to Pompeii, Herculaneum, or Rome, and have seen lots of Roman mosaics, the size, complexity, and preserved nature of the House of Dionysus will make you gasp with delight.
Tigers stalk prey, lovers hide from gods, myths and legends are retold, and intricate patterns are repeated as borders. As you can probably tell, I loved discovering the mosaics at the archaeological site – it was one of many archeological highlights of a country that is a treasure trove of ancient and cultural sites.
Open from Monday to Sunday at 08:30-17:00 during low season and 08:30-19:30 during high season. The entrance fee is 4.5 euros per person.
4. Church of Panagia Theoskepasti
The Church of Panagia Theoskepasti, built in the early 20s, is a picturesque small church located at one of the highest and rocky points of Kato Paphos, at a short distance from the middle harbour area (between Penguino cafe and Gourmet Taverna).
There is no entrance fee when entering the church, however, you will be charged if you park right near the church.
5. Agia Kyriaki & Pauls Pillar
Agia Kyriaki church is one of the oldest churches in Paphos, built around the 13th century.
The impressive Paul's Pillar a few meters before the church's entrance is the pillar where, according to a local legend, Paul was tied and beaten 39 times for spreading the word of God to false idol worshippers.
Beaches around Paphos Harbour
If you are visiting the Paphos harbour during the high season, there are quite a few beautiful beaches around the harbour, accessible mainly by foot (once you have your vehicle at a nearby parking lot or from the main harbour bus stop).
For the ultimate guide to all of the best beaches in and around Paphos, read You Must visit these Paphos beaches!
Here are the top beaches around or near Kato Paphos harbour:
6. Municipal Baths beach
The Municipal bath's beach is the most directly accessible in the area, distinguished by its rocky surface and wooden decks.
The swimming area is modest but has a lounge/bathing area and changing rooms and is great for a dip on a blistering hot day before repairing to the bar beside it.
7. Lighthouse Beach
Also known as "Faros beach", this medium-sized beach near Paphos harbour overlooked by the white and blue Lighthouse, has a mixture of coarse sand, pebbles, and large rocks inside and outside the beach.
Just a short walk from Paphos lighthouse to the west, and within walking distance of the Harbour, Faros Beach has a beach bar, toilets, and showers.
8. Vrisoudia Beach II
Also very near Paphos harbour, The Vrisoudia II beach is a golden sandy beach by the sidewalk of hotels and bars on Poseidonos Avenue. It is surrounded by palm trees and rocks and features a body of golden sand and small rocks.
9. SODAP Beach
Although not technically a part of the Paphos harbour area, SODAP beach is only 3 minutes away by car and 10 minutes away from the Paphos harbour sidewalk (starting from the Municipal bath area). It's a well-organized beach with sun loungers, changing rooms, showers, and a parking lot.
10. Alykes beach
Alykes beach is a small sandy beach found along the harbour promenade walk. The beach has sun beds, changing rooms, showers, and water sports hire, among other facilities. It fronts Annabelle and Almyra resorts.
11. Pachyammos beach
The Pachyammos beach is accessible through Poseidonos Avenue main road and is located near several luxurious hotels such as Athena Beach Hotel, Olympic Lagoon, and Cypria Maris Hotel.
A small-sized beach with coarse golden sea sand, rocks, and small spots of beautiful greenery and palm trees.
Where and What to Eat and Drink in Kato Paphos Harbour
In addition to the numerous historical monuments and the beaches that the harbour has to offer, there are also several options when it comes to food, drinks, entertainment, and physical activities.
While the food is nothing spectacular compared to other spots in Paphos town and district, there are a few places where you can enjoy good food and drinks at fair prices.
Drinking a cocktail as the sun goes down is pretty high up there on my list of things I look to do at Paphos Harbour!
Here are my top recommendations:
12. Bars, Cafes and restaurants
Ta Mpania Beach Bar/Cafe/Restaurant. An all-day restaurant, cafeteria, and beach bar with excellent views of the harbour and municipal baths. The restaurant serves a variety of meat, seafood, and vegetarian options.
Gourmet Taverna. Perhaps the best tavern/restaurant in the area, Gourmet Taverna offers a nice selection of Mediterranean dishes with a more contemporary twist. Try the Chef's steak, tuna baguette, melitzanosalata, seafood linguine, and Smyrni's Pork balls.
The Harbour Restaurant. Found in the heart of the harbour area, the harbour restaurant is one of the oldest and most established restaurants and cafes in the zone, offering good food and drinks at fair prices.
Pelican Restaurant. Another old-time classic restaurant by the sea is named after the pelican bird that walks around the restaurant. The restaurant/tavern is renowned for its abundant fish meze and its grilled dishes.
Estia Greek Restaurant. Estia is probably among the few authentic Greek restaurants in the region, located around 150 meters or 3 minutes of walk by the sea promenade. It serves a wide range of meat and fish mezze and dishes such as grilled octopus, souvlaki, grilled halloumi cheese, and feta saganaki.
Hondros Taverna. Hondros Taverna is probably the oldest taverna in Kato Paphos and a favorite of locals, offering for more than 40 years classic Greek-Cypriot dishes such as kleftiko, moussaka, and souvla as well as a nice range of local wines to accompany your meal.
Alea Allday Lifestyle. A spectacular all-day lifestyle restaurant/cafe/night bar with a more contemporary vibe that differs from the rest of the busy tourist-oriented bars and restaurants of the coastal line. Try among a large selection of cocktails, appetizers, and wine if you're visiting during the night.
Paphos Harbour Entertainment Options
13. Pubs and Clubs
If you simply fancy some drinks and a bit of entertainment, there are also several good options to choose from such as the Memories bar/pub, Robin Hood Pub, and The Rose Pub.
Also, for night entertainment lovers and the clubber population, Loft fashion club, Rainbow Disco Club, Vibes, and Notorious Bar/Disco Club are great nightlife options.
Other Things To Do In Kato Paphos Harbour
Paphos harbour is something beyond a mere coastal walk with beaches, shops, and food/drink spots nearby. If you fancy something different, try the following activities:
14. Take a boat trip
Boat trips, of course, could not be missing from the list of things to do in Paphos harbour. Boat trips are mainly available through the high season of April to October and usually last between 2-5 hours, with food and drinks sometimes included in the price.
Boats typically cover a large part of the coastal line of Paphos starting from the harbour (old port) and sometimes reaching Blue Lagoon in Akamas.
15. Visit the "En Plo" art gallery
Found just a few meters away from the Mediaeval castle at the old port area, the "En Plo" gallery hosts artifacts from various local and foreign artists of different themes. The entrance is free.
16. Join a class of Pilates/Yoga at the beach
The small nearby beaches provide an excellent tranquil environment for meditating alone or with a small group/class.
Ocean's Flow Pilates offers classes for small groups under the guidance of a skilled instructor if that sounds like a good idea to you.