Best Private Pools in Santorini
The most sought-after Santorini holiday experience includes access to unforgettable views of the caldera, the volcano, and the sapphire Aegean Sea, luxurious services and amenities, and of course, your own private pool. Sitting on your terrace beside your private pool watching the spectacular Santorini sunset is one of life's truly magical moments!
Here you will find a very carefully curated list of the 25 best Santorini hotels with private pools. About 50% of these hotels are open throughout the year, the others open in late March. Many have minimum 3-day stay requirements, especially individual villas.
I've included the world's finest luxury hotels as well as some wonderful quieter finds. Most – through Bookings.com – have fee-free cancellation up to 14 days before travel so it's worth booking a few very early.
This is a heavenly Greek island and you will never want to leave these truly special hotels!
A quick note on the concept of 'private' pools in Santorini. I've included pictures of all of the pools to give you an idea of when your pool will be overlooked.
The curving narrow staircases and walkways in Oia mean that people can generally see your pool. Often the walls slope from your room down towards the water and become lower so as not to intrude upon the view of the Aegean Sea, the volcano, and Amoudi Bay below.
It's probably more accurate to call them 'individual' pools. You will see from the pictures thought that there are some wonderfully private pools – the choice is yours!
This list is divided into towns and villages, beginning with Oia in the north – so let's get started because you need to book accommodation in Santorini 6-12 months in advance!
Oia Hotels with Private Pools
Located on Oia's iconic cliffs, Mystique is a luxury collection hotel offering traditional Santorini style and elegance. The gentle curves and sculptured finishing within the property make for an open and light space.
Each suite opens to the sea to provide uninterrupted views of the caldera below. Some villas have either a private pool or private jacuzzi or both and each offers luxurious comfort and space.
The two communal swimming pools (one heated, one un-heated) have pool-side service should you like to enjoy a cocktail whilst taking in the view.
Mystique also has an onsite spa and state-of-the-art gym for the ultimate pamper day.
Check prices, reviews, and availability here
Andronis Boutique Hotel is not only considered one of the best 25 hotels in the world, but it is also reportedly one of the eight most Instagrammed hotels in the world.
The pool suites, private terraces with jacuzzis, private cave pools, and villas have to be seen to be believed. The two-bedroom villa also has a private infinity pool.
Check prices, reviews, and availability here
Private infinity pools, cave pools, and jacuzzis – the choices are all here in these stupendously beautiful award-winning suites and villas. There is a lot of international press about these 29 luxury accommodations on Oia.
The Andronis Collection includes a growing number of luxury hotels but this one is perfectly positioned for a true "Oia" experience. Each suite and villa is independently styled but they are all sophisticated clean and modern interiors.
Only bio-organic ingredients are used in the dining experiences and the massage and spa areas, as well as the main pool, which has won awards as best in the world in different travel and lifestyle magazines. Hard to know which suite to choose!
Check prices, reviews, and availability here
If you're conscious of your environmental footprint, the Santo Maris Oia is a great concept hotel that focuses heavily on sustainability. Upon arrival to the property, you will be greeted by an ancient Greek symbol for wisdom, a 300-year-old olive tree.
Take a walk through the endless rows of herbs and organic vegetables, used by their in-house chef daily to make seasonal and popular Greek dishes with their 'signature' foods in the Alios Ilios restaurant.
Built with eco-friendly techniques, the materials used to build the hotel were sourced from the land itself. While there are plenty of pools dotted about the property, many villas and suites include their own private jacuzzi or pool. Perfectly located, this hotel will surely not disappoint.
Check prices, reviews, and availability here
For those interested in a typically Santorini experience, you simply can't look past the whitewashed cave suites of Canaves Oia Suites. While the Canaves Oia Hotel and the Canaves Oia Suites are sister companies, they belong under the one umbrella of absolute perfection.
However, if it's a private pool you're after, the Canaves Oia Suites is definitely for you. Each of their 12 suites comes with its own private, heated plunge pool, flat-screen TVs, a bottle of complimentary wine on arrival, and of course, unbeatable views of the caldera.
Don't for one second think you're missing out on good food either, the onsite restaurant has been rated as one of Oia's best.
Check prices, reviews, and availability here
A leading Luxury Hotel of the World property, the intimate, chic, and of course, pure luxury Katikies is a haven based in the bustling town of Oia.
Enjoy an intimate meal at their onsite restaurant (there are just four tables), admire the view on your private terrace with a jacuzzi, or simply enjoy the location, with all of Santorini's best shopping at the foot of your doorstep.
Much like the rest of Oia, the whitewashed buildings provide a dramatic backdrop to the sparkling blue water of the Aegean Sea. The best part about Katikies manicured property is that it's set up for that perfect sunset shot, where it can be taken from your very own room.
Check prices, reviews, and availability here
Nestled in the cliff face of Oia, the Charisma Suites offer a unique view of the caldera, including Amoudi Bay.
This is a perfect place for the romantic at heart where residents can enjoy the infinity pools (plural!) on offer, whilst sipping on a complimentary glass of champagne at sunset.
The main pool is complete with pool-side service and a selection of massage treatments.
However, the real treat is booking one of the honeymoon suites that include a private jetted tub overlooking the caldera. This has to be one of the best suites in town.
Check prices, reviews, and availability here
All 17 suites at Santorini Secrets have a private pool or jacuzzi and there is also a villa. The Grand, Infinity, and Honeymoon suites have private outdoor heated pools.
The honeymoon suite takes the idea of luxurious extras to extremes with its own fitness area, chromotherapy, aromatherapy, steam bath, and rain shower. This makes it, comparatively, great value for Santorini.
The Grace Hotel is about twice the price and it's worth checking availability for the Honeymoon suite as an alternative.
The pick of the hotel has to be the two-story Junior Villa with its private pool located on Oia's pedestrian street.
Check prices, reviews, and availability here
This new and ultra-stylish luxury cave hotel in Oia has private outdoor heated jacuzzis for each of its five cave suites. The Grand Cave Suite has both an outdoor heated jacuzzi and a private swimming pool.
The hotel excels in honeymoon accommodation and includes private candle-lit dinners and yoga. The interiors are up to the minute Cycladic luxe.
Check prices, reviews, and availability here
The name says it all, the Aisling Micro Hotel is just that with only 3 rooms available. Situated cliffside in Oia, you will witness the incredible views of the caldera below, combined with the privacy required to make for an intimate and rejuvenating experience.
Each of the 3 suites features a private, heated jacuzzi or plunge pool. If you want to make the most of the experience, opt for the Lucid Suite (the largest suite), which is the perfect abode for a couple.
Enjoy the large, private terrace with two-level interiors for the ultimate feeling of uncluttered airiness. It's no surprise that this is one of the most popular hotels I have ever recommended!
Check prices, reviews, and availability here
If you're looking for a suite with a little more room, why not consider a six-person deluxe suite at the Alexander's Suites Hotel?
Overlooking the caldera, the self-contained suites, villas, and houses offer privacy, a private pool, and a jacuzzi. Enjoy all the comforts of home with the added benefit of 5-star service and amenities.
Perched amongst the cliff tops of Oia, Alexander's Suites is fully furnished with antiques and handmade homewares to guarantee a level of style and sophistication. At this boutique, the word of the day is always: pamper!
The view of the blue-domes churches of Santorini, the walking path from Fira to Oia with houses tumbling down the cliffside, and the boats sailing around Santorini far below make this Suites Hotel really special. While it has the Caldera view that is common to all ultra-luxe hotels here, it's wonderful to see so much of Oia from your private terrace as well.
Check prices, reviews, and availability here
Imerovigli Hotels with Private Pools
If you have set dates for your trip to Santorini, Grace Santorini is somewhere you need to seriously plan for, with reservations sometimes booked a year or more in advance.
Resting in peaceful Imerovigli, this is a truly bespoke experience. From the customization of your preferred pillow type to room scent, to dietary requirements – the chef will come and speak to you directly to make sure – you will never want to leave.
The hotel also offers free daily pilates and yoga classes should you want to keep up your healthy habits while away. The tiered style hotel offers a large swimming pool to relax during the day and by night, you can enjoy your own private, heated plunge pool.
The Santorini consensus is that Grace Hotel is the best hotel on the island. It is undoubtedly one of the best places for a honeymoon or other special occasions.
Check prices, reviews, and availability here
Billed as one of the best five hotels on Santorini, the hotel is full of seductive sinuous white curves, aqua private pools, hot tubs, and a minimalist Cycladian vibe. The white curves hover above the dark sapphire of the Aegean Sea and look out to the darkness of the volcano.
Sunsets are magical here, as in all of these luxury 5-star Oia and Imerovigli hotels that have truly nailed refined luxury.
Chromata Santorini has 26 sea view rooms, suites, and villas (with private verandas) and many have private heated outdoor plunge pools or jacuzzis.
The large infinity pool is considered one of the best 20 in the world.
Check prices, reviews, and availability here
With a 300-year-old history, the Kapari Natural Resort is a state-of-the-art property with all of the services and amenities required to have a timeless and memorable experience.
This small resort (boasting just 14 rooms!) is the perfect place to come for relaxation and rejuvenation. It is a member of National Geographic's Unique Lodges of the World Collection.
With a minimalist approach to style, the rooms are simple, but the views are utterly spectacular. The best suite onsite has to be the ultra-private Kapari Up & High suite.
This is the ultimate Santorini experience you're looking for your own super-sized jacuzzi with a wide and open terrace overlooking the area, excellent food and bar facilities, and with room service available 24/7!
Check prices, reviews, and availability here
Also located in peaceful Imerovigli village, guests of Pegasus Suites and Spa are treated to their own private plunge pools, private jacuzzi (or both!)
As the name suggests, spa facilities are available including sauna, massage, and hydrotherapy treatments. Also, the restaurant here offers incredible breakfast packages delivered straight to your terrace.
The hotel is designed with a typical Cycladic architecture, and the property offers a more cave-like experience (typical of Santorini). Breathtaking views, peace, and quiet, and above all else, pure luxury!
Check prices, reviews, and availability here
One of the Top 25 Hotels of the World, Astra Suites feels like it hovers above Skaros Rock at Imerovigli! Winner of the 2019 World Luxury Travel Award and the 2020 Greek Hotel of the Year, this is a seriously beautiful hotel.
The villas and luxury suites (with the exception of the Superior Suite) have private pools and/or outdoor jacuzzis. It's hard to describe these global award-winning hotels without resorting to cliches and superlatives. Just click on the link below and see how truly beautiful these top-end Santorini hotels really are!
Check prices, reviews, and availability here
An Imerovigli hotel with caldera views, On The Rocks, offers rooms and suites, the suites having private pools or jacuzzi. Its 4-star designation makes it a great value caldera-rim hotel.
The Master Suite includes two bedrooms so this is a wonderfully private, affordable luxury for families.
Check prices, reviews, and availability here
Traditional suites carved out of lava, private cave pools, private infinity pools, and traditional cave houses transformed into honeymoon suites – there is a lot to love in this luxury 5-star hotel.
The main areas of the resort are even more spectacular than your private infinity-pool villa. No visitors or children under 13 are allowed.
A variety of land and sea honeymoon packages are available (including to Santorini's wineries and sailing cruises) but it is otherwise just a beautifully renovated resort with your own lovely Santorini private pool.
Check prices, reviews, and availability here
Fira Hotels with Private Pools
It is possible to be close to the facilities and nightlife of Fira town, and still have magnificent volcano views from your own private pool.
Located in an 1855 building in the center of Fira town, Mythical Blue Luxury Suites is Fira's most popular luxury suites hotel. The five types of suites have either private outdoor heated hot tubs or heated plunge pools.
The honeymoon suite has its own private outdoor plunge pool as well as an indoor heated hot tube. There is a large outdoor pool for all guests to use that is built to the lip of the caldera.
Check prices, reviews, and availability here
Six of the suites at Athina have private heated outdoor jacuzzis. Some of the suites accommodate up to 6 people. The Royal Suite, for example, which is pictured above, has two master bedrooms, three bathrooms, and amazing views.
With Skaros Rock and Imerovigli to the right and the volcano straight ahead, Fira is a great option to have a little more privacy than many of the Oia and Imerovigli hotels.
It can be hard to know where to stay on Santorini. Fira is the largest town on the island and is the hub for transport to Santorini's medieval towns and villages such as Pyrgos, Megalochori, and Emporio.
Check prices, reviews, and availability here
A Conde Nast Johansen luxury hotel, this lovely small boutique hotel is located on the cliffs of Fira. The Suites and Villa have their own private outdoor pools.
Outdoor dining on the terrace looks directly across to the volcano and there has been an extensive refurbishment of the hotel. I particularly like the small gold mosaic tiling of the luxurious bathrooms.
The hotel bills itself as 'affordable luxury' and it is one of a group of affordable but entirely luxurious and modern accommodations available with private pools and hot tubs.
There's also a shared outdoor swimming pool for guests to use.
Check prices, reviews, and availability here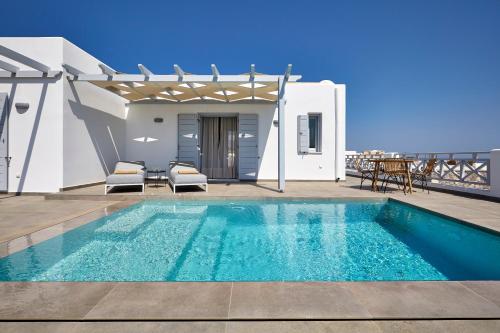 To me, this hotel just screams 'Santorini!' The lovely De Sol Hotel & Spa offers 7 luxury suites with private heated pools (in addition to standard rooms). It is located on the far side of Fira and so has great views towards the village of Pyrgos.
This is a brand new resort and contains all the luxe decor and facilities we have come to expect for a 5-star Santorini resort! The real advantage here though is the price point.
Whilst the hotel looks out to the sea, it is not located on the caldera rim and this makes these large new villas very affordable.
Check prices, reviews, and availability here
The Porto Fira Suites are, as the name suggests, located on the caldera edge in Fira town. There is a modern simplicity in the styling of these wonderful suites that really appeals to me. I think it manages to be 'warm' whilst still minimal and contemporary.
The indoor-outdoor cave pool is spectacular!
There are 13 stone-built suites and they have just been completely renovated and refurbished. Several of the suites have outside hot tubs.
Porto Fira Suites is a luxurious and affordable option, representing some of the best value to be had in luxury accommodation on Santorini.
Check prices, reviews, and availability here
Pyrgos Hotels with Private Pools
This adults-only luxury hotel is located at one of the highest points of the island, above the traditional and charming village of Pyrgos. The Aegean Sea is 500m below and the medieval castle is directly below your suite.
Perched upon the cliff, it is only 70 meters to the main square of Pyrgos. If you'd like to know more about this charming cobble-stoned UNESCO World Heritage village, see my posts on Santorini's villages, tours, accommodation, and local cultures
Skyfall Suites is furnished in a contemporary minimalist style with pops of color. Each suite has a hot tub on its private balcony and four suites have private heated infinity pools.
Check prices, reviews, and availability here
Akrotiri Hotels with Private Pools
The premium and deluxe spa suites at Neptune Luxury Spa Suites have large outdoor private plunge pools facing the caldera.
Located on the clifftop of the southern part of the island, these large suites offer privacy and space as well as unobstructed views along the caldera-edge length of the whole island north to the tip Oia.
The view is well worth considering, it is a unique and beautiful part of the island and the yachts, ferries and cruise ships sailing between the island and the volcano are mesmerizing.
The Suites are as large as cave houses and have private pools that are the size of some of the guest hotel pools in Oia!
The suites are only a few minutes' walk from the incredible Ancient Akrotiri, a must-see adventure while on Santorini, that I enjoyed almost as much as visiting the Acropolis because it is Greece's Pompeii and so few people know about it!
Check prices, reviews, and availability here
Where to Stay in Santorini
Not sure if a hotel with a private pool is the right choice for your upcoming trip? Read this comprehensive guide about where to stay on Santorini, including the pros and cons of the nine main villages and towns on Santorini. And read about how to stay in a traditional Santorini luxury Oia Cave Hotel.
Further Links and Information
If you've enjoyed this travel guide to hotels with the best private pools in Santorini, share the post now or pin it for later.
PIN BEST SANTORINI HOTELS WITH PRIVATE POOLS FOR LATER