Are you wondering if you can pull out your phone and order an UBER in Greece? Yes, the ride-sharing app, UBER, does operate in Greece! There are four cities and islands where you can book an Uber in Greece. There have been a lot of changes to Uber's operations in Greece in the last few years, but in this up-to-the-minute guide to Uber in Greece, you'll learn all about how to get an UBER in Greece, what kind of UBER options you can book, and the other ride-sharing and transportation options.
This article may contain compensated links. Please read the disclaimer for more info
Uber in Greece – a Real Odyssey
One of the main questions when traveling is how to get around and recently Uber became one of the best solutions to getting where went quickly.
Its familiar software, online payments via PayPal, debit or credit card, and knowing who is coming to pick you up and in what car really takes off the stress of moving around in a new and unfamiliar city.
As Uber has the same features all around the globe, it's useful for those places where taxi drivers do not speak English and accept only local currency.
There are more than 10,000 cities worldwide where you can get an Uber, and four of these are in Greece.
Although Uber is not new to the Greek market, the whole concept of liberalized private urban transportation business not only did not match the specific requirements of the Greek legislative system, but it also pushed Greek taxi drivers and transport companies towards huge protests.
The company's base level service – Uber X – where the service is offered by non-professional drivers in private (non-taxi) vehicles was thus suspended in 2018 in an agreement made with taxi companies.
So, a new formula had to be found since Greece and its capital Athens are a significant market and a prime tourist destination.
That is good news because since April 2023 Uber is operating again in Greece as UBER Taxi.
How to use the Uber App in Greece
There are four places in Greece that offer Uber services:
🚕 Athens – the capital
🚕 Thessaloniki – the country's second-largest city
🚕 Santorini – a world-famous island in the Cyclades archipelago
🚕 Corfu – another island, an insular gem of the Ionian Sea
Since its basic service had to be modified, Uber Company switched to its Uber Taxi service, where you basically hire local taxi drivers via an Uber app.
In a nutshell, you are hiring a taxi car with a professional driver, but the whole thing is facilitated by the Uber app.
In the Uber app you state your pickup location and your destination (drop-off location), see who is coming to collect you, pay online, and bypass a language barrier (although Greek taxi operators are honest drivers who speak decent English).
All of it is basically a great thing – instead of hailing a taxi down the street, where bad weather, full taxis, queues, and all sorts of other things can come your way, you rely on the Uber Taxi online service.
You will still be in a taxi-licensed car with a taximeter and a local taxi driver but with an option to know their review score and also compensate without using cash or a card (many Athens taxis have a POS machine).
So when you order an Uber in Athens, expect a classic city taxi yellow-cab car to come and pick you up.
What about the airport transfers? Can I also use Uber Taxi from Athens airport to the city center?
Yes, you can order Uber drivers from the Athens International Airport (to the city center or your hotel) as in any other part of the city.
However, it might be a long wait for it to arrive in case if there are no Uber Taxi vehicles near the airport.
Athens airport is around 45 minute's ride from the city center and there are multiple private and public transportation options available.
Besides taking some of the airport buses (X95 driving directly to Syntagma central city square) or a direct metro, taxis and pre-booked transfers are the best options for arriving in Athens in style.
I always pre-book a private Athens airport transfer with My Athens Transfers. This reputable company has an average 5-star rating from hundreds of reviews. If I am traveling alone or in a group of less than 3, I book the Private Transfer between Athens Airport and Athens Hotels. If I'm traveling with more than 3 people, it's more economical to book their Athens: Private Transfer between Airport and Hotel.
Athens Uber Taxi and taxi fares
Greece is a country with regulated taxi transport services and fixed fares apply to all taxi booking systems, including the Uber Taxi.
This means the flat starting rate is the same for any yellow cab, as well as the price per kilometer.
The prices effective for all transfer companies are set accordingly to the day of the week (working day or weekend or holiday) and time of the day (daytime vs. night-time).
Also part of the calculations is the trip distance (city zone or metropolitan area) and other factors (large suitcases command a small surcharge).
The Athens Uber Taxi and taxi fares for the Greek capital are:
🚕 Minimum fare – €4
🚕 Start – €1.8
🚕 Daytime cost per kilometer – €0.9
🚕 Night-time cost per kilometer (00:00-06:00) – €1.25
There is this minimum fare of €4, which is oftentimes the one you will pay for many of the city center tourist routes taxi services.
This means that even if the start + the price set by the distance is lower €4, you will still pay the amount of minimum fare.
Nevertheless, it is worth getting a cab to get around when the heat in Athens is unbearable.
Inflation is still a problem in Greece, so these figures are indicative only. I update them every 6 months when I'm in Athens.
Is there Uber in Santorini?
Santorini is one of the most frequented islands in Europe and its airport is always among the top 10 busiest in Greece. This is why Uber became a popular solution for getting around Santorini.
However, as explained previously, limitations on what Uber services exist.
The UberX service is not available, but Uber Taxi, Uber Van, and Uber Comfort are available, as the Uber company is using the existing registered taxi and transport services of the island to form its network.
So, if you order an Uber in Santorini, a local taxi or transportation vehicle will arrive, just like in Athens. The only difference is that Uber Comfort and Uber Van services are also available.
HOWEVER, there is a fixed cost for any Uber trip in Santorini – €36!!
So, even if your beach or hotel is only a kilometer away, you will still end up paying the flat fee of €36 for the journey. In the image above you can see that I've put in a distance from Ancient Akrotiri to Akrotiri village, which is less than 1 km, but is still €36.
Also, longer waits should be expected as your drive might be coming from another side of the island. And if you're arriving or departing via ferry, you should book a taxi well in advance during summer – Athinios Port is a crowded crush of people at peak times.
Instead, I always pre-book the Santorini Taxi Service airport transfer through Get Your Guide. I've found it to be inexpensive, reliable, and I like being able to book it a long way in advance online.
Uber boats in Mykonos
Uber decided to introduce a brand new service to Greece in 2023 – Uber Boat.
The service launched in Mykonos, a Greek island seeing an upward trend in American tourists accustomed to Uber.
From late June to September, the popular app is hitting the Aegean island with its high-end service and each boat will carry up to eight passengers.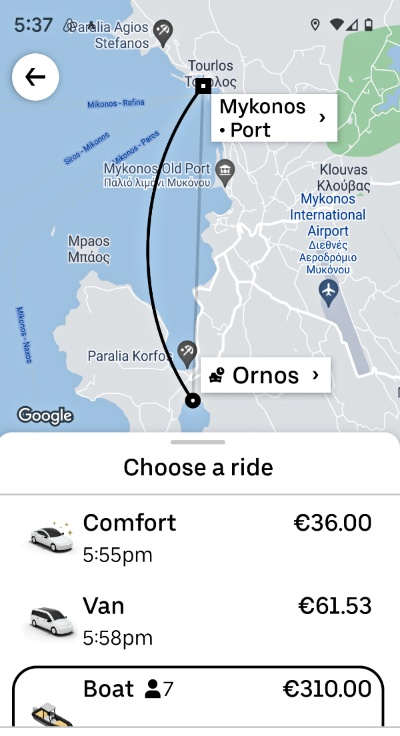 Basically, you can charter a private boat, which makes Greece island hopping from Mykonos so much easier, especially if you don't want the crowds on the ferries in summer.
Frequently Asked Questions
Is it easier to use local taxis instead of Uber Taxi?
It is only easier to use Uber in Athens during rush hour, when many taxis just turn off their apps and pick passengers up from the street.
How easy is it to find an Uber in Athens, Greece?
It is not difficult at all to find an Uber in Athens, but they are definitely less frequent than in the USA.
Are Greek Uber and taxi vehicles air-conditioned?
Yes, all Greek Uber and taxi vehicles are air-conditioned. Sometimes, the driver may prefer to turn it off and open the windows, but you can always ask for the AC to be turned back on.
Do I need to download a special Uber app for a different country?
No, the popular taxi app is valid worldwide. You simply use your existing Uber app for easy access to Uber trips.  
Can hotels order Uber for you?
No, hotels cannot find Uber taxis for you. They can only call regular taxis for you or organize mini buses for larger groups.
Keep Planning Your Trip to Greece
🧳Best Ancient Ruins in Greece: Greece ruins to visit in 2023
🧳15 Best Greek Islands for Couples
🧳 25 Incredible Greek street food dishes – the ultimate guide
🧳 UBER in Greece: Complete guide to where and how Uber Taxi operates in Greece
🧳Tipping in Greece – the Complete Guide [2023]
🧳What's the weather in Greece in May like for travel?
🧳Do I need an International Driver's License in Greece?
🧳Mosquitoes in Greece: Easy Ways to Protect Yourself from being bitten
🧳What's the Legal Drinking Age in Greece for Tourists in 2023?
🧳How to say thank you in Greek (and express gratitude in Greece)
🧳Do People in Greece Speak English? And does it matter in 2023?
🧳Do You Know Where to Find Halal Greek Food in Greece?
🧳Italy or Greece? A love letter to both and an honest appraisal