It's no easy feat to choose the best Cinque Terre beach. This complete guide to the best beaches in Cinque Terre, both in and around the five villages, gives you the low down on locations, costs, facilities, and pros and cons of the best beaches.
Cinque Terre (CHIN-kweh TEAR-reh) is one of the most picture-perfect destinations in Europe. Its colorful houses, perched haphazardly in mountainous bays, seem to have been plucked from a fantasy world.
And while its beaches are less likely to be the first thing that draws you to this part of the Italian Riviera, there are both stretches of sand and pebbly coves which give you the chance of an inviting dip in the Ligurian Sea.
Beaches in Monterosso
Monterosso is the largest and most built-up Cinque Terre village.
While it may lack the small-town charm of some of its neighbors, it has some of the most eye-catching coastlines, and the sandy Monterosso beaches attract hordes of sunbathers and beach bars enthusiasts.
Our first port of call is the main strip of sand in front of the village, which is the most obvious draw for tourists – but don't think this is your only option.
Fegina Beach
Fegina Beach (Spiaggia di Fegina) is the largest beach in the region, and a logical starting point for many visitors as they hike, cycle, drive or take a train through to the other villages.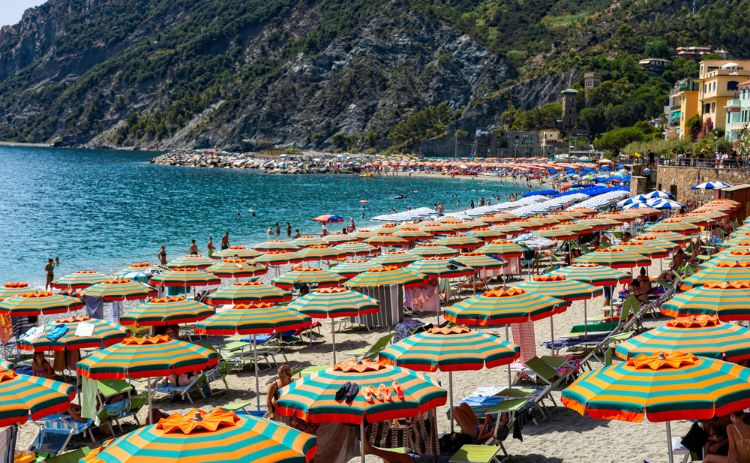 Fegina Beach is there to welcome you as soon as you step out of Monterosso train station, but that welcome can come at a cost.
Parts of the beach have an entrance fee: €25 will get you two sun-loungers and a parasol for a day. If that's too rich for your blood, look out for the small free beach area right in front of the train station.
Whether you pay or not, prepare yourself for company. This beach is very popular, especially as the temperature heats up towards the summer, so it's a great option if you want some background noise and people-watching, but it is not the place for beach lovers seeking solitude.
Tip: To give yourself the best chance of getting a nice spot – especially if you are interested in setting up shop near the lido – either book in advance or get there as early as you can.
That rule of thumb applies most to the busiest area, Scoglio di Monterosso. With its large jagged rock close to the shore and its characteristic green and orange umbrellas, it is the focus of many a photo of Cinque Terre, so many visitors make a beeline for it.
One upside of Fegina Beach being so popular is that it has plenty of amenities close by, including beach bars, snack bars, supermarkets, and bakeries, so once you have worked up an appetite for sunbathing or swimming, there are plenty of ways to recharge your batteries.
Spiaggia del Gigante
Heading west from Fegina beach, it's hard to miss the striking – somewhat terrifying! – a statue of Neptune, pinned to the craggy coastline and with his head bowed rather than facing out to sea. The gigante, as the statue is known, gives its name to our next beach: Spiaggia del Gigante. (You can see the giant status on the left)
Spiaggia del Gigante, like Fegina Beach, has both free and paid areas, but happily, the free area here is somewhat larger, and because it is a little further from the train station, it is less likely to be crowded.
The sand here is perhaps a tad more gravelly than at Fegina, but it has a very gentle decline leading to the shore, and a nice shallow area in the sea, ideal for kids.
While we are talking about the sea, beware that, like the beach, it is divided: between the two areas reserved entirely for swimmers, there is a small strip of ocean that allows small boats to come and go.
Amenities here are arguably a little more basic than at Fegina Beach, but there is still a chilled-out seafood place and some convenient huts where you can get changed and dry off.
Farther down
If you really want to get away from it all, come off the beach and take the Via Fegina all the way down (heading west). From there, take the walkway past the Circolo Velicoa Monterosso sailing school which will lead you to a stretch of coast away from the beaten track.
The main strip of sand here is dark and coarse. If you follow the curve of the coast, there are even more secluded beaches, and there are various nooks and crannies waiting to be found.
Monterosso Old Town beach
This beach, also known as Spiaggia Tragagia or Monterosso Al Mare, is in the opposite direction to Spiaggia del Gigante, so head east from Fegina Beach along the seafront promenade.
It's little more than a five-minute walk from the train station, and you will be rewarded with an attractive beach complete with a lido – all in all, a pretty comprehensive Plan B if the main beach is looking a little crowded.
This is another sandy beach – although, again, the sand is not as fine as on Fegina Beach – but it enjoys the same crystalline sea water as its neighbors, and is happily almost entirely free from rocks. An ideal choice for anyone looking to avoid the craggy side of things, or for those with young kids.
Like Fegina Beach, there is no shortage of local places to eat, and there is also a small business renting out boats and kayaking if you want to venture further out.
Beaches in Vernazza
The next town along, Vernazza, boasts possibly the second-most photographed beach in the region, just behind that of Monterosso.
Porto di Vernazza (Vernazza Harbor Beach)
The triangular, small sandy beach here is humble in size, but its backdrop is amazing: Vernazza's village square is made up of a multitude of houses, whose rainbow colors might look garish if it weren't for their endearing higgledy-piggledy layout.
Apart from the attraction of the numerous photo opportunities, Vernazza Harbor Beach offers fine sand, clean water, calm waves, and lots of local amenities. It's another great spot for families.
I'm biased, because Vernazza is my favorite of the five villages, but I love this harbor with the piazza leading to it and the lovely church above it. Read more about Vernazza.
If you are looking for adventure, however, the Santa Margherita di Antiochia Church looms tall over a collection of rocks where the more valiant sunbathe or dive into the ocean.
As with other beaches in this region, swimmers have to share the sea with the local boat traffic, but there is a specified area just for swimmers, which provides ample space for a quick dip.
Vernazza Beach
To the east of Porto di Vernazza, there is a second beach: Vernazza Beach (Spiaggia di Vernazza).
Just a five-minute walk from Porto di Vernazza, taking Via Visconti and then Via M. Carattino, Vernazza Beach, and passing the imposing Doria Tower, you will find a rocky strip of coast, which is worth a stroll.
Altogether more wild than the harbor beach, this beach offers caves, rocky waters, and a pretty moody coastline, whose sand can change color dramatically according to the weather conditions.
This lovely stretch of sandy beach has only existed since the major floods of 2011 that caused the rock face to crash down.
It is safe to be on the beach now, but it does show how climate change is affecting the Cinque Terre as more beaches change or become so washed away that they are only reachable by boat.
Beaches in Corniglia
Our third village of the five, Corniglia (CORE-neel-yah) shares its neighbors' love of rainbow-colored housing but this town is built more towards the top of the hillside than the others and doesn't quite have the same seafront connection.
It is a picturesque village full of alleyways and with amazing hilltop views. The main road down is relatively steep but walkable, and there is also a staircase that zigzags down towards the coast.
Nonetheless, there are still some great places to go for a swim locally, as long as a sandy beach isn't an absolute must for you.
Corniglia Beach
"Corniglia Beach" is perhaps a bit of a stretch – this is rather a small, well-sheltered bay that offers an ideal spot for swimming.
There are no facilities at Spiaggione di Corniglia and you'll need to climb back up the steep path to find refreshments when you've had enough beach time.
Guvano Beach
Just north of Corniglia, heading towards Vernazza, you will find Spiaggia Guvano (Guvano Beach). This is more for the intrepid and curious than for the casual sea-gazer.
There are two ways to get there. Take the Sentiero Azzurro (the Blue Path, the most famous of the Cinque Terre National Park hiking trails) road towards Vernazza before veering off downhill for around 15 minutes. You then need to pay the €3 entrance fee. It's a hike of around 75 minutes.

Alternatively, if it is open, you can go through the abandoned train tunnel, where you ring a bell at its gated entrance, walk through for 15 minutes and then pay €5 at the end.
Either route will take you to Guvano Beach: a rough, rocky beach in a beautiful inlet. What's all the fuss about? In the 70s, Guvano Beach was a haven for hippies and a famous nudist beach.
Beaches in Manarola
Manarola is similar to Corniglia in that it offers two swimming spots, but no real beaches.
You have the choice to check out the main harbor – along with the majority of visitors – or sneak off to the back beach.
Manarola Beach
Manarola is different from neighboring towns. From its harbor, the roads toward the village are immediately steep and winding, which makes for a magical walk through the town.
However, it's also a surprisingly popular spot for swimmers. You can climb into the sea via a ladder, or if your courage is up, you can leap in from the rocks.
As in other villages, you will have to share the water with local boatmen, and so the water here can get a bit choppy.
Beaches in Riomaggiore
The port of Riomaggiore ("ree-oh-mah-JOR-eh") is comparatively cramped compares to the other Cinque Terre villages.
Unlike Vernazza, there is no slither of beach in the main harbor, as houses on both sides crowd in at a tight angle.
Here, boats rule the roost, and swimming is prohibited, so you have to go elsewhere. Instead, follow the roads south along the coast to Spiaggia Riomaggiore (Riomaggiore Beach)
Riomaggiore Beach
Riomaggiore Beach is sheltered and secluded, and just a couple of minutes' walk east from the main street of the old town.
Head left past the harbor to the stairs which lead to the ferry dock. Just after the ferry dock, you'll see the dazzling colors of this fun swimming area.
It is, however, a rocky beach, so you are advised to wear protective footwear to avoid any cuts and scrapes. And whilst there are showers, that's about all there is on this sliver of stony beach, so you need to bring your own towel.
The commune has recently renovated the beach and added a less rocky scree over the pebbles. It's still rocky, but is much better than it has been since 2012.
The water here rewards your effort – it's a beautiful, unspoiled spot.
Canneto Beach
By now you may have gathered that many of the beaches in Cinque Terre are easy to miss, and none more so than Canneto Beach (Spiaggia del Canneto di Riomaggiore).
Canneto Beach is actually not accessible by land, as the traditional road taking you there has become too treacherous.
Instead, the only way to get there is by boat. That might sound like a lot of effort but Canneto Beach has a couple of major pulls: it has a natural, fresh-water waterfall (Cascuto di Canetto) cascading down from the hillside, and unlike its nearest rivals, the beach here is sandy.
Also, the very fact that it is so hard to get to this secluded beach means you are much more likely to achieve a little peace and quiet here compared to other Cinque Terre beaches with their popular beach clubs and hundreds of umbrellas.
Canetto is a popular stop-over for boat tours for a snorkeling experience.
Fossola Beach
South of Riomaggiore's town center lies Fossola Beach. It was possible until a few years ago to get to this beach by foot but then the storms of 2011 caused damage. It's now reopened after work to shore up the cliffside.
If you are visiting Canneto beach, which is a little further from Riomaggiore, you can spend time at both beaches by hiring a boat or just set out on foot east from Riomaggiore marina.
The coastline here is dramatic, with the sheer, steep mountainside towering over the narrow beach. The water is very clear and if you take snorkeling equipment you'll be able to spot fish and, rarely, an octopus.
Despite being a small pebble beach, Fossola Beach is extremely popular, especially in the summer. It's near Portovenere on the Tramonti coast and best reached by hiring a boat from Manarola or Riomaggiore.
Confusingly, Riomaggiore Beach is sometimes also called Fossola Beach! The sea is beautiful here, but the currents can be a little stronger than elsewhere along the coast.
A sixth land?
While not technically part of Cinque Terre, there is one other beach worthy of mention.
Levanto Beach
Levanto is the next town up from Monterosso, and while it might not be as particular as the villages in Cinque Terre, this lovely Italian Riviera town has its own colorful houses and beautiful beach.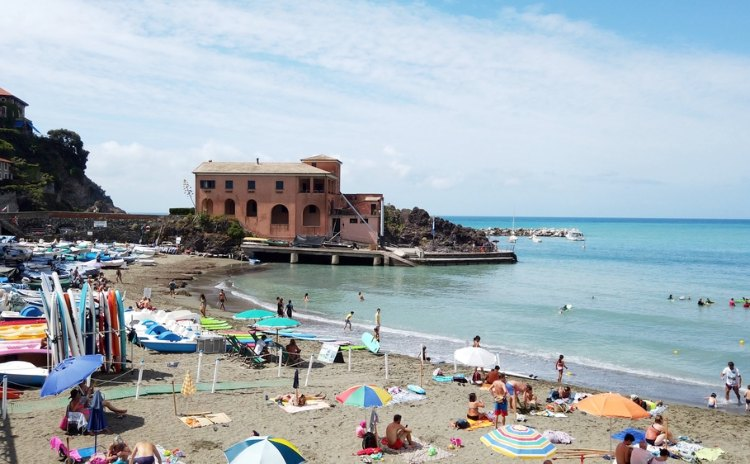 The attractive, long sandy beach in front of the main town is not unlike that of Monterosso. Like Monterosso beach there are public and private zones, so be sure to seek out the free areas, which are larger here.
The bay is sheltered from the tides and currents found further south, so it makes an all-around pleasant destination for families.
Final Thoughts
The Ligurian coast is perfect for a beach day (or 10) and now you're an expert on all the beaches in the Cinque Terre worth visiting. Have you chosen your favorite Cinque Terre beach?
From the pictures above you'll see that for first-timers to Italy, the beaches can seem extremely crowded. And whilst there are beautiful swimming spots all along the Italian Riviera, there are limited ways to get there, and accommodation can be hard to find if not booked many months ahead.
Keep planning your trip to Cinque Terre by reading:
+ Where to Stay in Cinque Terre: A Guide to Choosing Your Favorite Village
+ How to Get to Cinque Terre – Avoid the Crowds and Enjoy the Beauty
+ Vernazza Italy: the Colorful UNESCO Masterpiece of Cinque Terre