This ultimate itinerary for 4 days in Rome covers all the major sites, sounds, and tastes of the Eternal City. You could live your whole life in Rome and still find new delights – just ask the archaeologists who keep unearthing statues and ruins – but the good news is that if you plan to visit Rome for four days, you can get a great insight into the city's many treasures.
Read on for a stop-by-stop guide to what your four-day trip could look like.
This article may contain compensated links. Please read the disclaimer for more info
Need to Know Before you Begin Your 4 days in Rome itinerary
4 days in Rome can be a marathon sprint so it's important to take it easy and spend enough time at each venue that you come away remembering the highlights of Rome rather than having the Roman Forum, Vatican City, the Trevi Fountain, and Palatine Hill just seem like one blur of queues, crowds, and ornate monuments.
Summer in Rome can be extremely hot. In the middle of July 2023, the temperature in Rome got to 41.8°C or 107.24°F!
Even if you normally love walking from place to place, reserve walking long distances to early morning and the evenings and consider the hop on hop off buses (see below).
Consider a hotel near the major sites with air conditioning and maybe even a pool. You'll see some of my best recommendations below.
How can you visit Rome without becoming exhausted?
After you have spent a few days in Rome, you'll be a pro at Rome's public transport system. But what if you only have 4 days in Rome?
One of the easiest ways to get through this 4 days in Rome itinerary is to grab a Hop-on-Hop-Off Bus Pass, or the Omnio Card.
Especially if this is your first time visiting Rome, it can be really simple to hop on one of these city touring buses because they go to all the places you want to go.
If you find yourself visiting Rome in the middle of summer, these air-conditioned coaches are life savers!
There are two kinds of passes – the simplest one is just access to hop-on-hop-off buses for 1, 2, or more days. The other also includes entrance tickets to some attractions.
The best three are below, make sure to read all the stops, inclusions, and exclusions.
Best Rome Travel Cards and Bus Passes
What about getting to and from Fiumicino Airport?
✈️ Rome has two major international airports. The first, and largest, is Leonardo da Vinci-Fiumicino Airport (FCO) and the second is Ciampino Airport (CIA).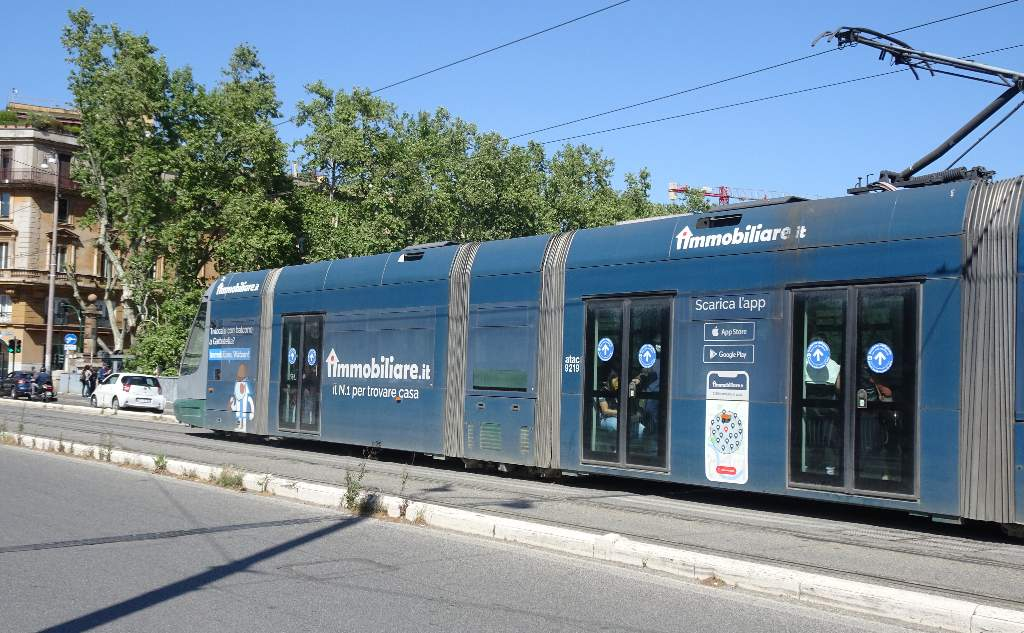 🚌 Fiumicino Airport is 32 kilometers or 20 miles from Rome city center. The cheapest way to get to the city is the Bus Transfer Between Airport and Rome Termini Station Ticket.
🚌 When I was a backpacker, I always used airport shuttle buses. It costs just over 5 bucks, has a 4.5/5 rating from 10,000 reviews, and is booked hundreds of times a day. The Rome: Shuttle Bus Transfer to or from Fiumicino Airport is similarly priced and as popular.
🚅 The most convenient way to get between the airport and the city center on public transport is the Leonardo Express Train from/to Fiumicino Airport, and I alternate between this and a private transfer depending on my flight time and amount of luggage.
🚅 The Leonardo Express costs 20 bucks and takes 32 minutes to arrive at Rome Termini and departs every 15 minutes.
The best and most reasonably priced private transfer between Fiumicino or Ciampino airports and your hotel or other destination is the Transfer to/from Ciampino or Fiumicino Airport transfer.
🚌 Car hire – if you have nerves of steel and/or are staying in the countryside, then Discover Cars is your best-priced high-quality rental car option.
OK, now you know how to get around, let's cover where to stay then it's onwards to your 4 days in Rome itinerary.
Where to Stay in Rome
If you are seeing the sites of Rome, Monti and Trastevere are the most convenient and fun neighborhoods to stay in, and almost all of my best recommendations are within walking distance of a few of the major sites.
🏝️ Best Hotel for Luxury in Travestere: Villa Agrippina Gran Meliá – a Leading Hotels of the World Property on the banks of the Tiber River with views of the Vatican, and wonderful pool terrace, and garden areas.
Book It
🏝️ Best 4-Star Hotel in Trastevere: Donna Camilla Savelli – set in a former 17th-century monastery that was designed by Borromini, the rooms and public areas are striking in their elegance and attention to detail. It is surprisingly only rated as 4 stars, but this means that it is well-priced, and after breakfast in the garden and evening drinks on the terrace, you'll never want to leave.
Book It
🏝️ Monti: Villa Spalletti Trivelli – A Small Luxury Hotels of the World property, the historical villa sits in lovely gardens, a shaded garden terrace, and has a wellness center and spa, fitness center, room service, restaurant, and bar. The rooms and terraces are old-world elegance with first-class modern amenities which just works perfectly. The Trevi Fountain is 400 m away and the Forum is 800m away.
Book It
🏝️ Best Hotel for Couples' Luxury in Piazza Navona: Lifestyle Suites -Adults-Only luxury hotel with gorgeously decorated rooms. Its very large terrace has panoramic views of the whole of Rome and the views from the private balconies of Piazza Navona are brilliant. There's a fitness center, free wifi, airport shuttle, and room service. The Pantheon is a 5-minute walk.
Book It
🏝️Best Romantic Hotel in Monti: Colosseum Corner – a very good value Hotel with views of the Colosseum. In fact, it feels like you can almost reach out and touch the Colosseum from the light-filled cozy rooms 250 m away!
Book It
🏝️ Best Family Hotel, Pantheon: Queen Palace Suites – The Superior suites accommodate families or groups of 6 with two double beds and a double futon bed in the two bedrooms. Opened in 2017 with light rooms and marble bathrooms, it's 500m from the Pantheon and Piazza Venezia.
Book It
🏝️ Best Mid-Range Hotel in Trastevere: Window on Rome – modern, light, with wooden floors and soothing tones in the elegant rooms, the location is repeatedly described by guests as 'amazing.' There's an airport shuttle, free wifi, air conditioning, family rooms and apartments, a terrace, a lift, blackout curtains, and is quiet!
Book It
🏝️Best Budget Hotel in Monti: Hotel Paba – Less than a 5-minute walk to the Colosseum, the 2-star Hotel Paba is sleek, modern, light, and spotlessly clean. With free wifi, air-con, family rooms, and some rooms with private balconies, this is a fantastic find.
Book It
4 Days in Rome Itinerary Map
Rome Itinerary Day 1 – Ancient Rome & Trastevere
Morning at the Colosseum
We're not going to mess around! We are starting our 4 days in Rome itinerary with one of the Eternal City's indisputable main attractions, the Colosseum.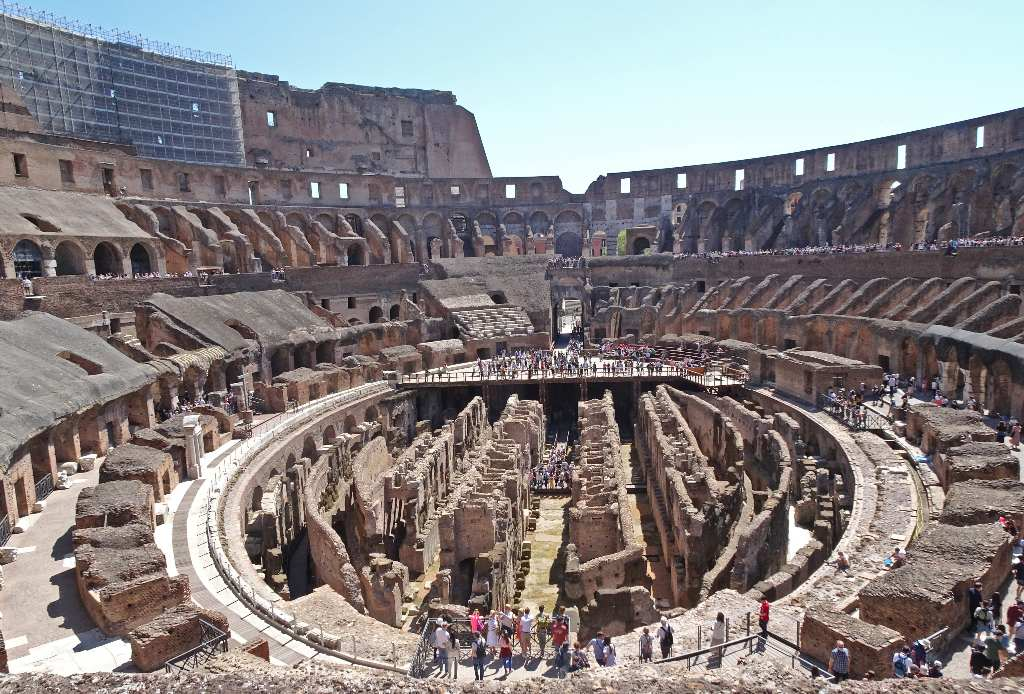 It may have been built in 72 AD, but it is still the largest amphitheater in the world. In its heyday, up to 80,000 people filled its tiered stands to watch Roman gladiators and other entertainment.
If those numbers sound impressive, there's more: historians believe some half a million people met their maker on the arena floor – and up to a million animals.
This truly was humanity and empire at its most savage and monumental, and the fact that so much of the Colosseum has survived means it's very easy to picture the scenes.
If you are happy to forego a guided tour, you can, but it's still a good idea to buy tickets in advance, because there are a limited number every day.
Also, as with many Roman attractions, there is an important distinction between "skip the line" tickets and "general admission" (read: long line).
It's worth noting, too, that unaccompanied visitors do not have access to all areas.
If you want to check out the underground layers of the Colosseum – where both man and beast awaited their fate – you will need to book a guided tour.
Tip: If you visit Rome during a very hot period, you might want to see some of the sights on this Rome itinerary in the evenings.
The Colosseum at night tours are eerie, mysterious, quiet, and uncrowded and take you underneath the Colosseum!
Read about the Gladiators who fought at the Colosseum in ancient Rome.
Best Tickets and Tours of Colosseum, Roman Forum, Palatine Hill
Palatine Hill
The Colosseum will take 1-2 hours to explore, depending on how much you opt to see. Just over the way from the amphitheater is Palatine Hill, one of Rome's seven hills.
If the Colosseum is a great place to start for an authentic bit of ancient Roman history, Palatine Hill is a wonderful stop for a bit of Roman legend too.
The very founders of the city, Romulus and Remus, are said to have lived in a cave on this very hill.
More definitely, Emperor Augustus cemented the hill's importance, by building his private residence Domus Augusti here.
Some of it remains to this day, as does the Casa di Livia, believed to be Augustus' wife's residence.
Several emperors followed Augustus' lead and added to the palatial residences (and yes, the word palace comes from Palatine!).
This culminated in Emperor Domitian, who built a castle so resplendent that it would be the Roman Emperor's official residence for five centuries until it was destroyed by an earthquake.
Ruins of all these buildings remain, and while it takes a little more imagination than the Colosseum to visualize everything, there is also a lot more to see, meaning this will likely take you up to lunch.
Afternoon at the Roman Forum
Many skip-the-line tickets for the Colosseum also give you entrance to Palatine Hill – and our next stop, the Roman Forum.
Don't be fooled by the rather staid name – the Roman Forum was the thriving center of ancient Rome.
That means as well as governmental buildings, at the Roman Forum you will also find the site of triumphant processions when the conquering Roman army would return home.
In this plaza, you can imagine how every element of Rome's day-to-day life would have unfolded, from commerce to philosophy and justice.
Today it is a rather attractive green area, punctuated with the kind of amazing excavations that set the Italian capital apart from other major cities.
Late afternoon in Trastevere
Take a twenty-minute walk from the Roman Forum towards the river, and make a stop at the Knights of Malta Keyhole.
The Priory of the Knights of Malta are a religious order of Roman Catholic crusader knights, and while it is easy to walk past this relatively unremarkable green door, there is often a line of tourists waiting to peer through its keyhole – as it offers a wonderful view of Saint Peter's Basilica.
Next, cross the river into Trastevere, one of the most picture-perfect areas of Rome.
Having had a fair few hours of history at the Colosseum and the Roman Forum, it will do you good to immerse yourself in this quintessentially Italian neighborhood, lined with caffés, trattorias and workshops.
Rome Itinerary Day 2
Morning at the Vatican City and Vatican Museums
They say if you spend a minute looking at every painting in the Vatican Museums, you will be there for four years.
I'll have to write that article another day! For those of us who measure our city breaks in mere days, visiting the Vatican Museums is a question of prioritizing: they are enormous, they are full of artworks from the last two millennia, and you are sure to be overwhelmed, so pick out what you want to see.
As with the Colosseum, skip-the-line tickets are a must, and a guided tour is potentially a good investment.
Now let's take a look at the Vatican Museums' heavy hitters, so you can work out where to spend your morning.
The Sistine Chapel
The home of one of the most instantly recognizable artworks in the world, Michelangelo's The Creation of Adam, the Sistine Chapel is actually the last of the Vatican Museums, but you obviously might want to make a beeline for it.
As well as Michelangelo's show-stopping works, it also houses masterpieces by Botticelli amongst others.
The Raphael Rooms
Raphael was one of Michelangelo's most-renowned students, and these four rooms showcase some of his major works.
Perhaps most famous of all is the Stanza della Segnatura, a room with four paintings depicting Theology, Poetry, Philosophy, and Justice.
The School of Athens, the painting dedicated to Philosophy, is especially intriguing as, hidden among the usual suspects like Aristotle and Plato, Raphael included portraits of himself and his contemporaries.
The Gallery of Maps
Relatively speaking, the Gallery of Maps is one of the museums' hidden gems.
Take a trip around this collection of beautiful maps commissioned in 1580, which chart every region in Italy.
Less than 100 years after Columbus made his fateful voyage, these maps, which include perspective paintings of Italy's main cities, are remarkably accurate as well as beautiful.
The Octagonal Courtyard
The Octagonal Courtyard in the Pio-Clementine Museum is said to be the oldest part of the Vatican Museums and is the home of two famous sculptures.
Check out the Apollo Belvedere, which is thought to date from the second century, and has long been held up alongside Michelangelo's David as the epitome of aesthetic perfection.
Then make your way to see Laocoon and His Sons, a sculpture from Ancient Rome, discovered in the 1500s, which portrays a Trojan priest in agony as he and his children are attacked by sea serpents.
Best Sistine Chapel & Vatican Museums Tickets and Tours
Afternoon in the city center
After all that art, you are likely to need a good late lunch – and Rome is the ideal city for a food tour! – and then I would suggest a lighter evening itinerary.
So head back towards Municipio Roma I, the district where you find the Colosseum and Roman Forum, and make your way to the Trevi Fountain.
The name of the Trevi Fountain comes from "tre vie", meaning "three roads", which gives you a hint that the fountain is at the center of a beautiful square.
Check out the central sculpture in the fountain: the main figure is Oceanus, who towers above the seahorses, and mermen who flank him.
More importantly, this is your chance to toss a coin into the fountain, something visitors have done since the 1700s!
One coin means you are bound to return to the Eternal City, two coins mean you will find love, and three mean marriage. So be careful what you wish for!
In all seriousness, one nice thing to know is that Caritas, a local charity, has collected the coins since 2006.
Less than half a mile north of the Trevi Fountain, you will find the Spanish steps.
At the foot of the famous steps, you will find La Barcaccia, a fountain sculpted of a half-submerged boat by Gian Lorenzo Bernini, made after the Tiber River flooded Rome in 1598.
The steps themselves are iconic, where both locals and tourists sit and wait for their rendezvous to show up.
Climb the steps past the Spanish Embassy – where the Spanish Steps get their name – and head towards the Trinità dei Monti church.
This church, which is still maintained by France, is dedicated to the Trinity, and for that reason, its staircase is divided into three flights.
Even for all of us who are not so devoted to the Father, Son, and Holy Spirit, the view from the top of the stairs is very special indeed.
Best Trevi Fountain Tickets and Tours
Rome Itinerary Day 3
St Peter's Basilica and St Peter's Square
Back to the Vatican we go, this time to visit one of Rome's four basilicas, arguably the most famous religious building in the world.
Saint Peter was one of Jesus' twelve apostles, the "rock" on which he would build his church, and St Peter's Basilica is indeed said to have been built on the burial site of Saint Peter, who was crucified upside down around AD 65.
The current building dates back to the 16th century and its interior was designed by Bernini. Bernini was responsible for many of the must-see elements of St Peter's Basilica.
As well as admiring his altar, which can only be presided over by a Pope, you will want to see his Baldacchino, a bronze canopy that looms over both the altar and St Peter's Chair.
While now considered to be more symbolic than authentic, this wooden chair is housed in an extremely imposing gilt bronze casing.
Next, make sure you get to see Michelangelo's La Pietà. This sculpture, carved out of a single block of marble, depicts the Virgin Mary holding her dead son in her arms.
And while we are on a sculpture hunt, look out for Saint Peter Enthroned.
This sculpture has Peter sitting on a marble throne, holding the keys to the kingdom of heaven in one hand while offering a blessing with his left.
If you are not too squeamish, you might want to plant a kiss on his right foot – but you will not be the first! Such has been the number of devotees over the centuries, that his toes have been worn away!
St Peter's Basilica's wonders do not end there. Cast your eyes up to its dome.
The cupola's 16 windows, which cast light on the many artworks within, have influenced countless churches and cathedrals around the world.
You can actually climb to the top of the dome for a killer view, but bear in mind that this costs €8-10 extra, and even the option offering an elevator involves a lot of steps.
Not unlike the Colosseum, the underground area can only be accessed with a guided tour, and as numbers are limited, they are in great demand.
The Vatican grottoes are a complex of tombs where many Popes were buried. Peter himself was once believed to be buried under the Baldacchino and Pilgrims still pay their respects here.
St Peter also gives his name to the square outside the basilica. On Wednesdays, this is where the Pope gives his Papal Audience.
If you want to attend, it's free, but places are limited so you should reserve in advance.
Best Tickets and Tours for St. Peter's Basilica
Afternoon at the Pantheon
After a well-deserved lunch, cross the Tiber River to the Centro Historico (the Historic Center of Rome) to take in the Pantheon.
We are going from one domed marvel to another. The Pantheon looks like a respectable neo-classical building – that grand portico will make you think of the White House along with a thousand other buildings.
But it's not neo-classical, it's classical: it's two thousand years old.
It's free to get in, but it's a good idea to reserve a ticket in advance (see below).
The dome is an amazing feat of classical architecture – it is still the largest unsupported concrete dome in the world two millennia after its construction.
At its center is the oculus, a 25-foot opening which is the room's only source of light. The position and angle of the oculus have led many to guess at its significance.
The Pantheon is also notable for being the resting place of Raphael. A disciple of Michelangelo's, he inspired many other artists himself. One of whom, Lorenzetto, created the sculpture which decorates Raphael's tomb.
Read a complete guide to visiting the Pantheon here.
Best Tickets and Tours for the Pantheon
Rome Itinerary Day 4
Morning of Piazza-hopping
I know – the first three days of the itinerary were jam-packed, so the final day is intended to be a little more relaxed – starting with a tour of some of Rome's most beautiful squares.
Piazza del Popolo
Meaning "Square of the People", the Piazza del Popolo is certainly big enough to fit a fair chunk of the Roman population inside – it's 182,000 square feet!
Here you can actually pass through the city's ancient gate – restored in the 16th century.
The Piazza del Popolo is also the home of the "twin churches" – a rather curious pair which look almost identical from the outside, but have an entirely different interior.
Piazza Navona
Head south towards the Pantheon and you will find Piazza Navona. Where Piazza del Popolo is grand and monumental, Navona is much more picturesque and quintessentially Italian.
The square is dotted with fountains, obelisks, and beautiful buildings, but retains a small-scale charm – it would be an ideal spot for a late-morning latte.
Largo di Torre Argentina
Five minutes' walk further southeast and you will find Largo di Torre Argentina – an entirely different kind of square.
From a distance, the square almost looks like a cemetery, but it is actually a collection of ruins unearthed in 1927.
The subsequent investigation revealed that Largo di Torre Argentina was a holy area during Rome's republican era (the first five centuries B.C.) and the remains of four temples have been found.
If that wasn't enough, it is also where you will find the Curia of Pompey, where Julius Caesar is thought to have been assassinated.
Piazza Venezia and Altare della Patria
A few hundred yards in the same south-easterly direction, you will find history of a more recent sort.
The "Altar of the Fatherland" is an enormous neo-classical monument dedicated to Victor Emmanuel II, the first king of a unified Italy.
Afternoon of art and culture
After lunch on the final day of our Rome itinerary, you can stay in the same part of town to explore an underrated gallery and Rome's second most famous basilica.
Doria Pamphilj Gallery
In any other city, the Doria Pamphilj would be a blockbuster, but in Rome, it is often overlooked amid so much competition.
Set in a 16th-century palace, the gallery occupies ten rooms and features works by Titian, Raphael, Caravaggio, and Velázquez among others.
As well as admiring the works of these masters, you will also be wowed by the ornate decoration of the palace itself.
Best Tickets and Tours for Palazzo Doria Pamphilj Gallery
Basilica di Santa Maria Maggiore
There are eight churches dedicated to Mary, and this basilica is the largest – the Maggiore.
The site of the basilica is highly symbolic.
The Virgin Mary appeared in a dream to Pope Liberius and the Roman patrician Giovanni and told them to build a basilica dedicated to her on the spot where they found snow – on August 5, 352 AD!
This miracle is commemorated every year on that day when white flower petals are dropped from the basilica's ceiling.
The inside of the building reaches across much of Rome's history: its large marble columns are thought to come from ancient times, its mosaics are said to be originals from the 4th century, and its ceiling glistens with the first gold Colombus brought back from the Americas.
If you visit during a jubilee year, be sure to walk through all four of the basilica's holy doors – that means your sins are absolved!
Best Tickets and Tours for Basilica di Santa Maria Maggiore
Borghese Villa and Gallery
We will finish our 4 days in Rome itinerary with an optional gallery – if you aren't already tuckered out!
The good news is that this gallery is set in a park that has been around since 1633.
Today you will find an aviary, an orangery, ponds, fountains, and a number of elegant buildings once owned by the Borghese family.
It is the largest park in Rome and an ideal spot to relax and watch the sun go down on your final day in the Eternal City.
However, if you still have an appetite for a bit more art, the park is also home to the Galleria Borghese.
I love the Borghese! It is home to some of the world's most important sculptures by Bernini and some wonderful paintings.
Many of these sculptures and paintings depict difficult scenes in marble and oil with incredible talent. These are my favorites:
⚜️ Apollo and Daphne (1622-1625) by Bernini
⚜️ The Rape of Proserpina (1621-1622) by Bernini
⚜️ David with the Head of Goliath (1610) by Caravaggio
The same family that once owned this estate amassed one of the largest private art collections in the world, including works by Caravaggio, Rubens, Da Vinci, and Raphael.
The museum occupies twenty rooms, but only 360 visitors are allowed in each two-hour timeslot – so book ahead!
Best Tickets and Tours for the Borghese Gallery
What if you don't have 4 days in Rome? Don't worry, I have a perfect one-day Rome Itinerary. Read Conquer Rome in A Day: 24 Hours in Rome Itinerary.
What If You're In Rome in Winter? Easy – read my Christmas Markets in Rome article here.
Keep Planning Your Trip to Rome
🧳 Conquer Rome in a day – Guide to 24 incredible hours in Rome
🧳 Ultimate Itinerary for 4 Days in Rome
🧳 Vatican Museum Opening Hours + tickets [2023]
🧳 Visit the Pantheon Rome: Everything you Need to Know
🧳 45 Best Landmarks in Italy to Visit in 2023
🧳 Italy or Greece? A love letter to both and an honest appraisal