Thinking about California Thanksgiving getaways? There are surely more wintery, blustery, and busier places to spend Thanksgiving, but here you'll find the most comprehensive guide on the internet to the 20 most beautiful places in California to have a relaxing family getaway or a couple's romantic start to the holiday season.
There are many holiday events that happen around Thanksgiving holiday time but there are also expanses of beach and mountain villages and trails that are just as beautiful as in the summer, but you may find you are surrounded by nature and silence.
Thanksgiving restaurants for either a Thanksgiving buffet or the traditional roast turkey Thanksgiving meal are available almost everywhere in California, and you'll find personal recommendations in each location below.
Here are our very best recommendations for a memorable Thanksgiving!
This article may contain compensated links. Please read the disclaimer for more info
San Francisco is an interesting weekend break at any time of year but it is even better over Thanksgiving.
Down by Pier 39, the first day the Christmas lights are lit is normally on Thanksgiving.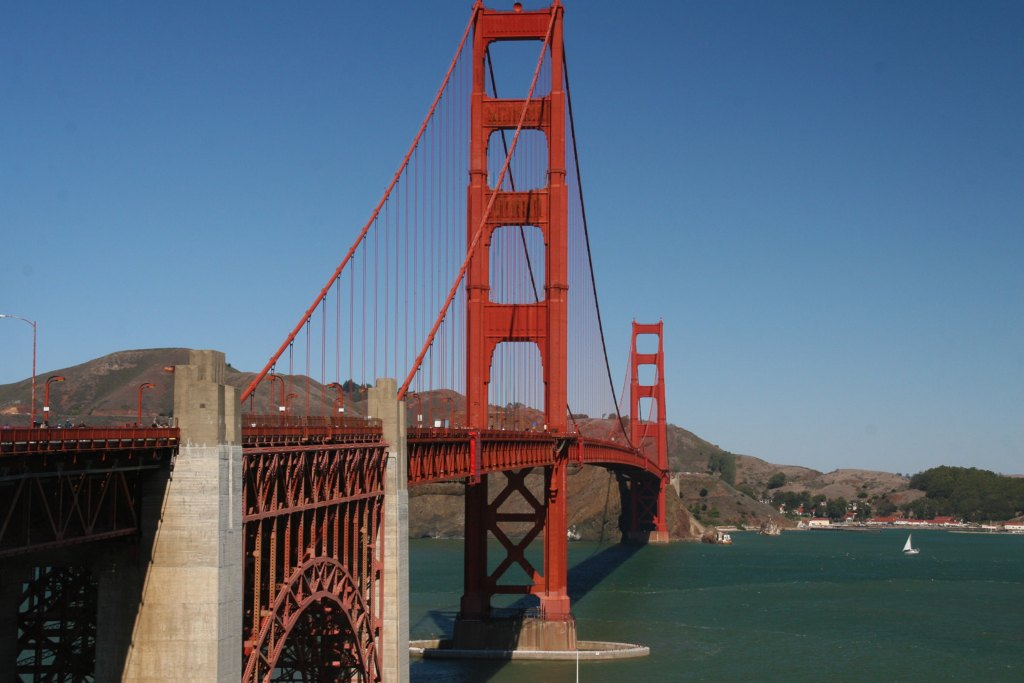 There is no ceremony at Pier 39 so try heading over to Macy's on Union Square where the lighting of the Christmas tree happens during the Thanksgiving weekend and ice skating on the holiday ice rink here will really get you into the season!
However, check the exact date and time in advance of your trip to Union Square as Macy's is also a good place to be for the Black Friday sales.
A visit to Alcatraz with a San Francisco Bay Cruise is a wonderful holiday long weekend activity for the whole family. Alcatraz is closed on Thanksgiving but open for the rest of the Thanksgiving weekend.
Fewer cars make it one of the best times to cycle across the Golden Gate Bridge to Sausalito, and if you're just visiting, this Golden Gate Bridge Guided Bicycle or E-Bike Tour from San Francisco to Sausalito is a perfect outing.
To build up an appetite, start Thanksgiving Day with the Turkey Trot Race. You can choose between distances of 5k, 10k, and 13k. Dressing up as a turkey is optional.
For an atmospheric Thanksgiving meal, try Buckeye Roadhouse in Marin County.
Many restaurants are closed on Thanksgiving Day so make sure you book well in advance. The restaurants that are open fill up quickly.
By Kristin at Scotland Less Explored
One of the best destinations for a Thanksgiving getaway in California is the beautiful city of Santa Barbara.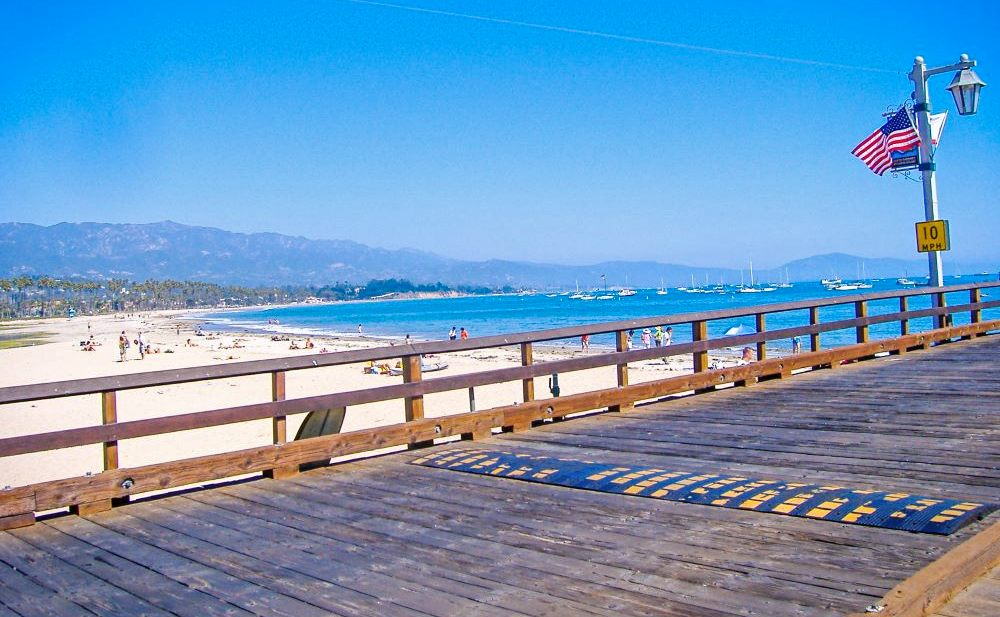 Santa Barbara is great for a Thanksgiving getaway as it's a relaxing destination to enjoy a sometimes hectic holiday. The downtown area is quaint and perfect for a stroll, the beaches are stunning, and the weather is perfect.
For a Thanksgiving-specific activity, you could always sign up for the Thanksgiving 4 Miler. This course is deemed "flat and fast" which makes it great for runners of all levels.
For Thanksgiving dinner head to Bouchon. This contemporary restaurant offers a holiday menu that features traditional Thanksgiving dishes. It's also known for its local wine selection.
For a great place to stay and spend Thanksgiving, consider booking at Hotel Santa Barbara. This hotel offers clean, gorgeous rooms in a great location.
It's a short walking distance in one direction to downtown Santa Barbara and to West Beach in the other.
By Chelsea from Adventures of Chels
Are you looking to be grateful in the area of Palm Springs? It is one of the most popular destinations during this time of year and it's really no surprise why.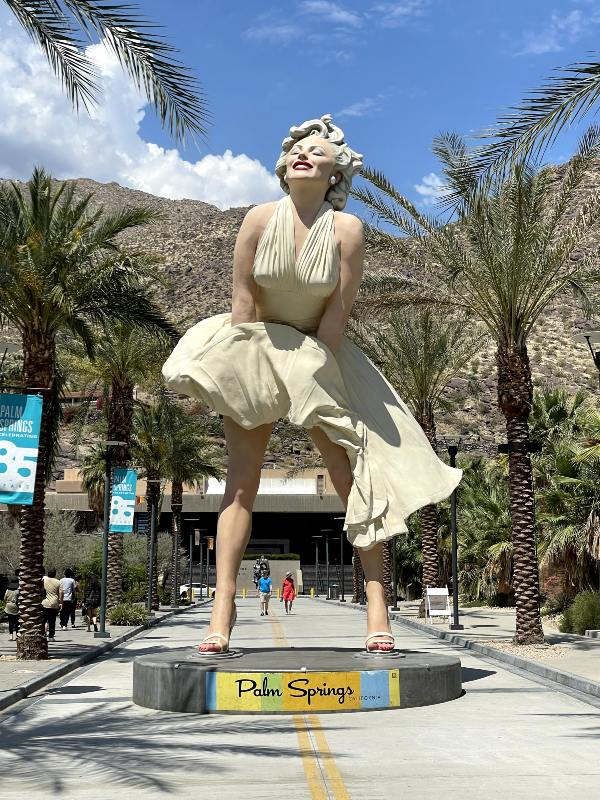 Part of the reason why this is such a great place for a holiday getaway is that it is sparsely populated. You can just relax and enjoy the serene landscape and some panoramic views of the deserts and mountains.
Stay at one of the popular resorts this city offers or rent a simple Airbnb vacation home for the days you are here.
You'll find plenty of fun activities to keep you and your family entertained over the holiday break including many traditional favorites of the holiday season and ones that could become new traditions – like visiting the desert hot springs!
Take your kids to the Living Desert Zoo in Palm Desert to see the annual Holiday Lights event. The Palm Spring Aerial Tramway comes highly recommended to get the best views of Coachella Valley.
Or take a stroll under sunny skies on the main street to explore all the interesting boutique shops and get that cool fresh desert air.
For Thanksgiving with or without the traditional trimmings, go to Lulu Bistro, one of the top restaurants in Palm Springs for its California-inspired menu. Grand Central offers a 4-course feast with multiple entrée options for any foodie lover.
By Nick of The World Overload
4. Yosemite National Park
"If you're searching for one of the best California Thanksgiving weekend getaways then lovers of the great outdoors will adore a trip to Yosemite National Park.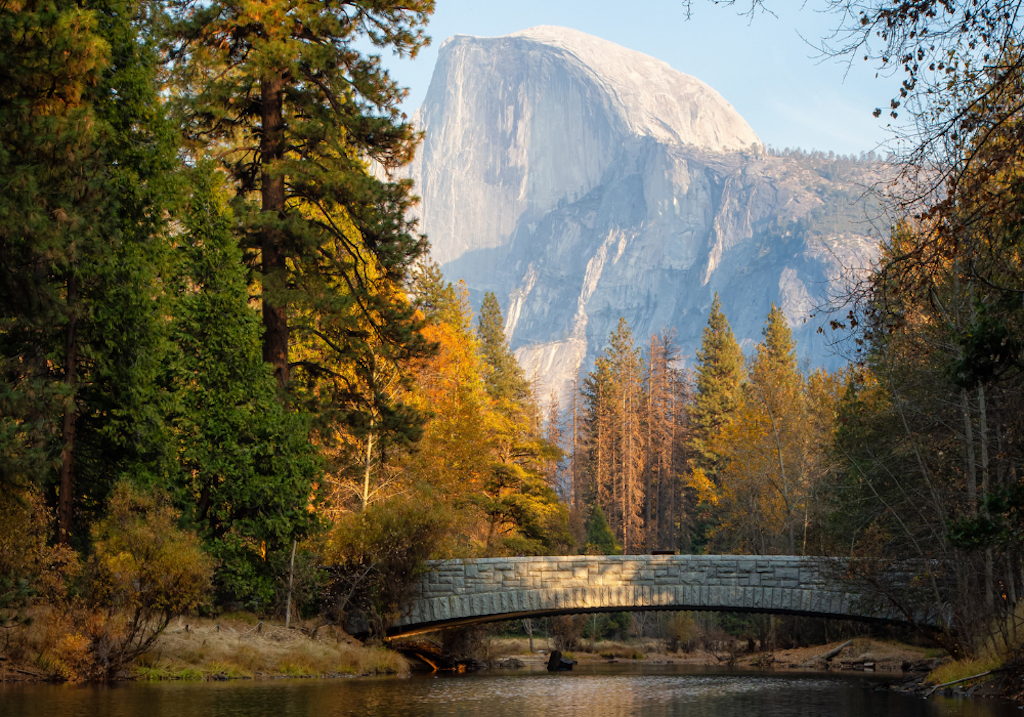 Firstly, you might get to see iconic spots like Half Dome dusted in a fine layer of snow.
Secondly, the weather is cooler and the park is a bit less crowded than it is during peak season. In fact, Yosemite only receives around 160,000 visitors throughout the month.
So, you can enjoy top winter hikes like Mirror Lake, Yosemite Valley Loop, and Tuolumne Grove of Giant Sequoias. However, the Lower Yosemite Fall hike is particularly great since it is easy and suitable for the entire family.
But, do pack some warm clothing since daily highs are around 57 F while daily lows dip down to 32 F, with an average of around five rainy days throughout the month. Try the super popular Yosemite & Glacier Point Tour.
Then, when you're ready for a classic Thanksgiving feast, head to The Ahwahnee Hotel for a holiday meal with all the iconic fixings.
Afterward, relax inside a plush room at the Rush Creek Lodge at Yosemite. It's an enchanting 3-star hotel with bright rooms that include access to a spa, outdoor pool, hot tubs, and children's playground.
Just be sure to make a reservation well in advance since hotels in Mariposa County will typically be fully booked at this time of year since people love to enjoy the mystic beauty of Yosemite in the winter.
By Jamie at Photo Jeepers
For a special Thanksgiving holiday in California, head to the picturesque Lake Tahoe. Known as the 'jewel of the Sierra.'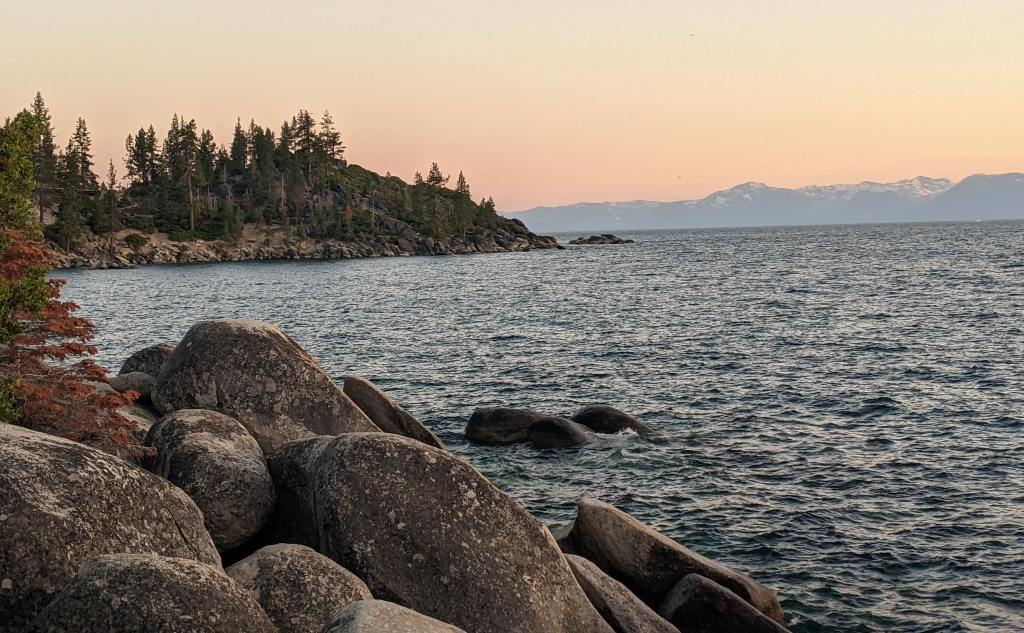 Lake Tahoe makes a memorable destination for a special family holiday, because of its breathtaking scenery, great dining options, several things to do together as a family, and because of how well it kicks off the beginning of the holiday season.
Thanksgiving is all about family, and Lake Tahoe has things to do and appreciate for family members of all ages, including kids.
Late November in particular, is a good time to visit Lake Tahoe because of fewer crowds and the start of the winter sports season.
Head onto the slopes for some early-season skiing or snowboarding, or go skating on the lit-up skating rink in Heavenly Village.
You can catch beautiful orange sunsets before dinner which occur around 4:45 pm at that time of year, and cozy up to fires in crisp evenings.
The most popular activity in beautiful Lake Tahoe is Lake Tahoe Small-Group Photography Scenic Half-Day Tour which runs over the Thanksgiving weekend.
For family dinners, you have your pick of many great places to eat. Riva Grill, on the lake with its rustic interior, hosts a special Thanksgiving Dinner every year. Edgewood offers a more casual sit-down Thanksgiving menu with beautiful lake views and football watching.
Looking for a special place to stay with your family for Thanksgiving? The Marriott Grand Residence Club in South Lake Tahoe puts you within a 5-minute drive of Riva and Edgewood, and right in the heart of other town festivities in Heavenly Village.
By Kristin at Tiny Footsteps Travel
Los Angeles is an ideal destination for a Thanksgiving getaway, thanks to its diverse range of attractions, mild weather, and lively atmosphere.
The city boasts numerous activities and events that provide an unforgettable holiday experience. During Thanksgiving, the beautiful weather in Los Angeles creates perfect conditions for outdoor activities. The high-quality private 2-day tour of LA and San Francisco sells like hotcakes!
You can visit stunning parks for picnics and outdoor games including Descanso Gardens at night where you can see the illuminated art installation.
You can discover iconic landmarks on your own, or with a fun guided tour, such as the Hollywood Sign, Santa Monica Pier, and Warners Bros. Studio, or a hike to Griffith Observatory while enjoying the lovely climate.
Los Angeles has a diverse culinary scene with countless restaurants that serve delicious turkey dinners. However, if you're looking for something different, LA's fusion eateries offer innovative dishes that cater to all tastes.
The Cat & Fiddle, and the Abbey Food & Bar always rate highly for their Thanksgiving dinner menus and fun vibe.
Thanksgiving in Los Angeles isn't only about the food; it's also an opportunity to experience the city's arts and culture.
Many theaters and venues host special Thanksgiving-themed performances, concerts, and exhibitions that showcase the creative spirit of the city.
Looking for some holiday cheer? Check out the Hollywood Christmas Parade during Thanksgiving weekend. You'll see amazing floats and famous faces.
By Paula at Paula Pins the Planet
If you are looking for that perfect Thanksgiving getaway in California, consider Napa Valley!
With vineyards and trees putting on a show of fall color, Cabernet tastings, and special fall menus at area restaurants, California's premier wine country destination is a wonderful place to be at Thanksgiving.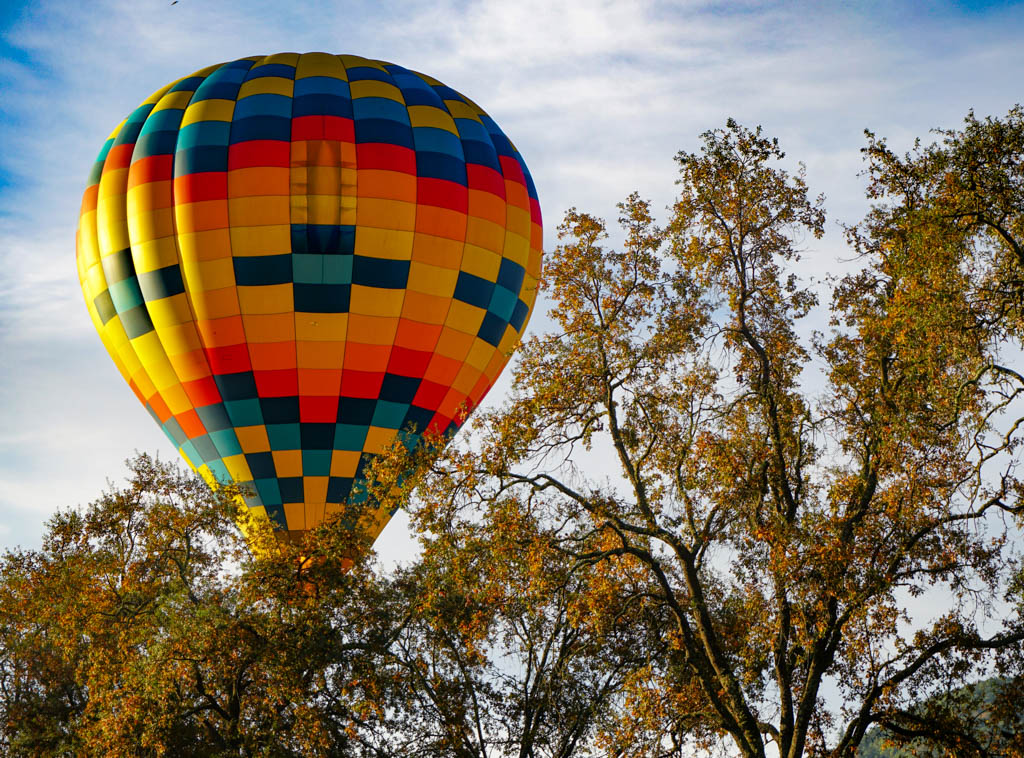 You'll still find fall colors in Napa in November, so take a drive along Highway 29 or the Silverado Trail to enjoy the colors, or, for a bucket list experience, float above the valley on a hot air balloon at sunrise. The views are spectacular!
Walk the main streets in the Napa Valley towns to enjoy the holiday decorations and shop for holiday gifts. The main street in downtown Yountville not only features fall colors and shops but also art on display.
Area towns have Christmas Tree lightings during November, so check to see if one is happening during your visit. Celebrations usually include food and drink!
Book a wine-tasting tour of your favorite wineries and reserve a table for a special Thanksgiving meal!
Lucy Restaurant and Bar in Yountville offers a thoughtful menu based on seasonal favorites that you'll love and Krupp Brothers is a winery with a lovely Thanksgiving offering.
Bardessono Hotel and Spa, where the Lucy Restaurant and bar is located, makes for a great splurge stay as well.
By Dhara at Roadtripping California
Mammoth Lakes is among the best California Thanksgiving Getaways if you love the outdoors and adventure.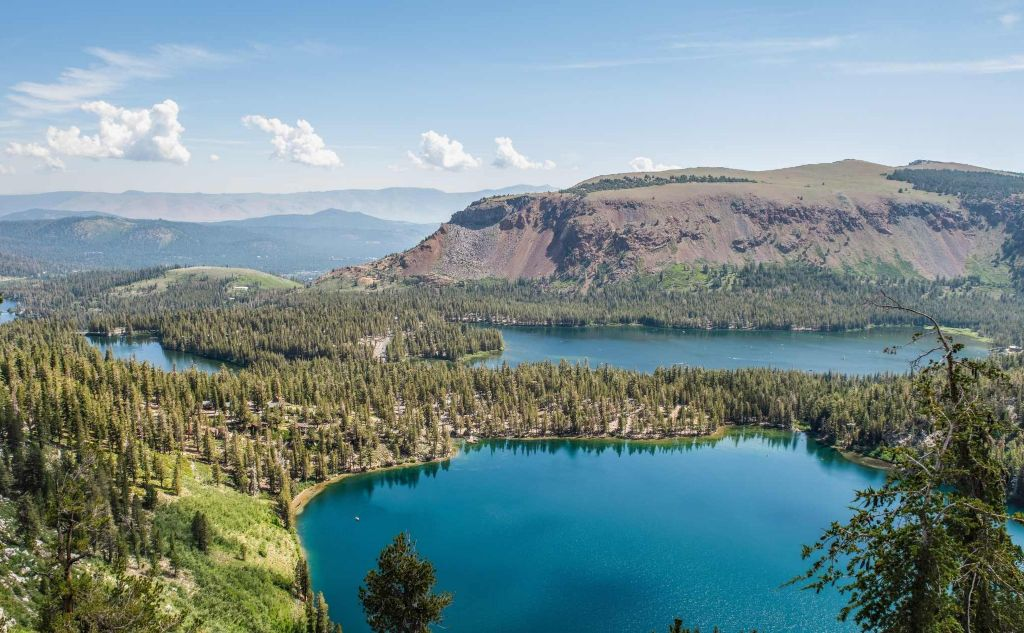 Mammoth Lakes is a year-round destination known for hiking. Many families have made it a tradition to spend their Thanksgiving holidays in Mammoth Lakes to hike and enjoy early ski season activities and soak in the tranquil Sierras.
Take the Gondola ride, an excellent 15-minute ride up Mammoth Mountain, to witness the rugged peaks of Eastern Sierra and try out the most popular half-day rock climbing tour in the beautiful wilderness.
Enjoy the snow activities like cross-country skiing, mountain biking, snowshoeing, snowboarding, and viewing fall foliage.
The natural hot springs are another major draw. Check out the Wild Willys or the Crab Cooker hot springs.
Watch out for deer, rabbits, and bald eagles, since Mammoth Lakes is surrounded by wilderness.
Check out the vibrant Village off the main street, dotted with cozy cafes, bars with live musical entertainment, restaurants, souvenir shops, and breweries.
Head to Distant Brewing or Clock Tower Cellar for the best beers and cocktails.
For Thanksgiving brunch or dinner, visit Giovanni's Pizzeria near Minaret Village shopping center or the Mogul Restaurant on Tavern Road.
For accommodation, check out the SnowCreek Vacation Rentals or the Westin Monache Resort. Both offer stunning vistas of the lake and the snow-capped mountains on the horizon.
By Reshma at The Solo Globetrotter
California is a great place for a Thanksgiving getaway but no place is better than the old Spanish capital of California at Monterey.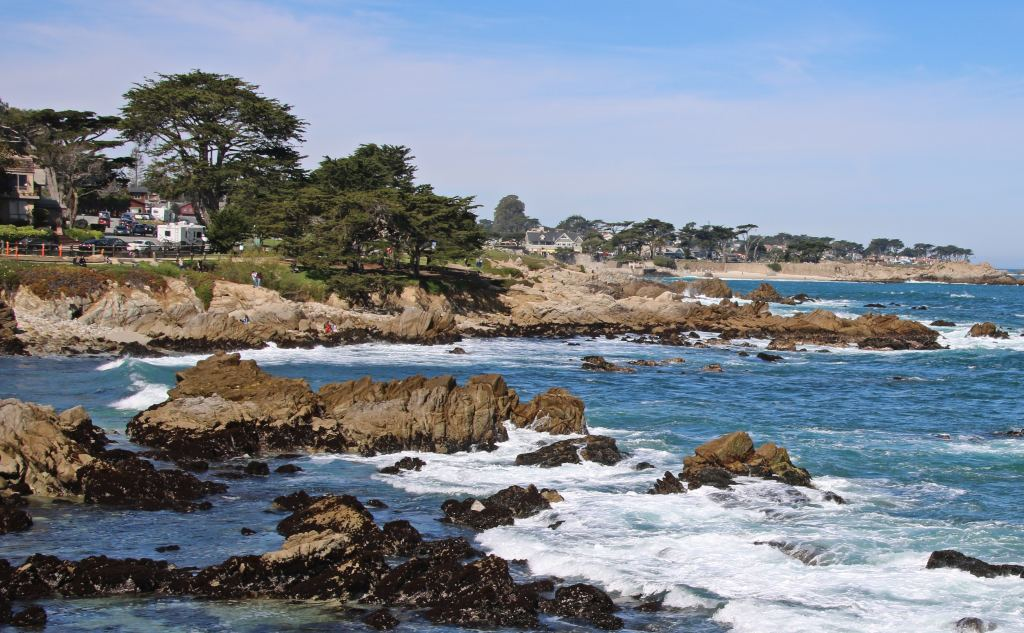 This beautiful coastal area is never too hot in the summer nor too cold in the winter (although it is for some too cold in the summer).
Monterey gets some of its best weather in early fall but November can often see great weather as it is often before the bulk of the winter rains.
You won't see a lot of fall color in the area which is filled with Monterey Pine and Cypress trees, but the area is always beautiful.
Two of the most popular ways to have fun in Monterey are on the Bay with a Great White Shark spotting tour, and a whale watching tour. They sell out fast.
Monterey has a great restaurant scene. You can find many non-traditional places for Thanksgiving dinner if you are willing to consider seafood at Fisherman's Wharf or Mexican food at Pepper's Mexicali Cafe.
A number of hotels and restaurants also host a traditional Thanksgiving dinner. The Monterey Plaza Hotel and Spa on Cannery Row is one of those hotels.
The Monterey Plaza Hotel and Spa is a great high-end hotel that is within walking distance of the Monterey Bay Aquarium. It is right along the surf so you can feast with the sound of the surf in your ears.
By Chris Christensen at Amateur Traveler
Nestled along California's craggy northern coastline, Carmel-by-the-Sea stands as an exceptional Thanksgiving getaway destination.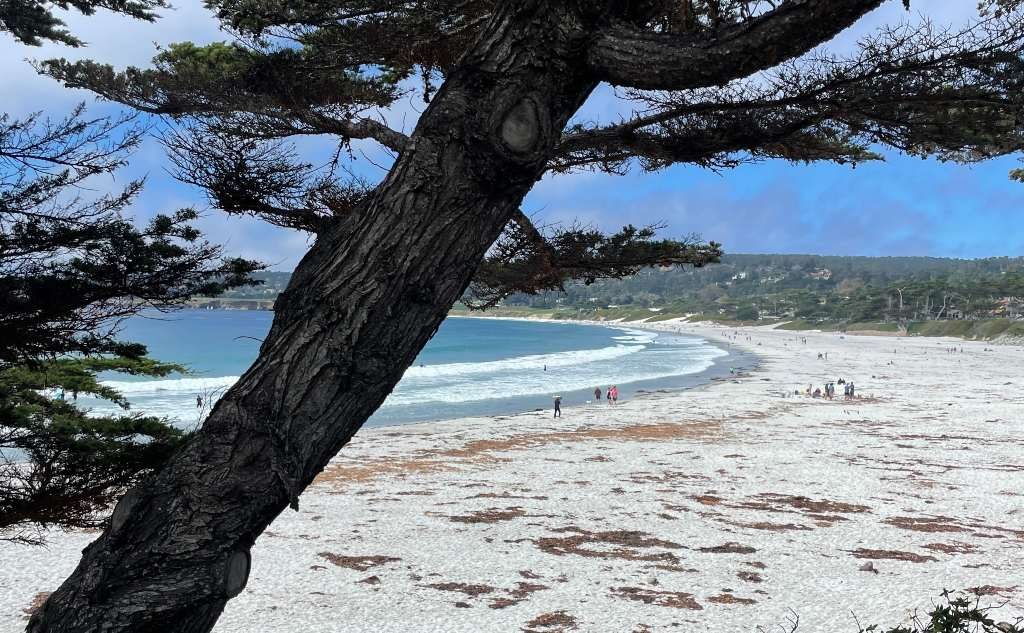 This enchanting town, lovingly referred to as Carmel by locals, offers a holiday escape like no other, with fairytale cottages lining the streets, serene natural beauty, and an abundance of culinary delights.
As autumn settles in, Carmel graces visitors with its finest weather, boasting mild sunny days that beckon exploration of the picturesque streets and the great outdoors.
Wine lovers will find delight in Carmel's wine scene, especially the opportunity to explore the renowned Monterey AVA.
With over twenty tasting rooms scattered within the compact downtown area, you can savor the region's finest wines without ever needing to hop in a car.
What's more, the specialty in pinot noir perfectly complements Thanksgiving fare, making it a truly delectable pairing with turkey and cranberries!
For a memorable Thanksgiving Lunch try Stillwater Bar & Grill at Pebble Beach or La Playa Carmel.

Even after the feast, Carmel offers a host of options for outdoor activities to burn off those delicious excess calories.
This 2-hour walking tour of Carmel sells out quickly, as does this Guided 2-Hour Point Lobos Nature Walk that leaves from Carmel. Secure your spot on these very popular walks as early as you can.
Tee off at Pebble Beach, one of the world's most famous and breathtaking golf courses, hike the scenic trails of Big Sur, or stroll along the iconic Carmel Beach, embracing the beauty of the coastal landscape.
In the heart of Carmel-by-the-Sea, this Thanksgiving promises an enchanting blend of scenic wonders, culinary delights, and outdoor adventures, ensuring a memorable and joyous holiday.
By Rose at Rosecampau.com
Santa Cruz is one of the best Thanksgiving getaway destinations in California and is ideal for a weekend trip from San Francisco.
What makes Thanksgiving special in Santa Cruz is the unique blend of activities. You can enjoy hiking in the redwood forests, taking a stroll along the scenic coastline, or having a picnic on the beach.
Don't miss the Holiday Lights Train, which offers a magical ride through illuminated landscapes. The Santa Cruz Beach and Boardwalk have amusement park rides that are a hit with all ages.
For a memorable Thanksgiving brunch, Shadowbrook Restaurant near Capitola Beach offers delicious food and excellent service. Reservations begin around a month in advance. Dream Inn also has a restaurant that offers Thanksgiving dinner.
Staying at the Dream Inn Santa Cruz is an excellent choice to make the getaway truly special. This oceanfront hotel provides stunning views, luxurious accommodations, and a relaxing ambiance.
By Anu Agarwal of Destination Checkoff
When looking for Thanksgiving getaways in southern California, consider a weekend getaway to San Diego.
The weather in San Diego during this time is really nice, making the perfect fall transition into the holidays.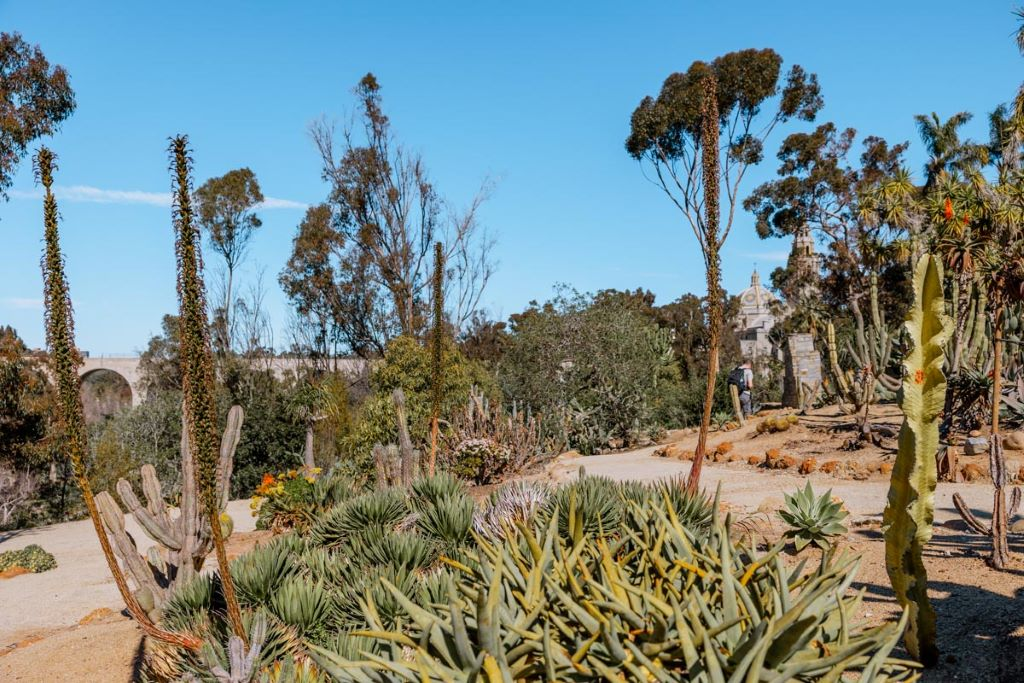 One of the best attractions that should be on your San Diego bucket list is Balboa Park. This 1,200-acre historic park includes beautiful gardens, lawns, museums, and the San Diego Zoo (Get your ticket here).
However, a special attraction to enjoy is the San Diego Botanic Garden Lightscape. This is closed on Thanksgiving day but is a great activity to get you excited for the upcoming Christmas season.
Here, the garden comes to life with magical light displays featuring candy canes, Christmas trees, snowflakes, and adorable Christmas characters. The dates start on November 17th – but make sure to get tickets ahead of time, as this is very popular!
Cruising San Diego Harbor, Whale Spotting tours, and using the Hop-On Hop-Off Trolley Bus to see the city sights are the most popular things to do in San Diego.
When deciding on a place to stay, you should check out the Old Town Inn. Inside, find all the cozy fall vibes, and outside discover a pool to enjoy the Californian fall weather.
For a delicious but casual Thanksgiving dinner, be sure to check out Island Prime. Alternatively, tuck into a three-course meal at The Prado at Balboa Park.

By Sam Opp at Find Love and Travel
Located on the coast of California and just 30 miles south of San Francisco lies Half Moon Bay.
One of the top destinations for California Thanksgiving Getaways, Half Moon Bay offers breathtaking views of the Pacific Ocean with its long stretch of sandy beaches and rocky coastline.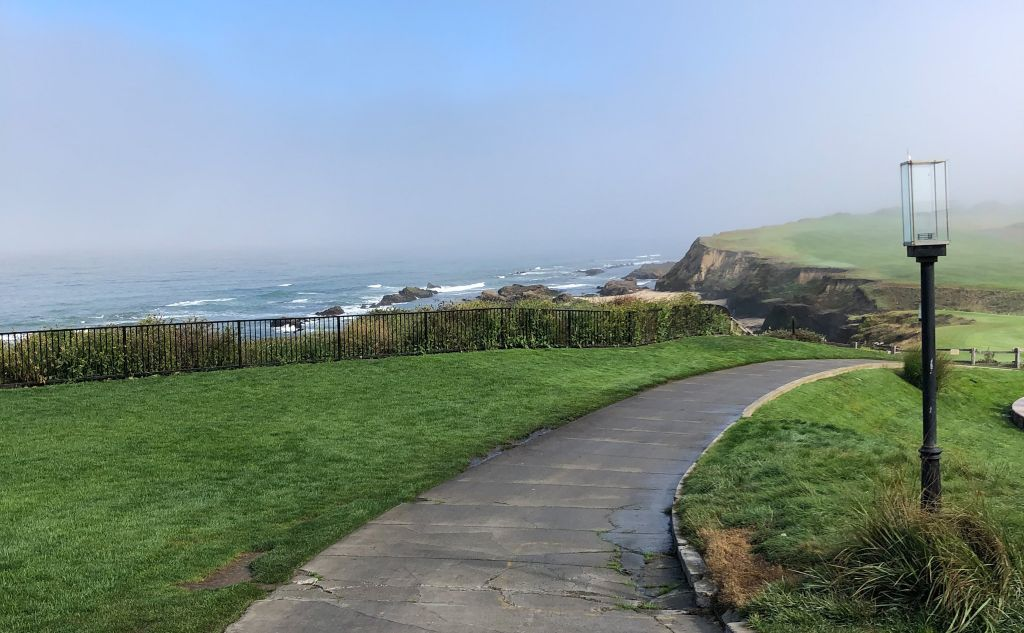 The small town is home to a number of unique shops, restaurants, and attractions such as the Main Street Antique Mall, the historic Ritz-Carlton Hotel, and one of the many beaches like Roosevelt Beach or Dunes Beach.
For those looking for something more active, there are plenty of hiking trails with stunning ocean views at the Fitzgerald Marine Reserve. There's also an excellent Half Moon Bay Guided E-Bike Tour only 5-star ratings.
With temperatures in the low 60s throughout the days in November, Half Moon Bay is the perfect place to escape from it all and enjoy a peaceful Thanksgiving holiday.
To get a Thanksgiving meal in Half Moon Bay, check out the Mezzaluna or the Half Moon Bay Brewing Company.
To spend an evening in Half Moon Bay, you can splurge and enjoy a night at the Ritz-Carlton for a special holiday stay. Another great stay overlooking the ocean is the Beach House Half Moon Bay.
Half Moon Bay is one of the most romantic getaways from the big city, so enjoy your time in nature this Thanksgiving!
By Pafoua at Her Wanderful World
Spending Thanksgiving in Malibu is a fantastic way to shake up your holiday traditions and experience the warmth of the California sun.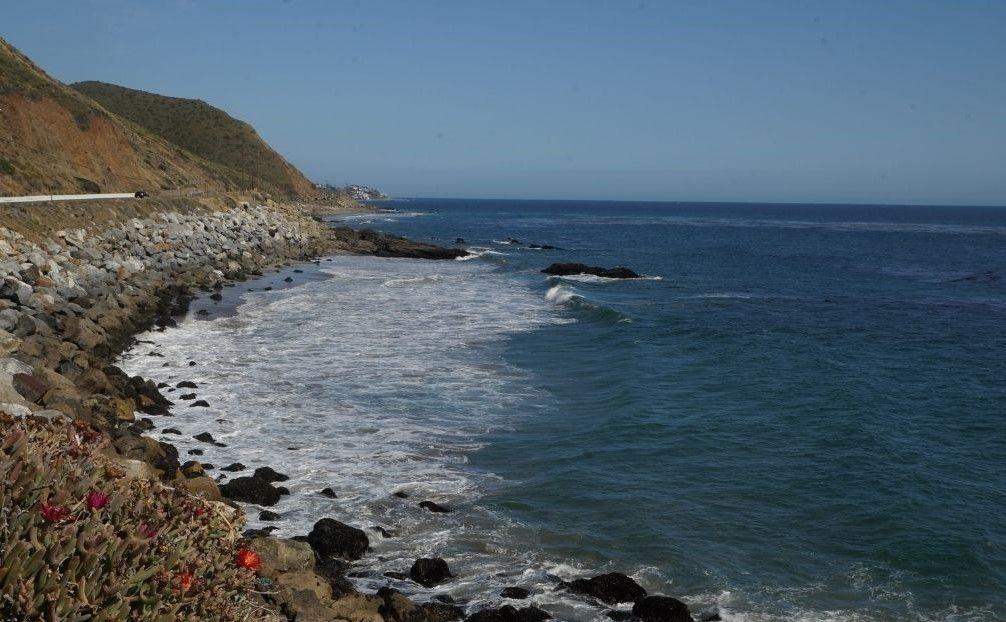 November is the perfect time to spend a day in Malibu because the summer crowds have dispersed and the weather is still mild and pleasant.
With beautiful beaches and picturesque views, Malibu will quickly have you embracing a more laid-back atmosphere. Take a hike through Malibu Creek State Park or have a picnic on the beach.
Pick up some wine from the Malibu vineyards to enjoy on your trip. Wine tours are super popular in Malibu. The best-rated three wine tours are the inexpensive Small Group Malibu Wine Hike, and the quirky and wildly popular tours – the VW Bus Wine Tour and the 4X4 Vineyard Tour.
Don't miss out on Duke's Malibu for your Thanksgiving feast. The beachfront restaurant is a popular seafood spot. It serves an amazing buffet that features both traditional Turkey Day dishes and some tasty desserts.
By Monica at This Rare Earth
Sacramento is the perfect California city for a Thanksgiving getaway. The temperatures are still mild and have not yet entered the rainstorm season, and the streets everywhere are lined with golden and red autumn leaves.
You can drive to Apple Hill, 45 minutes away from Sacramento to go apple picking, wine tasting, or visit one of many pumpkin patches.
Be sure to go to Grandpa's Cellar for their famous cold brew coffee flight! And don't forget Apple Hill's fresh apple donuts, made glazed, crumbled, or powdered.
You also don't need to go to Germany to celebrate Oktoberfest since many local breweries host their own! If you do want the authentic German experience, celebrate Oktoberfest at Sacramento Turn Verein.
The Sacramento Historic River Cruise is the most popular activity in lovely old Sacramento
Last but not least, what makes Thanksgiving in Sacramento special is Run to Feed the Hungry, the largest turkey trot in the US.
This race is owned and operated by Sacramento Food Bank & Family Services, and all proceeds go to feeding Sacramento's food-insecure population.
But it's a chance to deck out in your turkey hats and walk along the mansions of the Fabulous Forties neighborhood with even more leaves.
For a delicious Thanksgiving dinner, The Grange Restaurant and Bar offers a three-course meal and is located in The Citizen Hotel, one of Sacramento's most upscale hotels, making it the perfect getaway!
By Hannah at Hannah on Horizon
Thanksgiving is one of the best times to visit Santa Catalina Island because the weather is pleasant, and the summer crowd is gone.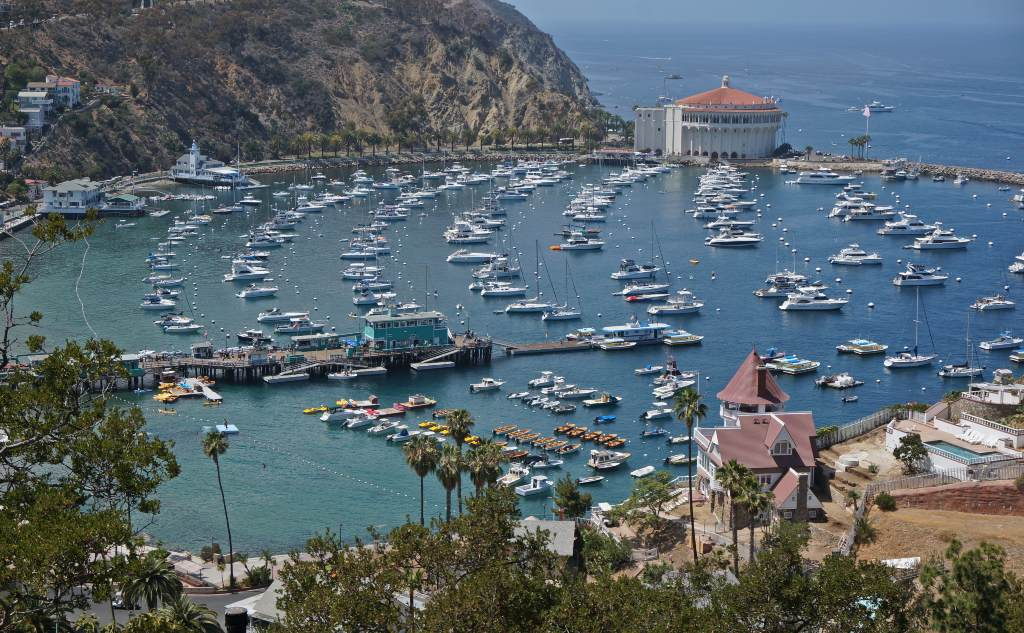 Getting to Catalina Island on a ferry ride is half the fun during Thanksgiving because it is the time of year when Humpback Whales and dolphins migrate and pass by Catalina Island. So be on the lookout as you might spot a few.
The most popular tours of Santa Catalina are the Guided Gold Cart Tour on land, the Semi-Submarine Tour of Catalina Island From Avalon under the water, and the inexpensive Haunted Catalina Ghost Tour.
For those who enjoy an adrenaline-pumping experience and thrilling adventure, one of the best things to do on Catalina Island is parasailing.
Like another popular Catalina Island activity, Ziplining, you see Catalina Island in all its beauty from above. And for the ultimate view, check out Silver Tiger Air's Catalina Island Orange County Flight Tour.
You should stay at Hotel Atwater – it's the best hotel in Avalon, offering both historic charm and modern comfort.
Hotel Atwater also contains the Avalon Grille restaurants where you can book a reservation on Thanksgiving and enjoy some delicious food.
By Ossama at Awesome Traveler
If you're looking for Thanksgiving getaway destinations, California's Long Beach is ideal, especially for those seeking a memorable and affordable beach town experience.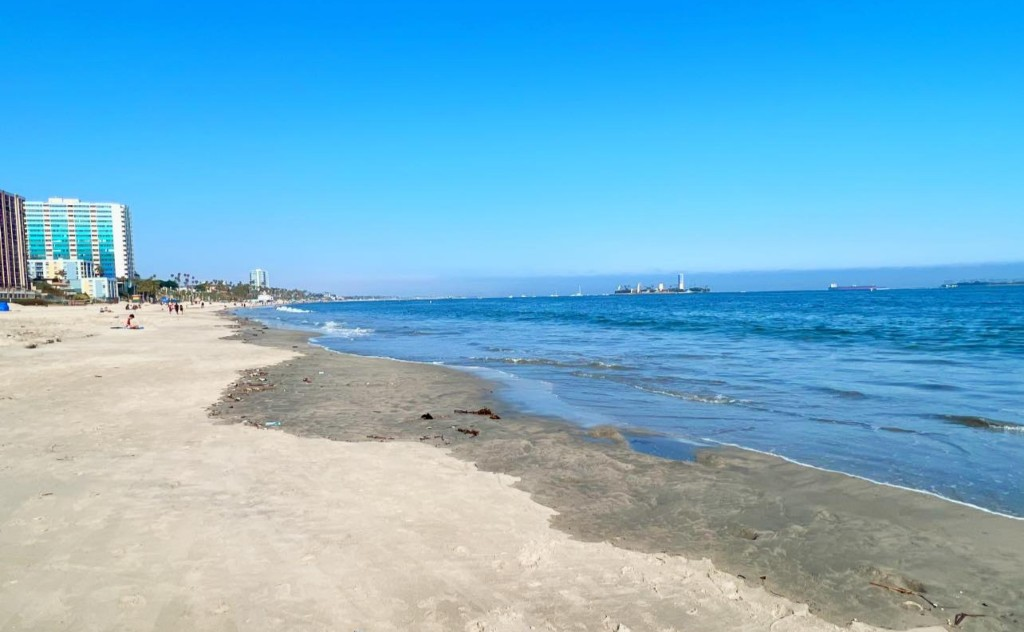 Known as one of the most affordable beach towns in California, Long Beach offers a perfect blend of coastal charm, cultural attractions, and delightful Thanksgiving activities.
Long Beach boasts pleasant temperatures during the fall season, making it an inviting spot to enjoy outdoor activities, take long walks on the sandy beaches during Thanksgiving, or simply relax under the sun.
Long Beach is a terrific place to bring the kids. Grab a Skip the Ticketing Line: Aquarium of the Pacific General Admission Ticket and afterward Rent a Swan Boat at Rainbow Lagoon (with a covered awning).
For a truly memorable Thanksgiving meal, head to Parker's Lighthouse in (or above) Shoreline Village, which wins more awards every year!
Long Beach hosts various Thanksgiving-themed events, such as Turkey Trots, holiday markets, and seasonal festivals, creating a festive atmosphere for visitors.
The Maya, a DoubleTree by Hilton, is an excellent choice for lodging. Overlooking the waterfront, this stylish hotel offers a blend of comfort and luxury.
Guests can indulge in the beautiful views, access nearby attractions, and even partake in special Thanksgiving-themed activities organized by the hotel.
ByTrijit Mallick at Budget Travel Buff
Looking for a Thanksgiving getaway in California? If you're looking for an unforgettable seaside holiday, Laguna Beach is the perfect spot to celebrate!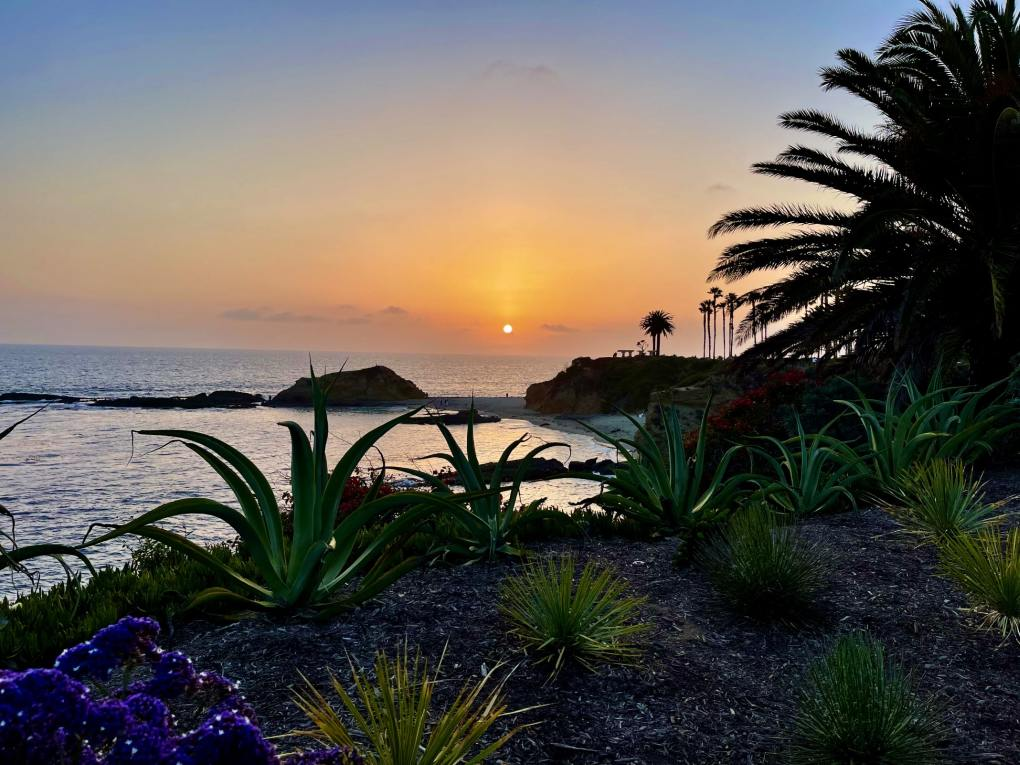 The coastline of Laguna Beach is one of the most beautiful in California. With over 7 miles of dramatic cliffs and crystal blue water, you'll want to stay on the beach.
The trails along the cliffs are breathtaking and are even more spectacular at sunset. Get out onto the water with a Laguna Beach Open Ocean Kayaking Tour with Sea Lion Sightings, explore the Back Roads of Laguna Beach on an E-biking Tour, or set off on a Temecula Wine Tour.
To truly make this getaway special, stay at the Montage Laguna Beach. This luxury hotel is undeniably the best place to stay if you are looking for a posh place with stunning grounds and magnificent ocean views.
Montage Laguna Beach offers a traditional family-style Thanksgiving dinner. But if fancy is not your style, try staying at the Pacific Edge closer to the center of downtown. Their oceanview restaurant, Driftwood Kitchen also serves a holiday dinner as do many of the best restaurants in Laguna Beach.
Stroll through town down the promenade on Forest and admire the decorations. Do a little window shopping, stop in a gallery, and enjoy the moderate climate.
To kick up your festivities, don't miss the Sawdust Art Festival's Winter Fantasy. Here, you'll find local arts and crafts set in a winter wonderland with live music and festive foods.
By Denise at Chef Denise
If you're looking for a cozy place to have Thanksgiving, consider the teeny town of Bridgeport, tucked away in California's eastern Sierra Nevadas.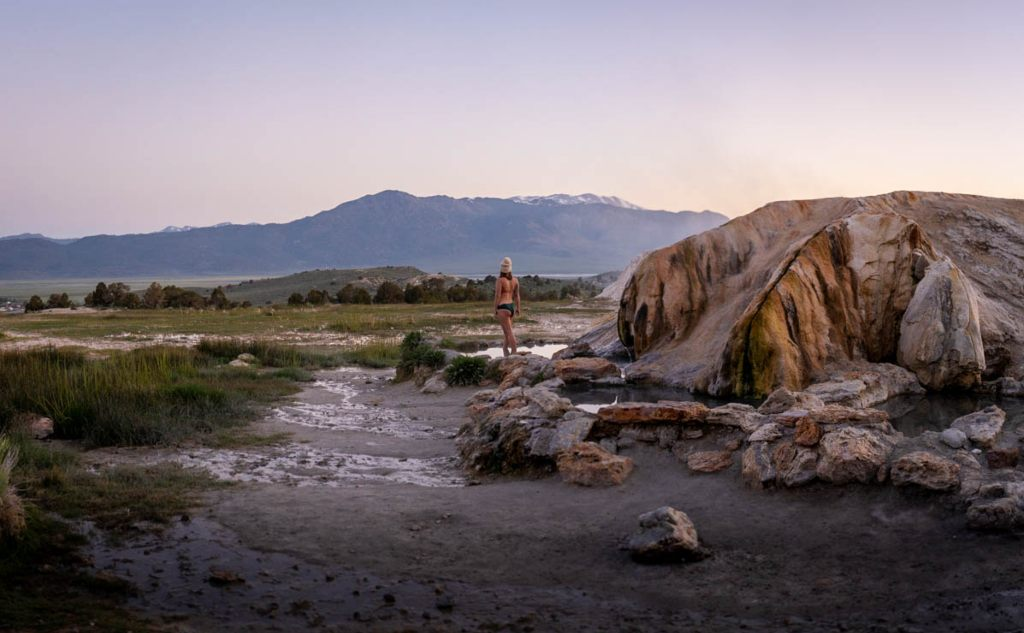 Bridgeport's downtown is small—in fact, it's unlikely that you'll find any restaurants that are open serving dinner. Instead, rent a homey cabin, with epic views of the snowy mountains surrounding you and make your own feast.
Make your own Thanksgiving feast in a rental cabin or head to nearby South lake Tahoe to Himmel Haus or Gordon Ramsay Hell's Kitchen Lake Tahoe.
If you want to turn your Thanksgiving holiday into a long weekend, there's plenty to explore, from Bridgeport's charming downtown with buildings with Wild West facades to world-class ski resorts, like Mammoth and June Mountains, and hot springs.
Buckeye Hot Springs is tucked away in the Stanislaus National Forest, along Buckeye Creek (Buckeye California, not Buckeye Arizona), in a beautiful pine tree forest, with the epic Sierras towering overhead.
By Jessia at the Uprooted Traveler
20. Baha California, Mexico
While not in California, nearby Baja California makes a fantastic getaway from California if you want to visit another country without buying expensive tickets or planning an extensive itinerary.
Statistically, it's also one of the safest parts of Mexico which makes it a perfect destination for a road trip.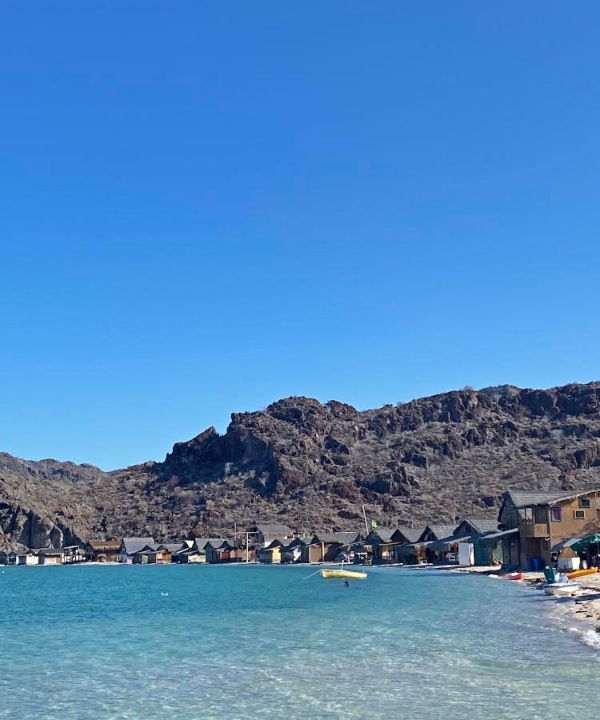 Baja California Península is divided into Baja California Norte and Baja California Sur. Located just south of the California Bordern, it's a gateway to opportunities for diving and marine wildlife watching.
Rosarito is a popular town just south of Tijuana and a 40-minute drive from San Diego. This small beachside town offers a relaxed atmosphere, gorgeous beaches, and plenty of restaurants to celebrate Thanksgiving.
On the Thanksgiving weekend, you may be able to see humpback whales around Cabo, and gray whales on the Pacific Coast.
Take a short trip to Ensenada, a port city on the Pacific side of Mexico where you can explore downtown, eat Baja's famous tacos, and check out "dulcerias," candy stores where you can get typical Mexican sweets.
Book your stay at Rosarito Beach Hotel, a historic spot that was a popular stay for many Hollywood actors in the past. Try their very different Thanksgiving meals at either upscale Chabert's or the Azteca Restaurant-Bar.
By Daria at Explore Baja California
Keep Planning Your Trip to the United States of America
🧳Cultural + Historical Sites in Arizona to Visit in 2023
🧳20 Best California Thanksgiving Getaways [2023]
🧳Los Angeles Itinerary 5 days: A Mix and Match Itinerary
🧳Essential NY Thanksgiving Things to Do Guide