NY Thanksgiving has got to be the best winter festival in the country and there's way more to do than just watching the Macy's Thanksgiving Day Parade! But it's cold out there, so here's the essential NY Thanksgiving things to do guide so that you'll be able to catch all the iconic moments over the holiday weekend, find a great place to stay, and have a memorable Turkey Day feast.
This article may contain compensated links. Please read the disclaimer for more info
1. Watch Macy's Iconic Balloons being inflated
Looking for one of the most memorable things to do in New York City over Thanksgiving?
The day before Thanksgiving, head to the streets surrounding the American Museum of Natural History to see the giant balloons for Macy's Thanksgiving Day Parade being inflated with the help of hundreds of parade staff.
Typically, the line opens around mid-day and begins near 72nd Street and Columbus Avenue.
Once you get through security checks, you can work your way around the viewing route to see what's in store for the next day.
It's completely free, and the fun of seeing these balloons slowly rise up from the ground as they're inflated is a fantastic way to get into the holiday spirit, get excited about the parade, and get a sneak peek at the new balloons for the year.
You also might catch a glimpse of some big-name news broadcasters who are covering the parade.
The later you go in the day, the more recognizable the balloons will be, but be sure to get in line before the cut-off time as the area is then closed off to the public in the evening as the final preparations and movement into the parade route takes place.
By Kayla at All American Atlas
2. Macy's Holiday Decorations and Lights
One of the most popular holiday traditions in New York is to head over to Macy's flagship department store and see the elaborate, fanciful window displays celebrating the season!
The displays are always up in time for Thanksgiving, usually around mid-November.
Each year, Macy's goes all out to create beautiful displays depicting families celebrating Christmas, children playing with toys or opening presents, polar bears, elves, Santa Claus, and even abominable (but lovable) snowmen!
Many of the displays feature moving parts and fancy costumes, props, and decorations. They have gotten even more elaborate as the years have gone on.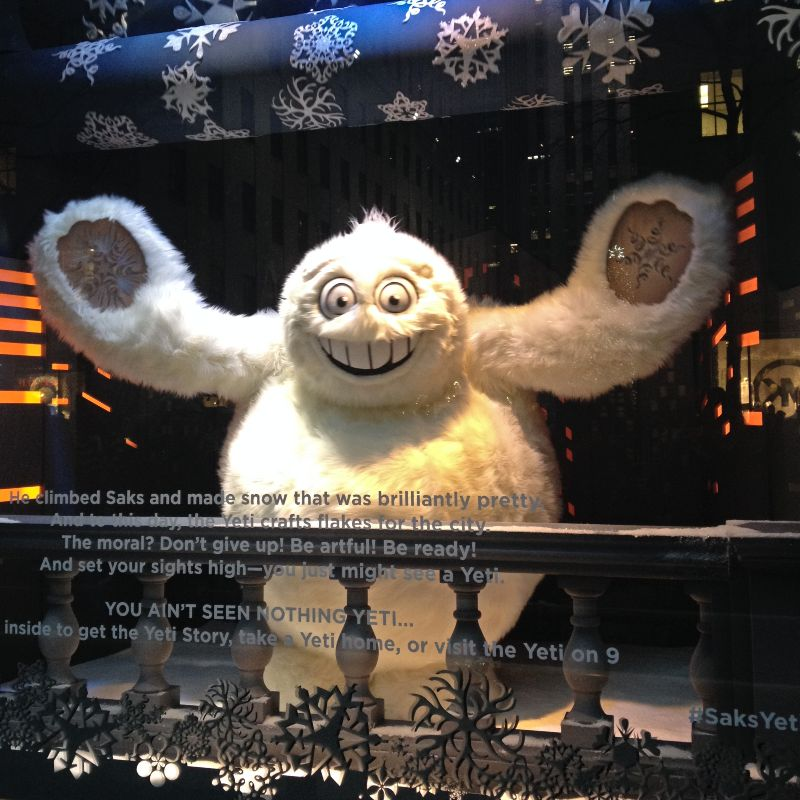 Many of the displays also pay homage to New York itself, such as one display that depicted people on a subway. There is usually also a spirit of nostalgia and scenes of Christmases from years past.
And when you're walking by, admiring the displays, you can also drop in for some holiday shopping!
The Macy's in Herald Square is an immense 2.5 million square feet. In fact, it's the biggest department store in the entire U.S. and one of the biggest in the world.
That means you'll find no shortage of gift possibilities!
Best Place to Stay for Thanksgiving in NY: Hilton Garden Inn New York/Times Square Central, conveniently located in the heart of Times Square on 42nd Street.
By Merry Allison at Virginia Vacation Guide
Top 3 Holiday Lights Tours
🎆 New York Dyker Heights Christmas Lights: 4.5/5 (247 reviews) – 3 hrs 45 min – heated bus to Dyker Streets and orientation to the 2 main streets. 1 hr to explore on your own then return to the Winter Village at Bryant Park
Book It
🎆 Dyker Heights Brooklyn Christmas Lights Tour: 4.5/5 (350 reviews) – heated bus to Dyker Heights and Bay Ridge in Brooklyn and take a guided walking tour of the main illuminated streets and meet some of the homeowners. Stop to see the Brooklyn Bridge on the return trip.
Book It
🎆 Holiday Lights Extravaganza Walking Tour: 5/5 (10 reviews) – 4 hours – make 10 stops on this guided tour of the best light displays in NYC including all Macy's, Saks, 6th Avenue, Rockefeller Christmas Tree, Winter Village at Bryant Park, and Radio City hall.
Book It
3. Saks 5th Avenue Light Show
The Saks 5th Avenue Light Show is one best attractions to experience during the Thanksgiving holidays.
The first show also marks the official unveiling of Saks holiday window displays. The opening event features celebrity guest appearances and live music.
It usually takes place a few days before Thanksgiving Weekend.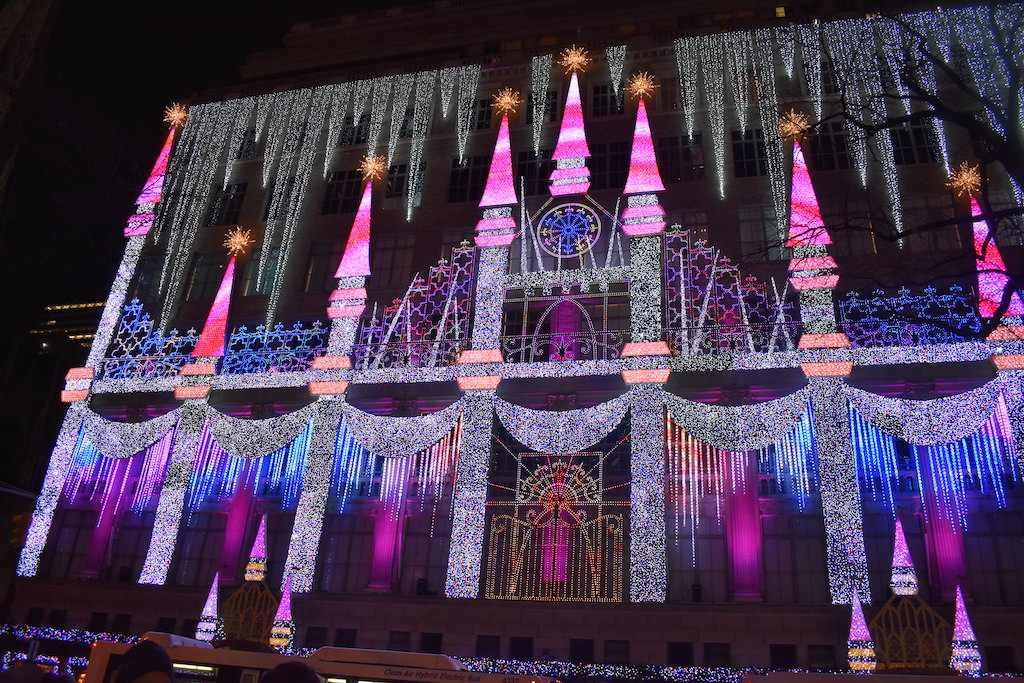 More than 500 000 LED lights are used together with synchronized music to create a truly spectacular site on the storefront of Saks 5th Avenue's flagship store on 5th Avenue, right across the Rockefeller Plaza.
The show is based on a different theme every year. Past themes included Frozen, Once Upon a Holiday, and Reconnecting Friends and Family.
This tradition started in 2004 and has been running ever since, beginning the build-up of holiday spirit in NYC that only increases through the holiday season.
It is open to the public for free and will dazzle young and old. You can watch the show every evening during the holiday period (if runs a few times during the hour).
A good viewpoint is across the street at the Rockefeller Plaza, just in front of the Rockefeller Tree. From here you will have a full view of the light show.
Best Place to Stay in NY for Thanks Giving – DoubleTree by Hilton New York Midtown Fifth Ave – A fantastic spot to watch the Parade, and they serve a Thanksgiving Feast in their Herb N' Kitchen. .
By Rehana at RenaMahomed.com
4. Hudson Yards Holiday Decorations and Lights
Hudson Yards is a newer, large shopping, dining, and entertainment complex on the westernmost side of midtown Manhattan. Annually, the complex boasts mesmerizing holiday displays and entertainment.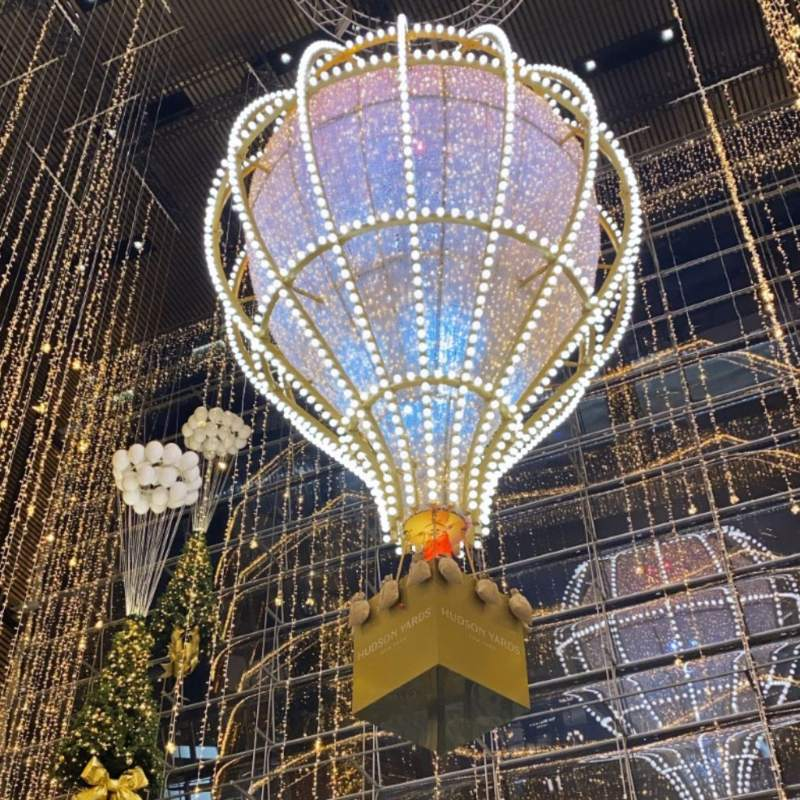 With over two million dazzling lights, Hudson Yards is a spectacle to see around Thanksgiving, as the complex is already adorned for the wintertime retail season.
The lights are truly something that cannot be missed, as they seem to cover entire walls, balconies, and the ceiling of the posh indoor complex.
A dazzling thirty-two-foot hot air balloon, as well as another sixteen-foot hot air balloons, are hung from several stories up, and many of them move around the open-air display.
Additionally, Hudson Yards includes 725 total evergreen trees in this grand holiday display.
Visit the light displays from 10 a.m. to 9 p.m. Monday through Saturday and 11 a.m. to 7 p.m. on Sundays, with after 5 p.m. being the best time to see the lights.
Hudson Yards truly provides a captivating winter wonderland for NYC visitors!
By Eleanor at Elevate Your Travel
5. Macy's Thanksgiving Day Parade
Seeing the Macy's Thanksgiving Day Parade in person is an unforgettable experience. As the fall season in New York comes to an end, The Macy's Thanksgiving Day Parade kicks off the holiday season.
Every year since 1942, marching bands and performers from around the country come to take part in the festivities while colorful floats and giant balloons make their way through Manhattan's streets.
Viewing the parade is free to all spectators who come out to see it.
Tickets to the grandstand seats are not available for sale and are only offered to the friends and family of those in the parade and Macy's employees and volunteers.
The parade traditionally begins at 9 am however, you should plan to arrive as early as 6 am to get a good spot. The best areas to view the parade will be at the start on the upper west side between 75th and 61st Street.
If you have the means to splurge a bit, some other alternatives are getting a hotel room along the parade route or a Thanksgiving dinner reservation that includes a private parade viewing area.
No matter how you end up seeing it, The Macy's Thanksgiving Day Parade is an iconic New York City event that you won't want to miss out on.
By Julie at Family Trips and Travels
6. Radio City Music Hall
The theatre district at Thanksgiving is a magical place, and Radio City Music Hall of New York City might be one of the most iconic theaters in the world.
This historic four-level auditorium will celebrate its 100th anniversary in a couple of years!
What better place to spend Thanksgiving than at the "Showplace of the Nation"? It has witnessed the shows of some of the biggest artists of the century, including Ray Charles, Whitney Houston, and Stevie Wonder.
Nowadays, the Radio City Music Hall still hosts incredible music shows, but also great comedies and plays.
Every year since 1933, the weeks before Christmas, the venue has hosted the traditional "Christmas Spectacular Starring the Radio City Rockettes".
This is a 90-minute musical show featuring over 140 performers. Quite an iconic place to celebrate Thanksgiving!
You do not need to worry about getting back to your hotel after the show. The theater is located in Midtown Manhattan, the best area to stay in New York when visiting for the first time.
Best hotel to book for Thanksgiving in NY: Arlo NoMad
By Soline at On the Road Diary
7. Rockettes
The Rockettes started performing at Radio City Music Hall in 1932 and two years later, they officially became the Radio City Music Hall Rockettes.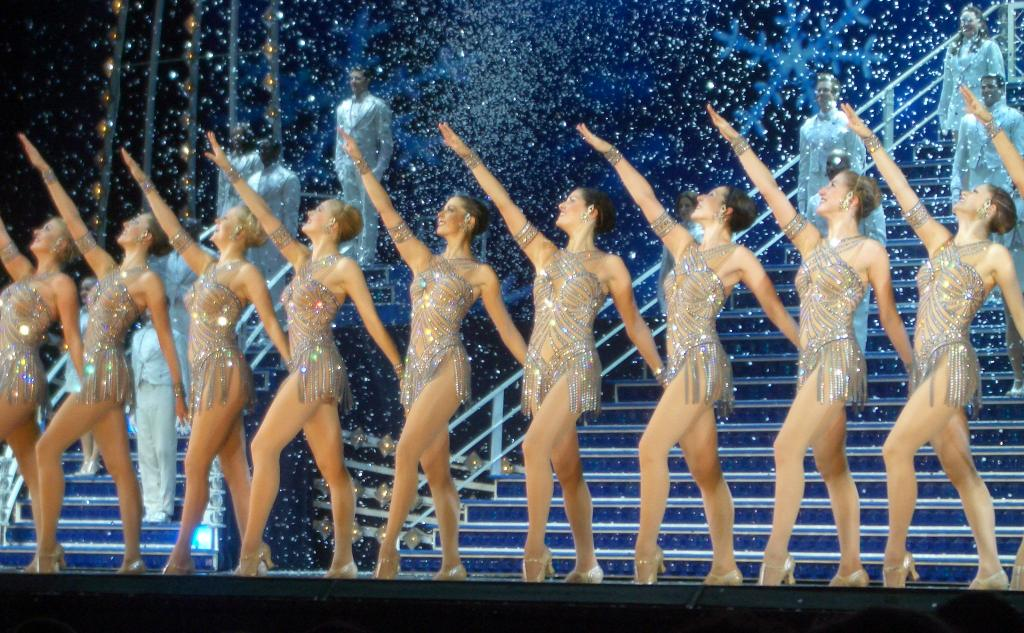 Seeing them perform in the famous Radio City Christmas Spectacular is a highlight of any trip to New York at Thanksgiving.
When I first moved to New York, I was super excited to see the show, and have seen it many times since! The 6,000-seat art deco Radio City Music Hall is a great venue.
But it is the high kicking, perfectly in sync dancers that you are really going for.
In addition to the lines of high kicks that you expect from the Rockettes, there are classic scenes that are in the show every year such as the wooden soldier fall, in which the line of dancers fall like dominoes in slow motion, which is very cool to see.
There are also many more modern numbers including a double-decker NYC bus covered in dancing Rockettes that moves in sync with NYC images that are projected on a huge screen.
This is a Christmas show, and in addition to the Rockettes, they have live camels, sheep, and a donkey to re-enact the nativity, and, of course, Santa.
The show Starts November 17 with between two and five shows a day.
A great place to stay for Thanksgiving: Bryant Park Hotel – a beautiful art deco, just a five-minute walk to Radio City Music Hall.
By James Ian from Travel Collecting
8. New York City Ballet Nutcracker (Lincoln Center)
Each holiday season, New Yorkers and anyone lucky enough to be visiting NYC can book tickets to see the New York City Ballet perform the Nutcracker ballet.
George Balanchine's ballet set to the music of Peter Ilyitch Tschaikovsky, is performed in the David H. Koch Theater and the Lincoln Center beginning the day after Thanksgiving and extending for several weeks and is a beloved holiday tradition.
The Nutcracker premiered in New York City in 1954 and is as much a part of Thanksgiving in New York as Macy's Thanksgiving Parade.
This adaptation of Hoffman's 1816 story, The Nutcracker and the Mouse King features 90 dancers and a 1 tonne Christmas Tree.
Make sure to get your tickets early!
Best hotel stay for Thanksgiving near the Lincoln Center: Hotel Beacon
By Monique at Spain Travel Hub
9. Bryant Park Winter Village
Bryant Park is one of the most iconic places to visit along with being one of the best free things to do in NYC, especially when their NYC Thanksgiving activities are in full swing.
During the fall, Bryant Park gets transformed into a beautiful winter village – making it a great activity to enjoy during Thanksgiving week.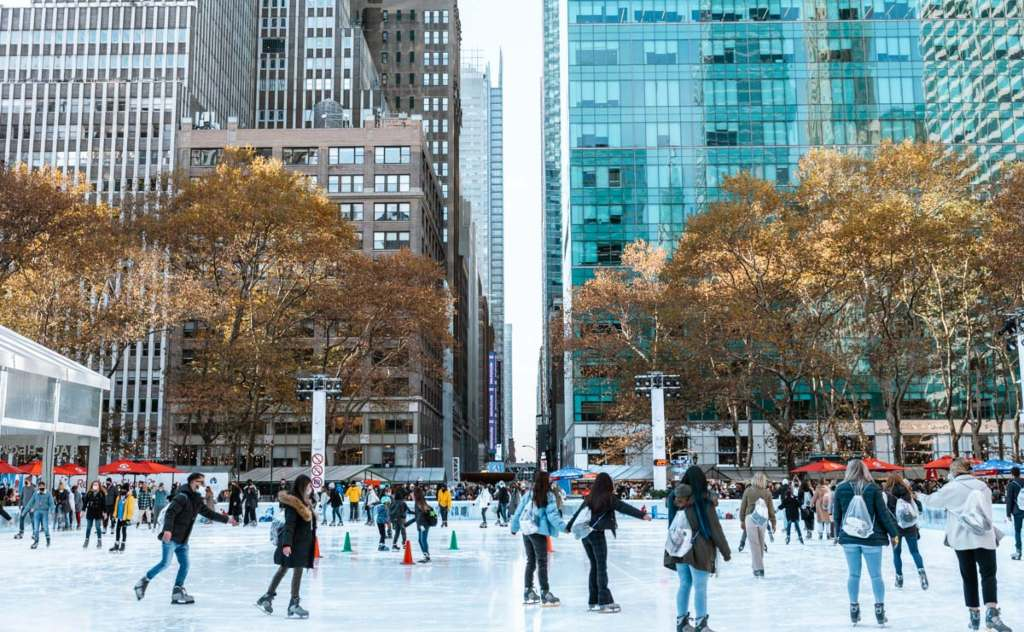 The main feature at the park is the 17,000 square-foot ice rink, where locals and tourists can skate completely free of charge (if you have your own skates). The rink also hosts ice skating shows and events.
Alongside that, this area becomes lined with Christmas Market shops where you can buy crafts made by local small businesses.
The rink also offers skating lessons which is a particularly fun festive-themed activity for children.
Furthermore, Bryant Park is close to popular attractions such as the New York Public Library, The Empire State Building, and Grand Central.
The rink is open daily throughout the winter season and only closes if the weather is severe. To access the ice skating rink, you will need to reserve tickets online.
The Plaza is one of the best places to stay for Thanksgiving in New York – The hotel can be found at the crossroads of Central Park and has a highly-rated restaurant inside which offers an exceptional Thanksgiving Dinner (called the Traditional Grand Feast).
By Sam Opp of Find Love and Travel
10. Holiday Train Show and NYBG Glow
New York Botanical Garden holds its famous Holiday Train Show every year and is open during the Thanksgiving weekend, but not on Thanksgiving Day.
But it also holds its annual NYBG GLOW as well, lighting up the gardens with astonishing displays.
Together these exhibitions make visiting the New York Botanical Garden during the holiday season a "must-do" activity!
The Holiday Train Show® is usually open from November 18 to January 15. Watch trains travel through a replica New York City of almost 200 buildings and monuments.
NYBG Glow occurs in the middle of this period for 20 nights, so you can see both in one trip. The gardens are lit up and look spectacular, but there are also artistic, music, and pop-up performances, a Bronx Night Market Holiday Pop-Up, and bars selling hot cocoa around the gardens.
Finally, there are 3 Bar Can nights (for over 21's) with cocktails and snacks and entrance to both the train exhibit and Glow.
By Monique at Trip Anthropologist
11. Ice Skating and Central Park West
If you're looking for fun things to do during Thanksgiving in New York then you need to visit Central Park.
In fact, Central Park is one of the best places to watch the Macy's Thanksgiving Day Parade. Just be sure to get up early to secure your spot since people tend to line up early.
And one of my all-time fave places to see the floats glide by is on Central Park West between 59th and 75th Streets.
Additionally, be sure to bundle up and grab a hot chocolate from MarieBelle to keep you warm since Central Park in winter can be windy and quite chilly.
Then, after the parade, grab some skates and go for a spin on Wollman Rink. Lasker Rink is cool too but it's further uptown.
Not only is Wollman Rink a lot cheaper and bigger than the rink at Rockefeller Center, but it's a beautiful place to skate since you have the iconic NYC skyline in the background.
And when you start to feel cold, head to the east side of the park and visit Albertine on Fifth Avenue. It's a stunning French bookstore that sits inside the former French Embassy and that has a Van Gogh-like mural on the ceiling of the second floor."
Best place to stay for Thanksgiving: Freehand New York.
By Kelly of Travel New York Now
12. Thanksgiving Dinner Cruise
Of course, Thanksgiving wouldn't be complete without an amazing Thanksgiving feast! And what better way to enjoy your festive meal than with some of the most iconic views possible in New York?!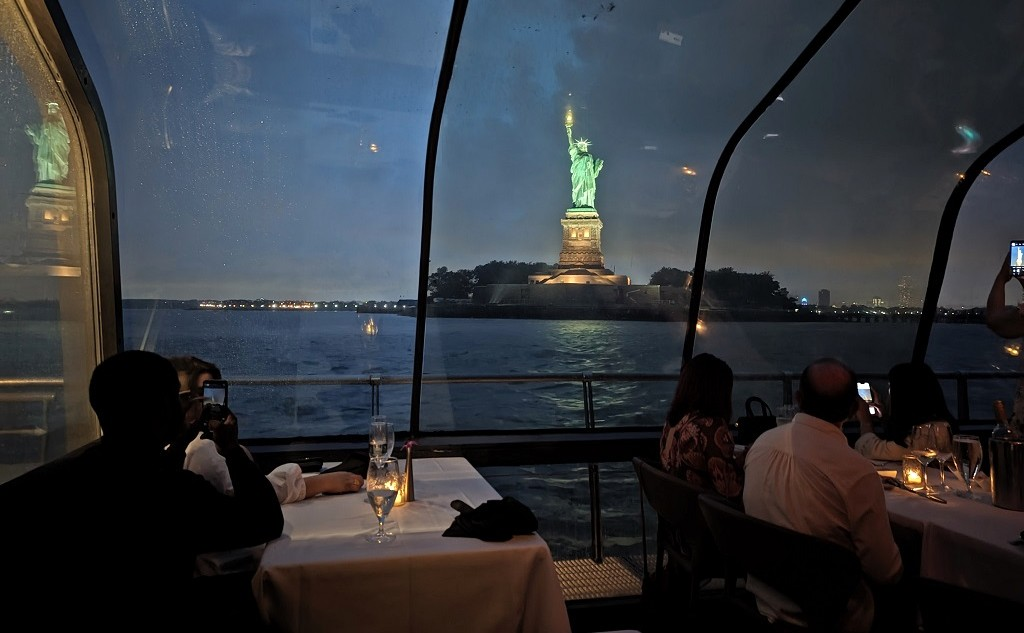 Dinner cruises in New York are the perfect way to enjoy a tasty meal as you cruise along the Hudson River. You'll enjoy beautiful views of Manhattan and other must-see attractions like the Statue of Liberty and the Brooklyn Bridge.
For Thanksgiving, CityExperiences offers a special Thanksgiving dinner cruise – that offers all that their normal cruise has plus more! You'll get to fill your plate with a Thanksgiving-themed buffet and take advantage of the full-service bar. Of course, be sure to save room for dessert too!
Once you're done stuffing your face, be ready to work off those extra calories with some dancing – there is a DJ on board!
I have to say, though, my favorite part of the cruise was the views. Seeing the Statue of Liberty up so close and lit up at night is a memory I'll remember forever.
We also cruised right underneath the Brooklyn Bridge which was super fun! Overall, it was one of my favorite nights in New York and one I think that you'll enjoy too.
Best place to stay for Thanksgiving in New York: TBA Times Square New York – a modern hotel only a couple blocks from Times Square. Super affordable, too!
By Bailey from Destinationless Travel
13. Christmas Bars
There is no place like New York City during the holiday season. From mid-November through the beginning of January, the Big Apple is decked out in jolly décor, bright lights, and magic!
One of the best times to visit New York City is during the Thanksgiving long weekend.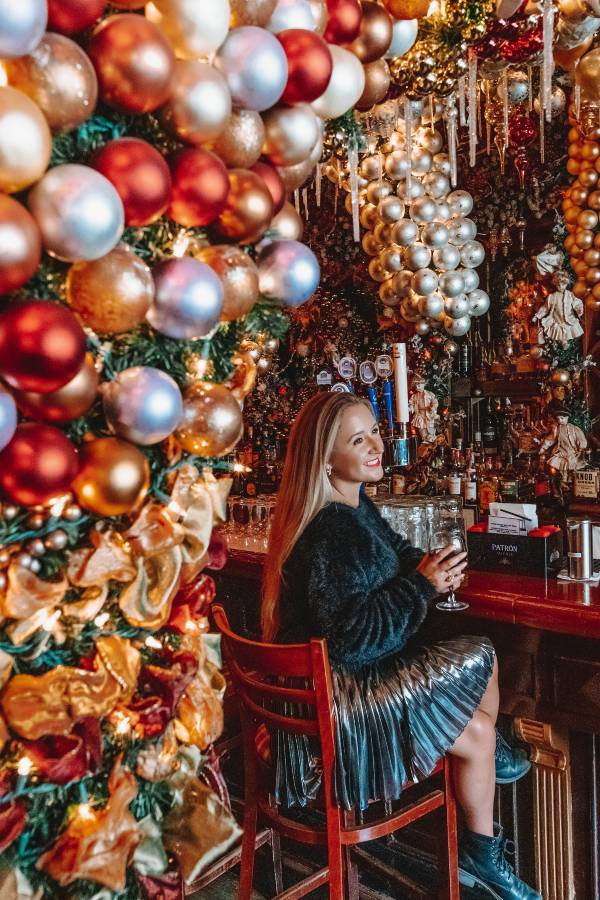 There are countless restaurants for you to enjoy an incredible Thanksgiving dinner with loved ones and numerous Turkey Trots to participate in on Thanksgiving Day, and there are many magical Christmas-themed bars to visit during the rest of the weekend to get yourself into the holiday spirit!
Visiting the magical holiday-themed venues is one of the most memorable NYC Christmas activities! Below is where you must go for a jolly good time:
230 Fifth Rooftop Bar: During the holiday season, 230 Fifth Rooftop in Flatiron has cozy igloos you could reserve. There are also cabins that are available on a first-come, first-serve basis.
You could enjoy the best views of the Empire State Building and sip different boozy and non-alcoholic hot cocoa, coffee, and ciders while making memories.
SERRA by Birreria at Eataly Flatiron: This seasonal rooftop restaurant and bar is decorated based on the season.
It's decorated for autumn in November, and once December hits, the space is transformed into a winter wonderland. You can enjoy delicious risotto, pasta, meats, and mulled drinks like cider and wine.
Lillie's Victorian Establishment and Oscar Wilde: These two wonderful restaurants will bring you back to the late 1800s and early 1900s while allowing you to enjoy festive decorations, delicious food, and craft cocktails.
Lille's Victorian Establishment is in Union Square, and Oscar Wilde is in the Flatiron District.
Rolf's German Restaurant: Rolf's is a year-round Christmas restaurant and bar in the Gramercy area that will make you feel like you're at a German Christkindlmarkt.
Decked out in ornaments, Christmas lights, wreaths, and dolls, you could enjoy Bavarian and Alsatian dishes and holiday drinks from spiced eggnog to glühwein.
Miracle Bar at The Cabinet: A magical holiday-themed pop-up bar that is a favorite amongst NYC locals is Miracle.
There are two locations: one in Manhattan at The Cabinet in Alphabet City and another one in Williamsburg, Brooklyn, at Thief.
At a Miracle bar, you can enjoy fun holiday-themed drinks, festive decorations like vintage Santa Clauses, wooden nutcrackers, and a Hanukah display.
By Taylor at Brown Eyed Flower Child
14. Bronx Zoo
The Bronx Zoo is a can't-miss destination for anyone visiting NYC and is easy to include in any New York Thanksgiving trip itinerary.
Just in time for the holiday season, the zoo hosts Holiday Lights, which features beautiful light displays throughout the park, including Christmas decorations, glowing animals and trees, and stunning light tunnels.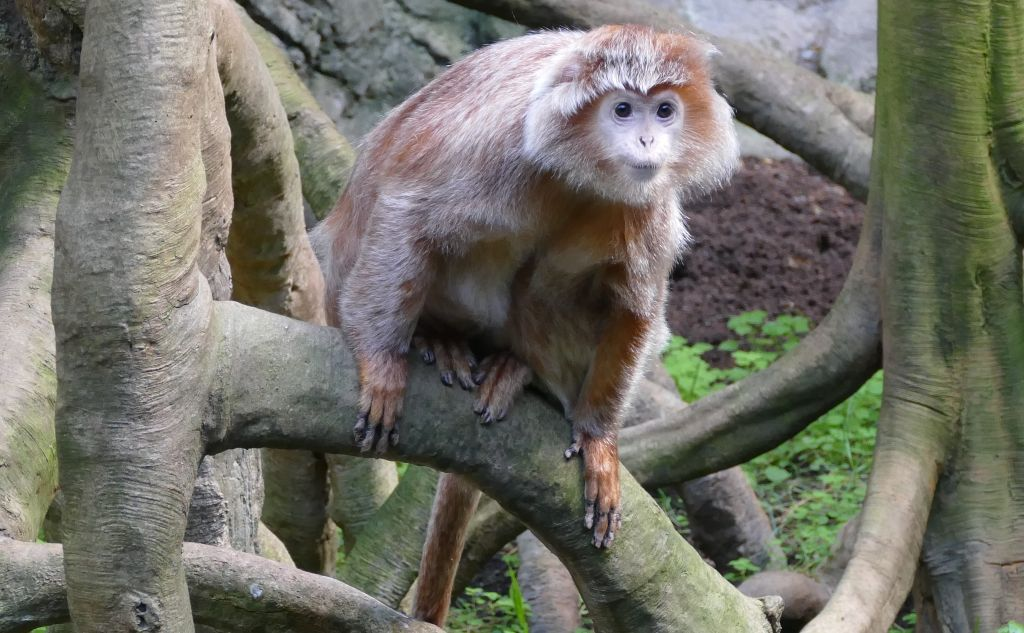 Kids and families can also take a ride on the holiday train that travels through the zoo. There are also ice sculpting demonstrations and, of course, hot cocoa!
One of the highlights of the event is the animal lantern trail, with lanterns in the shapes of animals from each of the continents.
The zoo has displays highlighting animals from Africa, South America, North America, and Asia.
The event takes place each year from mid-November to the beginning of January. Please note that tickets are required and must be purchased in advance online.
Also, note that the program begins at night and does not include animal exhibits.
Beyond the holiday fanfare, the 256-acre zoo is an incredible daytime destination as well, even in the colder weather around Thanksgiving.
But note that although the Zoo is open over the Thanksgiving weekend, it's not open on Thanksgiving Day.
It features an expansive savannah with giraffes, lions, rhinos, zebras, cheetahs, and antelopes, plus gorillas, chimpanzees, tigers, exotic reptiles, and much more.
By Merry Allison at Virginia Vacation Guide
15. September 11 Memorial
One of the must-do things, if you're spending Thanksgiving in New York, is to visit the September 11 Memorial and Museum. It's a sobering but meaningful experience. You'll realize how much you have to be thankful for.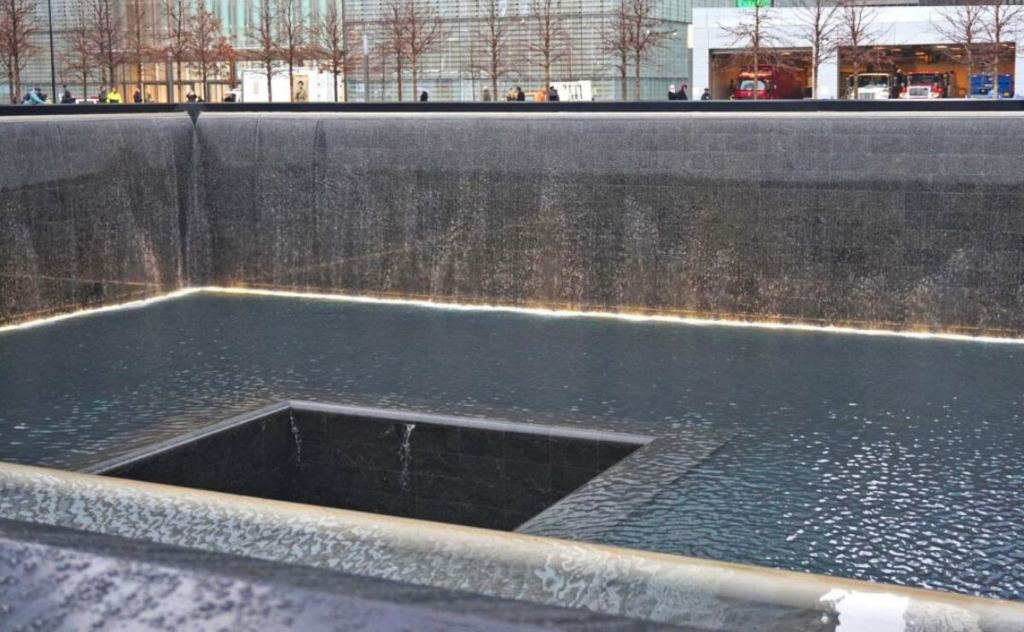 Upon your arrival, you'll see the memorial's twin reflecting pools.
They are almost an acre in size and have the inscribed names of people who died as a direct result of an injury sustained in the attacks on September 11, 2001.
The memorial is free and open to the public seven days a week from 8 a.m. to 8 p.m.
The museum is filled with artifacts and exhibits that are truly exceptional. You will learn about the events that took place on September 11th and about the victims.
It may be hard to read some of the witnesses' accounts and see some of the video footage, but there are strategically placed tissue boxes around the museum.
The museum is open Wednesday to Monday from 9 a.m. to 7 p.m. with the last entry at 5:30 p.m. Admission to the museum is $33 for adults and should be purchased in advance.
By Vicky at Buddy The Traveling Monkey
Keep Planning Your Trip to the United States of America
🧳Cultural + Historical Sites in Arizona to Visit in 2023
🧳20 Best California Thanksgiving Getaways [2023]
🧳Los Angeles Itinerary 5 days: A Mix and Match Itinerary